Renault Sport is launching Renault Clio R.S. "Ange & Démon", a limited series of Clio R.S. with the celebrated Cup chassis and a wicked array of equipment. It also innovates with two matt body colours, a first for Renault.
Unique features include matt paintwork, a black roof, black 18-inch alloy wheels, Bridgestone RE 050A tyres and leather-upholstered Recaro bucket seats.
A fiendish 666 units will be sold worldwide, with orders opening on September 30 in France. Price in France: €27, 990.
Clio R.S. "Ange & Démon" will be presented at the Lyon Motor Show (France) from October  7, 2011. The first vehicles will be in the showrooms for Halloween.
Jean-Maxime Boulanger, Product Manager for Clio Renault Sport, confesses: "The Clio R.S. "Ange & Démon" is a version of Renault Clio R.S. that exercises an instant attraction.
It has a contradictory personality, with its 'bad boy' looks, Cup chassis, 203 hp of performance, but with an array of carefully selected equipment. Clio R.S. "Ange & Démon" will give wings to our purist customers who will be bewitched by its tempting looks but reassured by its good manners and day-to-day competence."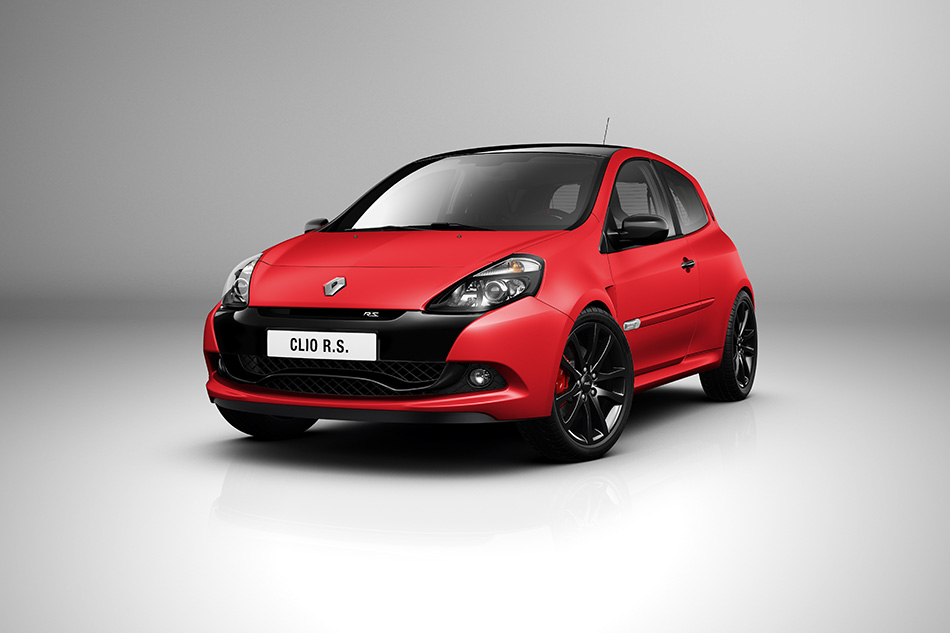 Opting for original equipment
Clio R.S. "Ange & Démon" illustrates a series of "firsts" for Clio. Real matt paintwork with Matt Hologramme Grey will be joined later by Matt Toro Red. The more sober Givre Nacré is also available in the line-up. These colours complement the gloss black roof, upper tailgate, rear spoiler, rear diffuser, F1-style blade in the front bumper, the door handles and exterior door mirrors. The rear side and tailgate windows are dark-tinted. The gloss black 18" Interlagos wheels, as seen on the late Mégane R26.R., show the red Brembo brake callipers. The wheels display the R.S. badge in the centre and are shod with Bridgestone RE50A tyres. On Mégane R.S. Trophy, these tyres contributed to the record set by Renault Sport on the Nürburgring Nordschleife.
An equally tempting interior
The warm interior ambience contrasts with the deliberately cold effect of the exterior. The driver is welcomed by the leather-upholstered Recaro bucket sites. The unique metal gear lever knob provides a good grip. Next to it, a numbered plate sits quietly under the hand brake. The cabin features a full range of comfort equipment including a hands free card, a Bluetooth® Plug & Music radio, automatic climate control, protective floor mats, and electrically-folding door mirrors. Customers buying Clio R.S. "Ange & Démon" can choose between the R.S. Monitor option – Renault Sport's onboard telemetry system– or the built-in navigation system Carminat TomTom Live® at no extra cost.
Last, an "Ange & Démon" logo on the left hand side of the rear quarter window pillar identifies this limited series, which will be released in 666 units worldwide.
Source: Renault
Gallery:
Renault Clio RS Ange and Demon (2011)