The 2006 Acura RL combines performance, technology, style and safety in an athletic luxury package that pushes the boundaries of automotive design on multiple fronts. No production car at any price has ever offered more advanced electronic technology or drive-system sophistication. And none has made its driver more connected-with real time traffic information, personal assistance, phone communication and audio entertainment. True to form for Acura, the many advanced systems of the RL are engineered to function smoothly, efficiently and intuitively.
As part of its commitment to providing safety through innovation, Acura now offers an optional Technology Package for the 2006 RL that includes two leading-edge safety features: a Collision Mitigation Braking System(TM) (CMBS), and Michelin(R) PAX(R) Run-Flat Tires. The RL is the first North American vehicle to be equipped with CMBS. It uses a millimeter-wave radar unit mounted inside the front grille to detect vehicles ahead and monitor potential rear-end collisions, alert the driver when the likelihood of a collision increases, and help reduce the impact on front occupants by tightening the seatbelts and applying the brakes should a collision prove to be imminent.
The Michelin PAX System run-flat tire technology helps provide enhanced safety and security with continuous mobility of up to 125 miles at 50 mph following a tire puncture.
The Technology Package also adds the convenience of Adaptive Cruise Control (ACC). Adaptive Cruise Control also uses the radar system mounted inside the front grille to measure the distance between the RL and the vehicle directly ahead. To compensate for varying traffic flow, ACC adjusts vehicle speed automatically by applying throttle and braking to maintain a consistent following interval.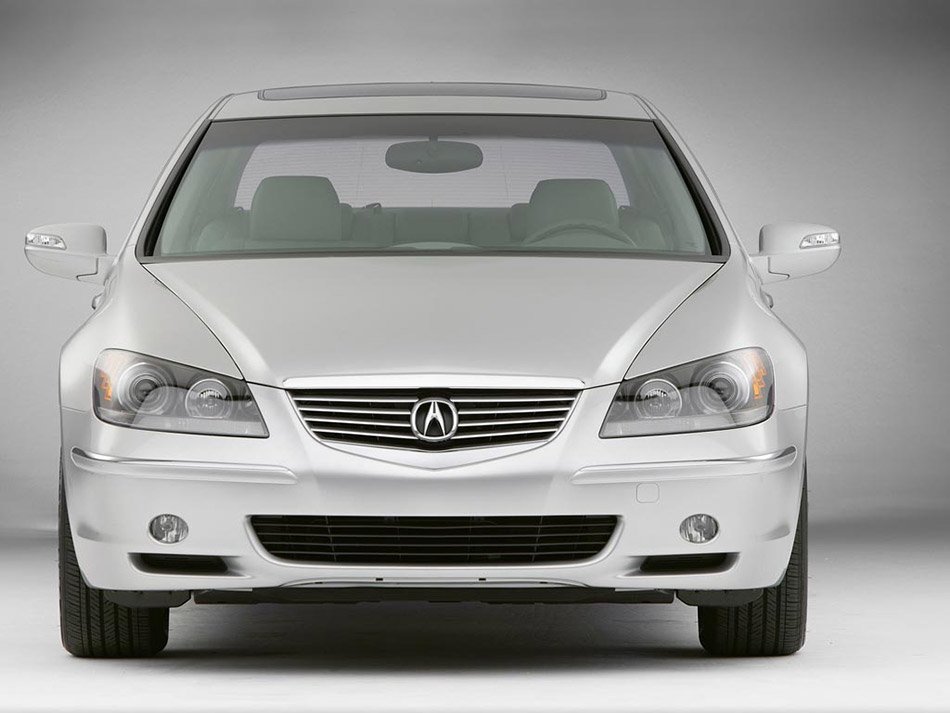 The innovation built into the RL begins with the most powerful engine ever offered in a production Acura. The 3.5-liter VTEC(TM) V-6 engine develops 290 horsepower SAE net (rev 8/04)* and 256 lbs-ft of torque SAE net (rev 8/04). In addition to developing abundant power, the RL engine meets tough LEV2-ULEV emission standards and delivers excellent fuel economy of 18/26 mpg (city/highway).
A 5-speed automatic with Sequential SportShift, paddle shifters and Grade Logic Control sends power to the standard Super Handling All-Wheel Drive(TM) (SH-AWD(TM)) system, which dramatically elevates cornering capability. This innovative full-time system distributes power precisely front-to-rear and side-to-side in the rear. In addition to providing the expected traction advantages of all-wheel drive, SH-AWD does something no other current AWD system can: increase the rotation speed of the outside rear wheel during aggressive cornering to help the car turn more effectively under power. This reduces the cornering load on the front tires to reduce understeer and improve handling balance and total cornering grip.
The RL exterior's aggressive style foreshadows the power beneath the hood. Its shape is taut and athletic, and its acceleration and cornering performance allow it to challenge the most capable German and Japanese sports sedans. Comfort, quietness and ride quality are also on a par with any competitor.
The extremely rigid Advanced Compatibility Engineering(TM) (ACE(TM)) body structure of the RL features extensive use of high-tensile steel and lightweight aluminum components to take construction beyond conventional safety protocols while keeping weight in check and providing a solid platform. Optimized independent front double-wishbone and independent multi-link rear geometry, large brakes and aggressive 17-inch aluminum-alloy wheels and tires work together to further enhance the reflexes of the RL.
The elegantly styled interior includes perforated leather-trimmed seats, fine wood accents and top-rate materials. These are complemented by the most advanced electronics available, including the Acura Satellite-Linked Navigation System with Voice Recognition(TM), the innovative AcuraLink(TM) satellite communication system with real time traffic, Active Noise Cancellation (ANC), and a spectacular-sounding Acura/Bose(R) 10-speaker Surround Sound System. Safety is also enhanced with a Tire Pressure Monitoring System (TPMS), side curtain airbags, and standard OnStar(R) service. For 2006, the RL's real time traffic feature has enhanced graphics to make it even easier to read. These advances-and a lot more-combine in the RL; the strongest, most powerful, best handling and most luxurious sedan Acura has ever built.
For 2006, the RL, like all Acura models will be covered by a new six year or 70,000 mile limited powertrain warranty in addition to the four-year or 50,000 mile standard bumper-to-bumper warranty.
MARKET SUMMARY
V-6 powered sedans are the highest volume sellers in the RL segment. Because they represent the core of the market, Acura decided to build the best V-6 powered luxury performance sedan possible. Hence the 290-hp SAE net (rev 8/04) V-6 powered RL was created. Eschewing a V-8, which accounts for only 15% of the vehicles sold in this market segment, meant not only that the RL would be lighter and more nimble, but also powerful and balanced.
Key 6-cylinder competitors in the RL segment include the BMW 530i, Audi A6, 3.2 Lexus GS 300, and Mercedes-Benz E350. With its SH-AWD system as standard equipment, the RL has a distinct advantage over each of them.
POWERTRAIN
Powering the RL is a compact aluminum-alloy 3.5-liter SOHC VTEC(TM) V-6 that is mounted transversely. It produces 290 hp SAE net (rev 8/04) and 256 lbs-ft. of torque SAE net (rev 8/04) while meeting stringent CARB LEV-2 ULEV emissions targets. Fuel economy numbers are 18 mpg City/26 mpg Highway.
The RL comes standard with a 5-speed automatic transmission with Sequential SportShift, paddle shifters and Grade Logic Control. Gears may also be shifted manually via a new multi-gate shifter located on the front center console.
The defining powertrain feature of the RL is Super Handling All-Wheel-Drive, or SH-AWD. The system continuously varies the torque split between the front and rear wheels, and left and right rear wheels. To help the RL arc through corners with better chassis balance and more total grip, in a turn SH-AWD also overdrives the outside rear wheel at a faster speed, using engine torque to help the car rotate into the turn.
BODY & CHASSIS
The RL body fits its role as a mid-luxury sports sedan perfectly with a muscular appearance and an aggressive, dynamic personality.
The unit body structure is stiff for superior handling precision, and utilizes a variety of steel grades in different areas where maximum strength is required. In addition, the hood, front fenders, trunk lid, frame, front and rear subframes, bumper beams and major suspension components are manufactured from aluminum to reduce weight. Some of these components are formed using an advanced 'blow forming' process that allows intricate shapes to be created without increasing the weight of the part.
Careful attention was paid to smoothing airflow over, under and around the body, across the flush side glass and across the windshield wipers. A cowl garnish was installed at the lower part of windshield to reduce air turbulence, while an advanced exterior-mirror design also contributes to improved quietness inside the car.
The independent front double-wishbone and independent multi-link rear suspension use aluminum arms and mount on aluminum subframes. Vehicle Stability Assist (VSA(R)) with traction control, large 4-wheel disc brakes with ABS and 17-inch aluminum-alloy wheels and tires set new standards for RL dynamic performance.
The RL features the Active Front Lighting System (AFS). To help the driver see around corners or intersections, the left or right low beam headlight can swivel automatically up to 20 degrees outboard when certain steering angle and speed conditions are met. Xenon HID low-beam headlights, LED mirror-integrated directional signals in the exterior mirror housings and a Center High-Mounted Stop Lamp dramatically brighten visibility. Daytime running lights are standard, as is the Keyless Access System.
INTERIOR
The interior of the 2006 Acura RL is more than just luxurious, sporty, and fully equipped with comfort and convenience features. That's because its AcuraLink(TM) satellite communication system includes the first ever U.S. application of real time traffic information. That means that in 22 U.S. metro areas, the RL driver can to see traffic tie-ups on major freeways in a graphic onscreen representation in real time. This allows drivers to re-route themselves to clearer traffic corridors without relying on ambiguous radio traffic reports.
Other RL interior features are equally appealing. For 2006, the innovative Adaptive Cruise Control (ACC) system is offered as part of the optional Technology Package. When cruise control is activated, this innovative system uses radar to allow the driver to set and maintain a following interval between the RL and the car directly in front of it.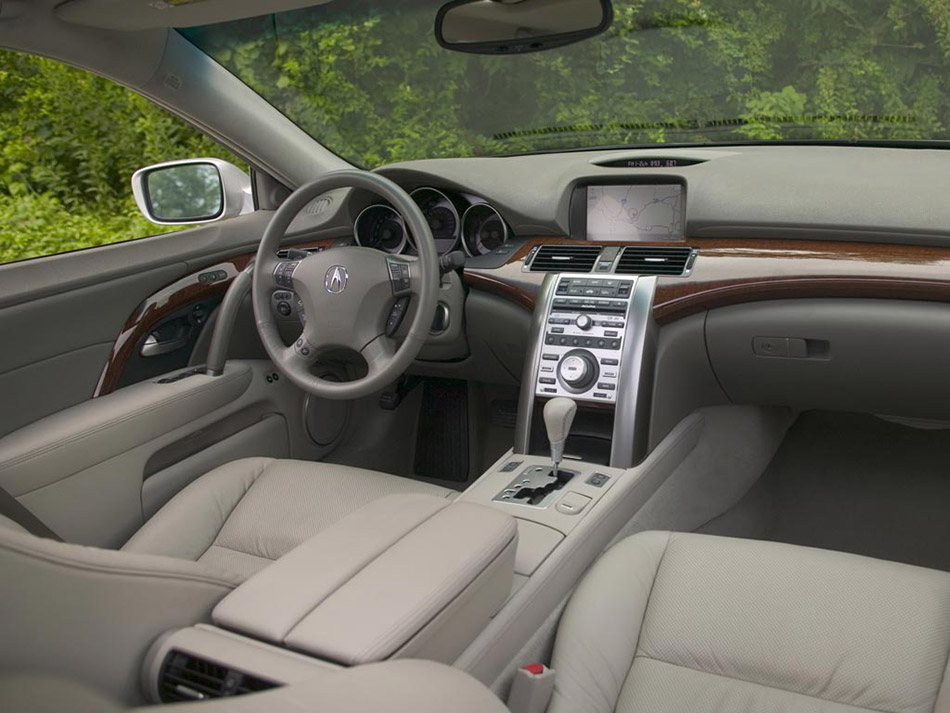 The RL interior features luxurious styling, perforated leather-trimmed seats, and dramatic LED backlit gauges with progressive illumination. Premium technologies define the interior just as it does the powertrain and chassis. These technologies include a GPS-linked, solar-sensing, dual-zone, dual-mode automatic climate control system, an Acura/BOSE(R) 10-speaker surround sound system with DVD-AUDIO 6-disc changer that provides 500 times the clarity of a typical CD system, MP3 and DTS capability and standard XM(R) Satellite Radio.
Premium features continue with Active Noise Cancellation (ANC), which neutralizes low-frequency booming sounds in the interior, and HandsFreeLink(TM), a hands-free phone interface that is compatible with many Bluetooth phones for a seamless cellular communication experience-in the car or away from it. Other technologies include a Multi-information display, OnStar(R) service, a Tire Pressure Monitoring System (TPMS) with location and pressure indicators, and the Maintenance Minder system.
SAFETY
The RL earned the highest possible ratings (5-star) awarded during frontal (NCAP) and side (SNCAP) crash tests for all seating positions and rollover tests conducted by the U.S. Department of Transportation's Highway Traffic Safety Administration (NHTSA). The RL is one of only a handful of vehicles in the history of the program to receive such high honors in all three categories.
With the RL, Acura embraces active as well as passive safety as essential goals. Active safety features that help a driver avoid an accident include SH-AWD, Vehicle Stability Assist (VSA(R)) with traction control, and 4-wheel disc brakes. ABS and Brake Assist also help contribute to greater driver control. HID Xenon plasma-arc low-beam headlights and the Active Front Lighting System (AFS) contribute to superior nighttime visibility.
For 2006, a new optional Technology Package adds the all-new Collision Mitigation Braking System (CMBS), and Michelin PAX Run-flat tires. Components of this package and are not available separately.
The RL also features the Advanced Compatibility Engineering(TM) (ACE(TM)) body structure. It is designed to help dissipate collision forces, while enhancing crash protection for occupants and passengers in other vehicles.
The RL features a driver's and front passenger's dual-stage, dual-threshold airbag Supplementary Restraint System (SRS). Side curtain airbags that provide head protection for all outboard seating positions are also standard equipment. The RL also has seat sensors that monitor the weight on the front passenger's seat and the position of the occupant. These automatically turn off the passenger's front side airbag if they detect an occupant weight less than 65 lbs or if a small occupant is out of position.
The available OnStar, which comes with a one-year introductory subscription to the Safe and Sound service, notifies emergency services automatically if the RL is involved in any accident in which the airbags deploy.
Source: Acura