Alfa Romeo presents the 'Q2' self-locking front differential, which improves all the strong points of a front-wheel drive system in terms of active safety, making driving more enjoyable and enhancing control. The innovative system provides some of the advantages typical of four-wheel drive, but at a significantly lower cost and weight.
The system is now available exclusively with the 150 bhp JTDM engine on the Alfa GT and Alfa 147, but will subsequently be extended to other models in the Alfa Romeo range. It is a step forward that reflects the excellent weight/power ratio of this unit, which benefits from Common Rail technology, but also from the leading role that diesel is now playing even in the field of racing engines. The 'Q2' system matches the torque and power deliveries of the 1.9 JTDM perfectly, increasing the car's already excellent performance with a conventional differential.
Here is how it works. The main element of the 'Q2' system is a limited slip differential, of the Torsen mechanical type. This differential splits torque between the front drive wheels dynamically and constantly, according to driving conditions and the road surface. Combined with the exclusive double wishbone front suspension, the system allows very effective fine-tuning of the car.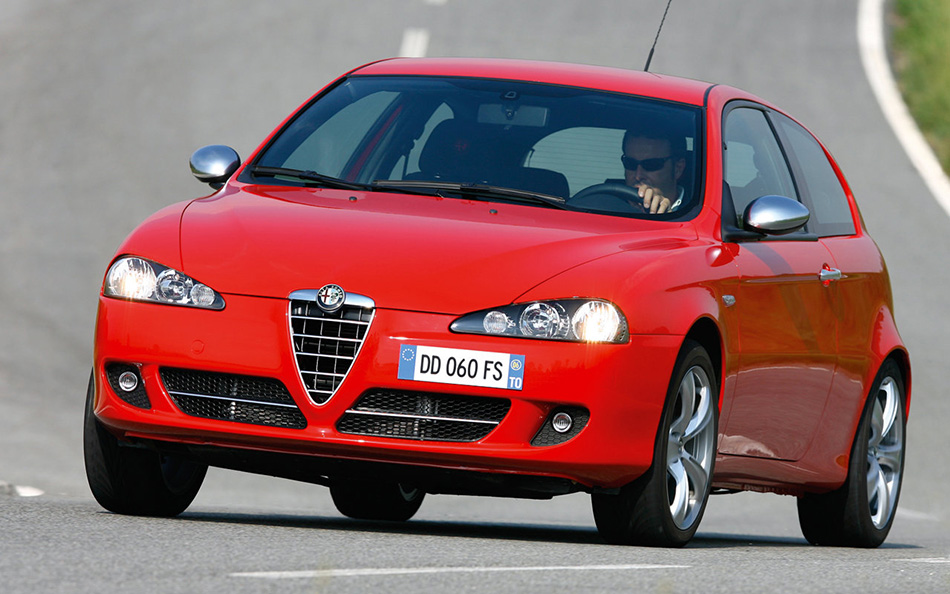 Alfa Romeo started from the excellent reputation that front-wheel drive enjoys with customers (in fact it is the layout chosen by the majority of car-makers). Suffice it to say that, in addition to the overall benefits of this type of architecture (weight, roominess, etc.), in extreme conditions, the understeer typical of front-wheel drive enables the driver to respond more instinctively to the car's reactions: this gives the impression that front-wheel drive is more 'responsive' than rear-wheel drive.
To highlight these benefits, Alfa Romeo has developed the 'Q2' system which embodies all the strengths of front-wheel drive, significantly increasing roadholding, traction and stability on the release, while attenuating understeer on acceleration, as well as the intervention of the electronic control systems and steering wheel vibration.
Source: Alfa Romeo
Gallery:
Alfa Romeo 147 Q2 (2006)