Two weeks of non-stop stress, desert heat, the steepest sand dunes, metre high jumps - since 10th November, Volkswagen has subjected the new Race-Touareg to a programme of rigorous endurance tests held in Morocco. In the new desert racer's cockpit: Works driver Jutta Kleinschmidt with co-driver Fabrizia Pons, and new signings Bruno Saby and Matthew Stevenson. Through a series of hard test procedures, they are now preparing the new Race-Touareg for its competition debut - the Dakar Rally in January 2004.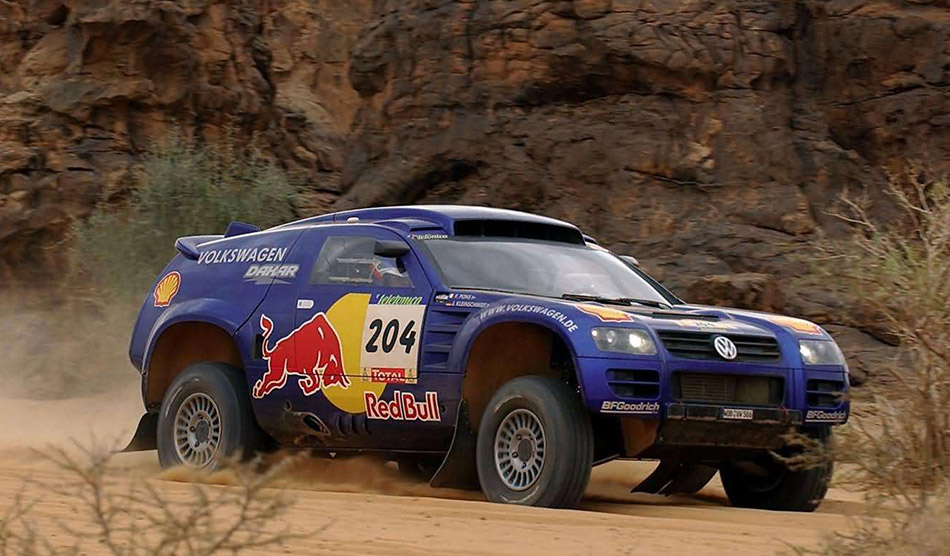 "One thing is certain: the Race-Touareg, with all of its redesigned components, must prove itself during the harsh daily grind of the desert", explained Motorsport Director Kris Nissen. "Then it's a question of working out the optimum interaction between all systems. The suspension, the four-wheel drive and the characteristics of the five-cylinder 2.3 litre TDI® engine must be synchronized with one another and, in addition suit the demands of our drivers. We want to have completed as many test kilometres as possible before the 25th November. If everything continues to run as smoothly and precisely as it is at the moment, then we will have simulated almost the complete distance of the Dakar Rally."
Jutta Kleinschmidt and Bruno Saby are, after only a few days testing, already impressed by the qualities of the Race-Touareg. "The car handled really well. The whole package has incredible potential - and we are only at the beginning of the development curve", read the 2001 Dakar winner's summary. "During the first few days we concentrated on improving the suspension set-up over small road irregularities. The car has already convincingly mastered jumps and big bumps." Her French team colleague added: "The Race-Touareg is well balanced because of the weight distribution, and an immense amount of attention to detail was invested during its construction. I was immediately impressed by this vehicle."
Source: Volkswagen
Gallery:
Volkswagen Race Touareg (2004)