Aston Martin Racing has unveiled the DBR9, which will spearhead the British marque's return to international motor racing in 2005. The car was shown to a selected audience for the first time on 4th November 2004 at Aston Martin's headquarters at Gaydon in the UK. An intensive testing programme now follows for Aston Martin Racing prior to the DBR9's debut race scheduled for the 12 hours of Sebring, Florida, in March 2005.
Aston Martin Racing will run two cars at Sebring and then move to Europe to prepare for the Le Mans 24 hours in June 2005. This will mark Aston Martin's return to the race which was won outright in 1959 with Roy Salvadori and Carroll Shelby. In recognition of this, the DBR9 will follow the Le Mans-winning DBR1 and Works DB3S and carry the same green and yellow livery as the cars which dominated sports car racing in the late 1950s.
Aston Martin Racing will build 12 Works cars, which will be run by three Works teams in the major international GT series. A limited run of only 20 racing cars, prepared to the same specification, will also be built and made available to selected customers to race or keep in private collections.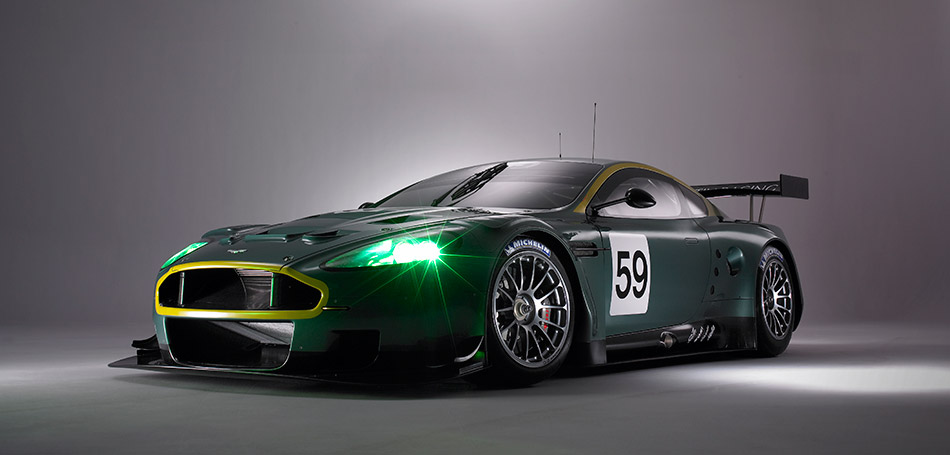 The DBR9 GT racing car is based on the latest Aston Martin production sports car - the DB9 - but is significantly modified for competition use. The DB9's bonded-aluminium body architecture is shared with the DBR9 and provides both with a lightweight rigid chassis. The race engine uses the same aluminium cylinder block and head as the DB9's 450bhp 6-litre V12 unit, but with racing modification it is expected to produce in the region of 600bhp.
The DB9's double wishbone suspension configuration is retained on the DBR9, but features up-rated components and a revised geometry for racing purposes. Formula One style carbon brakes are fitted front and rear and a competition, six-speed sequential gearbox is mounted at the rear axle.
The DBR9 was styled by Aston Martin Racing's own design team who made extensive use of Computational Fluid Dynamics to optimise the aerodynamics before producing the final body surface. The panels are hand made from carbon-fibre composite, helping the car to meet its 1,100kg minimum weight and giving it a power to weight ratio of 550bhp per tonne - more than double that of the road car.
Source: Aston Martin