The road-racing-inspired Camaro 1LE performance package returns for 2013 with unique gearing, suspension tuning and tires that make the model capable of more than 1 g of lateral acceleration and a sub-three minute lap time at Virginia International Raceway's Grand Course. It is offered on Camaro SS coupes with manual transmissions.
All Camaro SS models now feature variable-effort electric power steering and an available dual-mode exhaust system on manual transmission-equipped models. Both features were introduced on the Camaro ZL1.
The 1LE package is offered on 1SS and 2SS coupe models with an exclusive Tremec TR6060-MM6 six-speed automatic. Paired with a numerically higher 3.91 final-drive ratio, the close-ratio gearing of the transmission is tuned for road-racing performance. As with the ZL1, the 1LE transmission features a standard air-to-liquid cooling system for track use.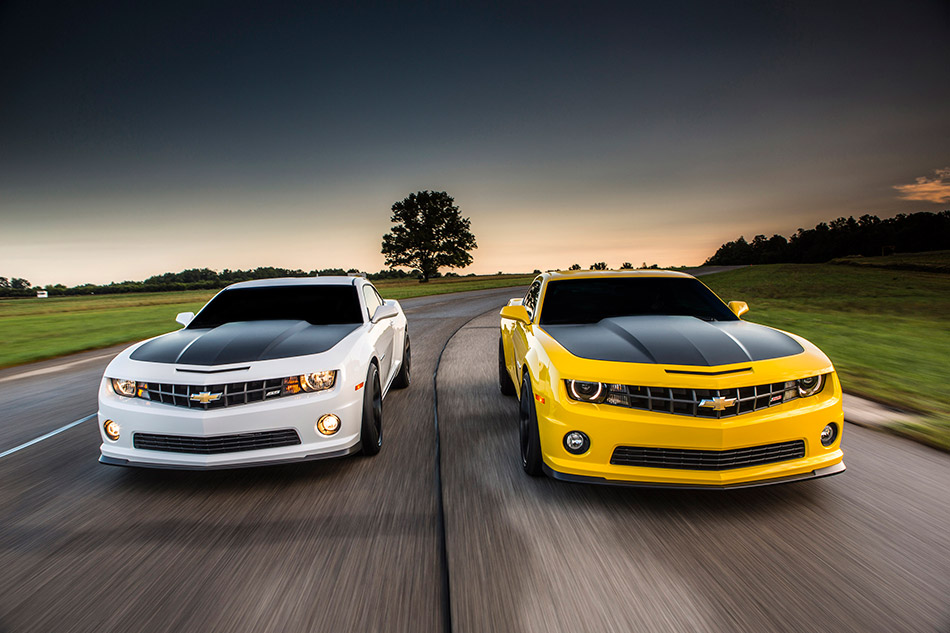 The 1LE also features exclusive, monotube rear dampers instead of the twin-tube dampers on SS models. The new hardware allowed engineers to tune the 1LE suspension to focus on optimal body-motion control while preserving much of the ride quality and wheel-motion control of the Camaro SS.
Other changes to optimize the 1LE for track-day use include:
Larger, 27-mm solid front stabilizer bar, and 28-mm solid rear stabilizer bar for improved body control
Higher-capacity rear-axle half shafts to cope with increased levels of traction
Strut tower brace for improved steering feel and response
ZL1-based 20 x 10-inch front and 20 x 10-inch aluminum wheels
285/35ZR20 Goodyear Eagle Supercar G:2 tires front and rear (identical to the front tires for ZL1)
ZL1 wheel bearings, toe links and rear shock mounts for improved on-track performance
ZL1 high-capacity fuel pump and additional fuel pickups for improved fuel delivery during high-load cornering.
Visually, the 1LE package is distinguished by its matte black hood, front splitter and rear spoiler – as well as the 10-spoke ZL1-based wheels, which are finished in black. The functional front splitter and rear spoiler contribute to the car's on-track performance by helping to reduce aerodynamic lift at high speeds.
Inside, the 1LE package incorporates the ZL1's flat-bottom steering wheel, trimmed in sueded-microfiber and designed for easier heel-and-toe driving on the racetrack. The quick-acting, short-throw shifter from the ZL1 is also trimmed in sueded-microfiber.
In anticipation of consumers entering the 1LE in amateur-racing events, Chevrolet is pursuing SCCA approval of the 1LE package for Touring Class competition.
The Camaro 1LE package was introduced in 1988, inspired by Camaro's involvement in Pro-Am road racing.
Source: Chevrolet
Gallery:
Chevrolet Camaro 1LE (2013)