Tuning specialists, Alpha-N Performance, who are located in Bad Neuenahr-Ahrweiler, not too far from the Nürburgring, are offering an attractive carbon-fibre aero package to highlight the motorsport character of the new BMW M4 Coupe.
The M4's sleek nose can be aerodynamically enhanced with two possible styles of carbon-fibre front spoiler, both of which reduce lift over the front axle. The fixed spoiler costs 999-euro, while the adjustable version is 1.999-euro.
The Alpha-N Carbon Cover for the front bumper costs 449-euro, and carbon-fibre GT4 dive planes can be fitted for 449-euro. At the rear, the Alpha-N-customer can choose a carbon-fibre rear diffuser with either short (999 euros) or long fins (1,499 euro). In addition, an adjustable rear wing (2,199 euros) with optional spoiler (199 euro) is available. The alternative is a smaller rear spoiler lip for the boot lid (1,299 euro).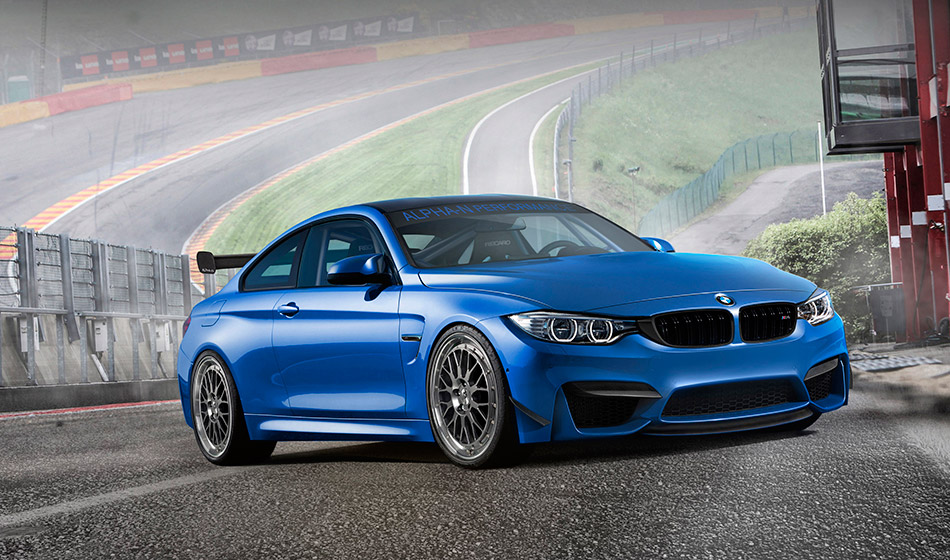 Alpha-N designs and manufactures carbon-fibre composite products for road or race application, either as one-offs or in small series. This ensures the client can get the total package, from soup to nuts, from a single source. The service includes product conception, design development model and mould, creation of the CAD data, defined production process (e.g. pre-preg, vacuum forming or autoclave), and manufacture of the finished component.
All carbon composite parts are designed and made according to individual customer requirement, taking into account the essential qualities of aesthetics, weight reduction, aerodynamic optimisation and ease of fitting.
Alpha-N's in-house EVOX multi-channel chip tuning box lifts performance of the BMW S55B30 TwinPower Turbo straight six motor from its already healthy 431 hp to an rousing 520 hp. Lower back-pressure from the stainless steel rear silencer box potentially releases another 5 hp.
Installing the complete stainless steel exhaust system results in 530 hp, with torque magnified to a stump pulling 685 Nm. With its ability to calculate and optimise various engine parameters in real-time, the EVOX box mates to the OE connectors via a vehicle-specific wiring harness and makes the most of the mechanical upgrades.
To ensure that the BMW M4 is able to deploy its improved engine output, Alpha-N offers uprated wheel and tyre combinations, utilising wheels from OZ Racing or mbDESIGN. From June, a fully adjustable coil-over kit from the highly respected race suspension manufacturer, Öhlins, will be uprathed.
Source: Alpha-N Performance
Gallery:
Alpha-N BMW M4 Coupe (2015)