The BMW M Performance Automobile line-up continues to augment its variety and charisma. Following two BMW X models, two versions each based on the BMW 5-Series and BMW 1-Series, as well as the BMW M235i Coupe, now the first ever M Performance open-top model is set to offer the characteristic M brand of intensive driving enjoyment. The BMW M235i Convertible is gearing up to raise the adrenaline of motor sport fans courtesy of a 240 kW/326 hp six-cylinder in-line M Performance TwinPower Turbo engine that delivers a 0 to 100 km/h (62 mph) time of just 5.2 seconds or 5.0 seconds in conjunction with the optional eight-speed Steptronic sport transmission. Aerodynamically optimised body features and custom chassis components are matched with typical M precision to the engine performance characteristics, ensuring a perfect blend of outstanding agility and precisely controllable handling at all times.
The BMW M235i Convertible amps up the passion and adrenaline of dynamic open-top driving to new heights. Like its BMW M235i Coupe stablemate, the open four-seater also has a distinctive and authentic character rooted in the experience of BMW M GmbH as a developer of high-performance sports cars for general everyday use. Drawing on this exclusive know-how, the BMW M235i Convertible provides the perfect balance of engine power, chassis engineering and aerodynamic characteristics to deliver levels of agility, precision and emotional intensity that are unsurpassed in the premium compact segment.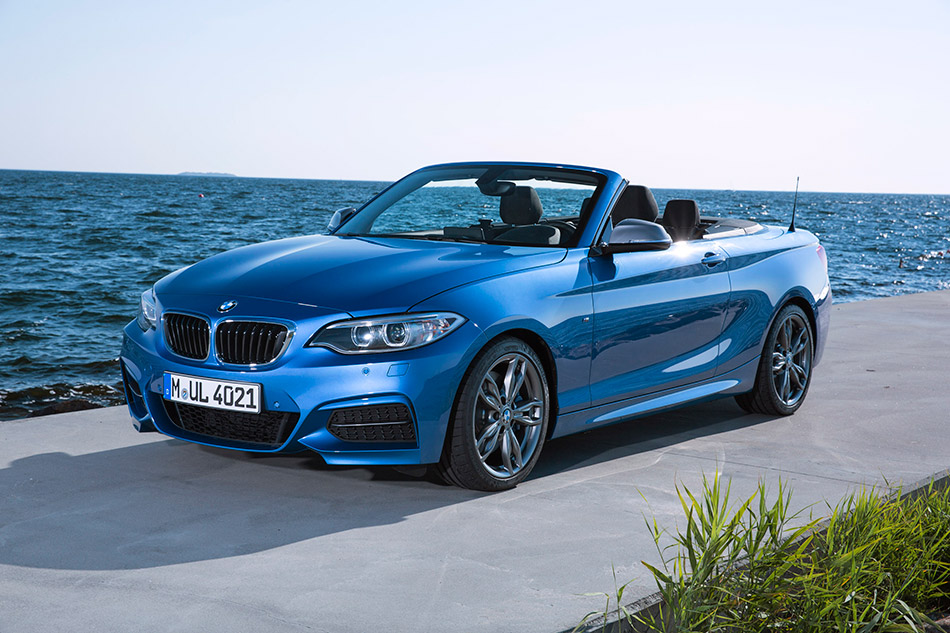 Straight-six engine with M Performance TwinPower Turbo technology and thrilling performance characteristics
Like the M235i Coupe, the M235i Convertible is fitted with the most powerful petrol engine hitherto available for a BMW M Performance Automobile, which delivers performance in a class of its own. This straight-six engine offers an infectious blend of responsive power, high revving ability and powerful torque that remains constant over a wide engine speed range. Highlights also include its highly efficient design, which gives the BMW M235i Convertible fuel economy figures that are all the more remarkable in the light of its performance. The M Performance TwinPower Turbo technology comprises a twin-scroll turbocharging system, High Precision Direct Injection featuring centrally positioned multi-hole injectors, VALVETRONIC variable valve timing and Double-VANOS variable camshaft timing. A cooling system, engine management and engine sound tuning, all of which have been exclusively customised to the requirements of the BMW 2-Series M Performance models, complete the picture. Maximum power of 240 kW/326 hp is generated at between 5,800 and 6,000 rpm, from a displacement of 3.0 litres. The maximum torque of 450 Newton metres is available between 1,300 and 4,500 rpm.
As standard, the BMW M235i Convertible is fitted with a six-speed manual gearbox with dry sump lubrication. Its short-throw action provides extra-sporty shifting and helps the BMW M Performance model deliver a 0 to 100 km/h (62 mph) acceleration time of 5.2 seconds. With the optional eight-speed Steptronic sport transmission with Launch Control function, this is slashed to 5.0 seconds. Top speed is electronically limited to 250 km/h (155 mph).
In line with contemporary concerns, the BMW M Performance models incorporate an extensive range of BMW EfficientDynamics technologies. This helps the BMW M235i Convertible to achieve average fuel consumption of 8.5 litres/100 km (33.2 mpg imp) and CO2 emissions of 199 g/km in the EU test cycle. And if the eight-speed Steptronic sport transmission is specified, the figures can be further improved to 7.9 l/100 km (35.8 mpg imp) and 184 g/km.
Agile and precise custom chassis technology
Thanks to typical precision-tuned M custom chassis technology, in the BMW M235i Convertible outstanding engine performance is translated into assured driving dynamics. Custom-configured suspension and damping systems as well as special front-axle elastokinematics are adapted both to the performance characteristics of the six-cylinder engine and to the specific requirements of the open body style. The M Sport brakes and variable sport steering - the latter again specially configured - are standard specification on the BMW M235i Convertible.
Also standard are exclusive 18-inch M alloy wheels with mixed tyres in size 225/40 R18 at the front and size 245/35 R18 at the rear. These specially developed high-grip tyres optimally transmit all dynamic drive forces to the road. The Original BMW Accessories range additionally offers 19-inch forged BMW M Performance alloy wheels.
The range of products available for the BMW M235i Convertible also includes the BMW M Performance limited-slip differential. The mechanical rear differential with integral torque-sensing differential lock varies the drive-torque split between the rear wheels for optimised traction whenever the Driving Stability Control system (DSC) is switched off. Reacting to torque differences between the driven wheels, its locking action reduces slip at the wheel with less traction by transferring more drive to the other wheel. This ensures that engine power is converted as efficiently as possible into propulsion, for even sharper and more dynamic acceleration out of corners.
Optimised aerodynamic balance, sports car flavour in the cockpit
The precisely controllable handling of the BMW M235i Convertible is partly down to custom chassis technology but partly also to an optimised aerodynamic balance. Aerodynamically styled body parts, which include an M-style front apron, are a hallmark of the BMW M235i Convertible's design. The large air intakes in this apron, with flaps adapted from racing car design, extend into the area which on the other versions of the BMW 2-Series Convertible is reserved for the fog lamps. Following the typical styling idiom of BMW M Performance Automobiles, the air intakes are bisected by horizontal ribs in Ferric Grey metallic. The exterior mirror caps are finished in the same colour. Further exterior design features include the striking side sill contouring and a rear apron whose lower section, in Dark Shadow metallic, also incorporates the twin tailpipes in black chrome.
Further exclusive design features include door sill finishers with aluminium inserts bearing "M235i" lettering and a specially "tuned" interior that features sports seats for the driver and front passenger, an M leather steering wheel with multifunction buttons, Aluminium Hexagon interior trim with accent strips in matt Estoril Blue or high-gloss black, leather trim for the gearshift lever/selector lever and handbrake lever gaiter, and an M driver's footrest. The custom instrument cluster features red markings and numbers for the speedometer and rev counter, while the instrument cluster with extended features additionally has a digitally produced model designation. Rounding off the interior specifications of the BMW M235i Convertible are variable-colour interior lighting and blue detailing for the car key.
Source: BMW
Gallery:
BMW M235i Convertible (2015)