Without any doubt, the Kempen CAM SHAFT is one of the leading enterprises in Germany and Europe in fields of professional Premium Car Wrapping. But in addition to this, the men from the Lower Rhine offer a whole range of tuning highlights, such as alloy wheels, optionally also with highest quality powder coating, car chassis, carbon peaces or interior sets.
CAM SHAFT has wrapped a BMW X6M into typical for BMW colors: Frozen anthracite mat metallic in combination with diamond black mat metallic. With the unmistakeable characteristics in front, doors and tail, the BMW makes a good impression in front of every background. The price for the presented wrapping is 2,450.00 Euro.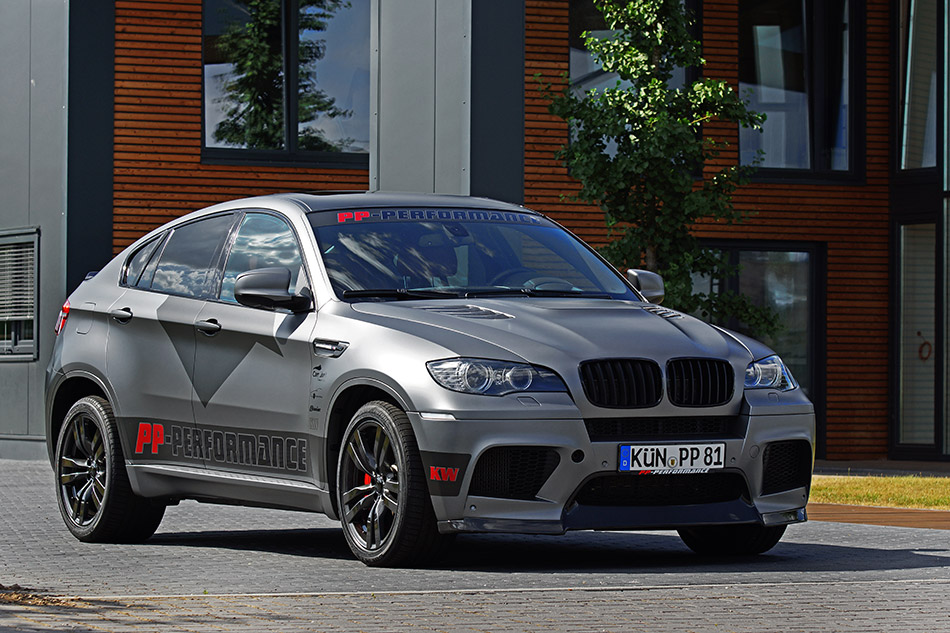 Previously, PP-Performance in Weissbach on the Swabian Weinstrasse had already submitted the X6M to an improvement in performance. The installed manifolds and down pipes with racing cats, as well as the optimization of the manufacturer delivered software gives the car an output volume of 720 PS (= 529 kW) and boisterous 1,000 Nm of torque. For the performance increase named Stage 3 are charged 16,600 Euro including MOT certificate and mounting.
Moreover, CAM SHAFT and PP-Performance in co-operation have ennobled the silhouette of the X6M with Voersteiner carbon parts. The car has been equipped by a carbon hood, a carbon front spoiler, matching to the original X6M front bumper, a carbon tail spoiler and a diffusor – all made of the same magic material.
For the perfect chassis setup with distinctly more of driving dynamics, CAM-SHAFT has installed variant 3 inox coilovers from KW.
With its new variant of rim design the rim tuning team of the Krefeld AG-Felgenveredelung gave again proof of its innovation abilities: By means of water transfer printing – hydrographics – the orginal BMW M-rims are now presented in gold carbon, paired with glossy graphite metallic. the exclusive two color rim finishing costs another 1,400 Euro including VAT.
Source: CAM SHAFT
Gallery:
Cam Shaft BMW X6M (2013)