Scat Package 1 achieves a significant horsepower boost through three modifications, including a Mopar cold-air intake to provide increased air-flow into the engine, Mopar cat-back exhaust to free up downstream airflow, and an all-new performance calibrated engine controller, optimized to the 5.7-liter HEMI® engine.
 
Scat Package 2 adds approximately double the horsepower bump and is geared towards the performance enthusiast looking for that competitive edge. In addition to a customized, optimized performance calibration feature tailored for Scat Package 2, a new Mopar performance camshaft works in conjunction with the components of the Scat Package 1 kit to take advantage of improved engine breathing and deliver that additional acceleration advantage.
 
Scat Package 3 takes aim squarely at the competitive enthusiast who is looking for extreme performance and ultimate bragging rights. Gains of more than three-times that of Scat Package 1 are realized with the customized, optimized performance calibration tailored for Scat Package 3, new Mopar performance CNC-ported cylinder heads, Mopar performance camshaft and Mopar hi-flow headers.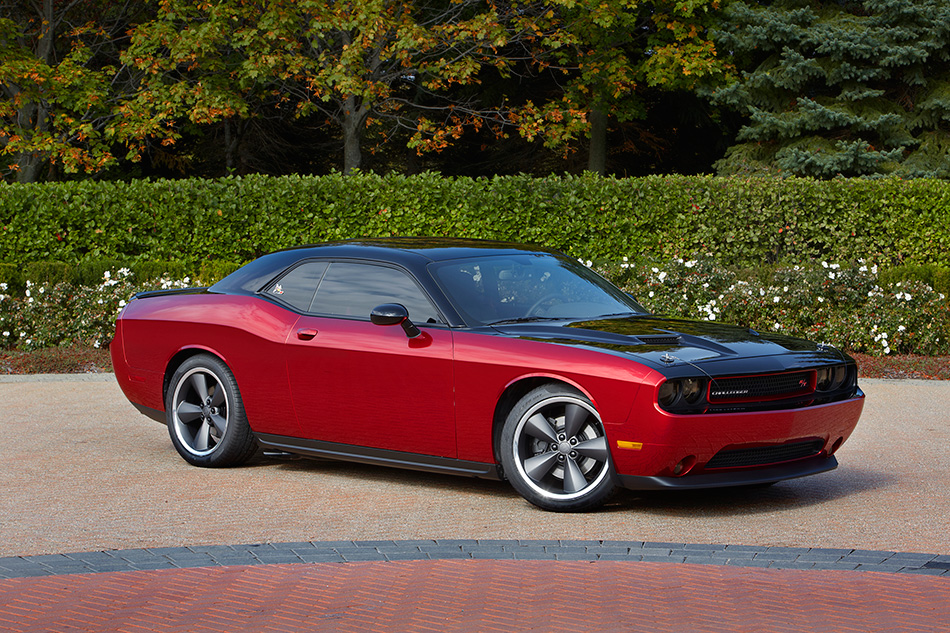 Complementing the 2014 Dodge Challenger's ultimate performance is Mopar's plethora of stand-alone performance products, which assure a commanding presence. The chassis sits on 20-inch Classic II forged aluminum wheels finished in Hyperblack II with a polished lip. The Scat Package kits offer additional performance upgrades, including an electronic variable quick-dump side exhaust, front and rear strut bars and an adjustable suspension kit with a coil-over kit and stabilizer bar, which guarantees an experience to please all the driving senses. Additional features include a black concept hood and side valence, along with a black fuel filler door, black hood pins and sequential tail lamps.
 
The interior is truly unique, upgraded with Katzkin black performance leather seats and black performance leather door-panel inserts that carry the Dodge brand's stripes. The Dodge Challenger logo is embroidered in bright red on the front leather seats, and red stitching accents the seats, shifter boot and steering wheel. Dodge flat-bottom performance steering wheel and pistol grip shifter provide precision control of this ultimate performance Challenger.  Subtle details continue with red seat-belt webbing and red carpet bindings, satin black and black chrome bezels, and gloss-black trim on the steering wheel, center stack, center console and door handles, giving this Challenger the customized looks to match its extreme performance attitude.
 
 
SCAT PACKAGE 1 5.7-liter 
"Optimized" engine calibration – tailored to Scat Package 1
Mopar cold air intake
Mopar cat-back exhaust
Scat Package 1 badge
 
SCAT PACKAGE 2 5.7-liter 
Adds:
"Optimized" engine calibration – tailored to Scat Package 2
Mopar performance camshaft
Scat Package 2 badge
 
SCAT PACKAGE 3 5.7-liter

Adds:
"Optimized" engine calibration – tailored to Scat Package 3
Mopar performance ported and polished heads
Mopar hi-flow performance headers
Scat Package 3 badge
Source: Dodge
Gallery:
Dodge Challenger Scat Package (2014)