Carlsson launches a personalization programme for the second generation Smart Fortwo range
Sport springs, aerodynamic styling, sports exhaust, interior accessories Carlsson wheel design 1/11 Evo BE in 16 and 17-inch sizes
Merzig, Germany Carlsson, the highly acclaimed Mercedes-Benz tuner, is pleased to announce a comprehensive personalization programme for the second generation Smart Fortwo, the smallest car in the Daimler AG vehicle range.
The highest quality in component design and manufacturing techniques transforms the popular Smart Fortwo into an even more sporty and individual runabout.
All tuning starts with a set of distinctive alloy wheels. Apart from looking good, an alloy wheel should be light and strong, qualities that complement the agile handling of the Smart Fortwo.
Carlsson designed the 1/11 Evo BE as its signature wheel for the Smart Fortwo. It is their first stop on the road to making this diminutive city car stand out from the crowd.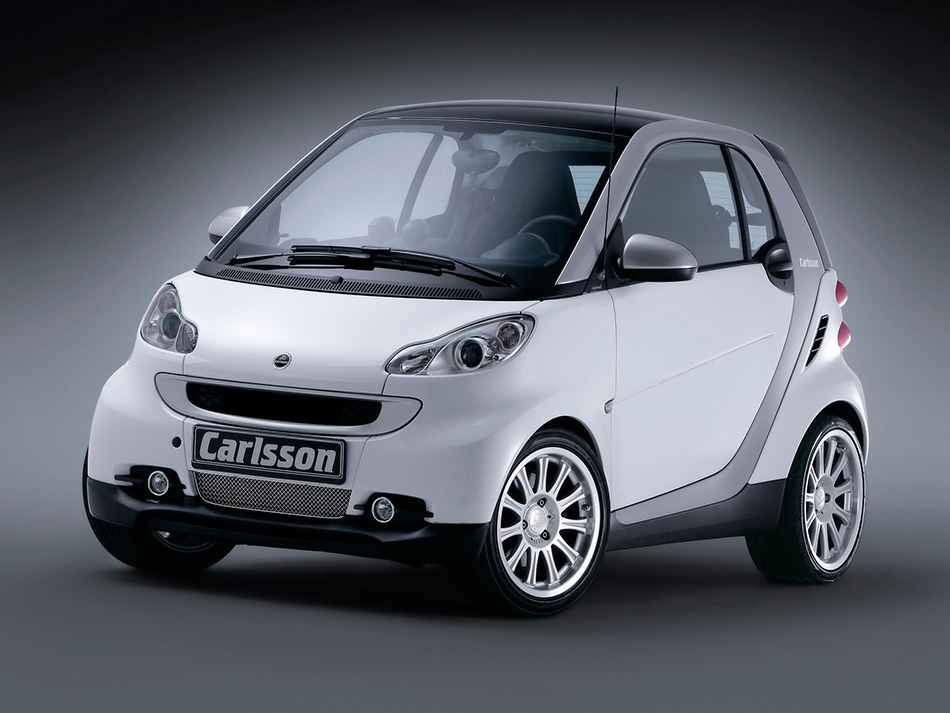 Sold as a set of four with 7.0J x 16-inch and 7.5J x 17-inch sizes front and rear, the shimmering, polished then high-gloss varnish coated surface of the 1/11 Evo BE alloy wheel catches the eye whether the car is stationary or on the move. Carlsson recommend 195/45R16 tyres in front and either 215/35R17 or 205/40R17 tyres at the rear.
Sport springs lower the ride height by around 25mm, and in combination with the larger wheels and tyres, the car takes on a more rugged, foursquare stance. The lower centre of gravity and wider tracks result in crisper steering response, lower roll and significantly enhanced cornering ability. The increasing mechanical grip is particularly beneficial at the front axle as the standard car is prone to understeer when pushed hard into tight bends.
The Carlsson aerodynamic styling additions give the Smart Fortwo a significantly more purposeful look all round. The polyurethane front spoiler, which attaches to the standard bumper, is complemented by an electro-polished, stainless-steel grill insert and fog lights with chrome surrounds.
At the rear, a new valance, also moulded from OEM quality polyurethane, incorporates a diffuser. Carlsson offer this in combination with a stainless-steel rear silencer with four polished exit pipes for the 84hp turbocharged motor, and as an end-pipe only system for the 61 and 71bhp versions. Only available for petrol-engined Fortwo variants, this exhaust upgrade looks good and delivers a deeper, more sporting note.
Carlsson are renowned for their bespoke interior trim work on Mercedes cars, but while special leathers and fabrics are available on request for individual customers, Carlssons Smart Fortwo interior programme at this time consists of an aluminum pedal set and handbrake grip.
Source: Carlssons
Gallery:
Carlsson Smart ForTwo (2009)