The sporty and elegant design of the new three-door model, along with additional engine choices, are distinguishing features that sharpen the unmistakable profile of the BMW 1 Series as the recognised standard of sheer driving pleasure in the premium compact car segment.
Summary:
Second body variant added to the new BMW 1 Series; Latest edition of the three-door version impressively underscores the compact model's sporting characteristics; Sporty, elegant design and attractive supplements to the drive portfolio strengthen the BMW Series' unsurpassed position within the segment characterised by the unique rear-wheel drive system and superior handling; Highlight in the model range: the BMW M135i.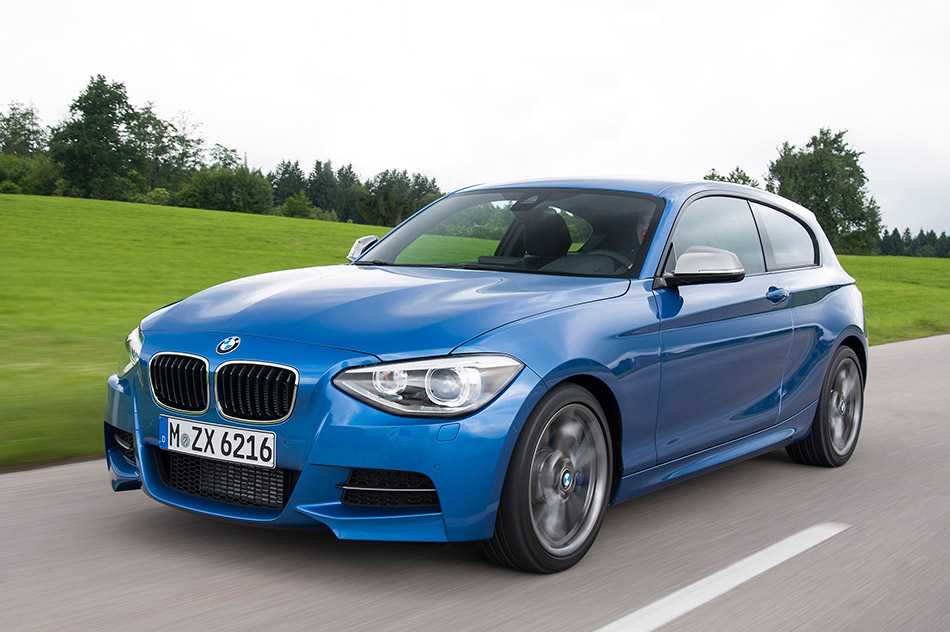 New three-door BMW 1 Series with powerful, brand-typical proportions; Unique appearance thanks to dynamically stretched side line; Wide doors with frameless windows; Side window graphics flowing seamlessly into the B pillar and strongly retracted side window graphics; powerfully contoured side panels with particularly distinctive accentuation of the rear wheel arches; Side sill line extending to the front, underscoring the dynamically stretched character of the vehicle's silhouette.
Precise individualisation thanks to BMW Sport Line, BMW Urban Line and M Sport Package; Harmoniously matching, exclusive design and equipment features as an alternative to the basic variant; BMW M135i with model-specific exterior and interior design directly attuned to the technical requirements.
Interior features, sporty appearance and handling profit from increased body length (+85 millimetres), wheelbase (+30 millimetres), track width (front: + 51, rear +72 millimetres) and width (+17 millimetres) in comparison to the predecessor model, with vehicle height remaining the same; Choice of two or three seats respectively at the rear, 21 millimetres more legroom at the rear, luggage compartment increased by 30 litres to 360 litres; Storage capacity of up to 1 200 litres thanks to foldable rear seat back (40 : 20 : 40 split folding optional).
Widened choice of petrol and diesel engines featuring
BMW TwinPower Turbo technology; BMW 114i as new entry-level version with 75 kW/102 hp; Also available at market launch:
BMW 116i (100 kW/136 hp), BMW 125i (160 kW/218 hp),
BMW 116d (85 kW/116 hp), BMW 118d (105 kW/143 hp) and the
BMW 125d (160 kW/218 hp) and the BMW 116d EfficientDynamics Edition with 85 kW/116 hp, additional fuel efficiency measures and a CO2 emissions level of 99 g/km in the EU test cycle.
First ever BMW M Performance automobile to feature a petrol engine: BMW M135i with a 3-litre, straight six-cylinder engine and 235 kW/320 hp as well as M-characteristic suspension components and aerodynamically optimised body features; Highest level of performance and the most outstanding efficiency within the competitive environment; Typical M-style coherence between drive, suspension technology and aerodynamic balance as well as model-specific interior design for unmistakeable driving pleasure in a compact model; BMW M135i also available as a five-door version.
Also available from November 2012: BMW 118i (125 kW/170 hp),
BMW 120d (135 kW/184 hp) as well as intelligent four-wheel drive
BMW xDrive featured for the first time in the BMW 1 Series on the models BMW M135i xDrive and BMW 120d xDrive; BMW xDrive simultaneously available also for the 5-door version of the BMW 1 Series.
All engine variants come with optimised six-speed manual transmissions as standard; Unique option in the compact segment: eight-speed automatic transmission or eight-speed automatic sports transmission; Comprehensive use of BMW EfficientDynamics technology including Auto Start Stop function in conjunction with manual and automatic transmissions as well as ECO PRO mode, which can be activated in conjunction with the Driving Experience Control function offered as standard.
Vehicle concept perfectly attuned to driving pleasure, with longitudinally mounted engines, rear-wheel drive, harmonious weight distribution and sophisticated suspension technology; Best agility in the segment combined with optimised riding comfort; Double-joint spring-strut front axle, five-link rear axle; Exceptionally precise electromechanical power steering free from drive train influences; Variable sports steering as an option; DSC Dynamic Stability Control including DTC and Active Differential Brake (ADB-Sport) on the rear axle as standard; Torsion-resistant body structure; Comprehensive safety features.
Optimised premium interior ambience thanks to excellent material quality and craftsmanship; Interior with driver-oriented cockpit; Control display of the optional operating system iDrive fitted as a firmly integrated onboard monitor sporting an exclusive BMW flat screen design.
Wide range of driver assistant systems and mobility services from
BMW ConnectedDrive that are unique in the compact segment:
High-Beam Assistant, Adaptive Headlights, Rear View Camera, Lane Departure Warning incl. Rear Collision Warning, Parking Assistant, Cruise Control with braking function, Speed Limit Info with No Passing Indicator, Internet access, enhanced integration of smartphones and music players, Real-Time Traffic Information and Apps for personalised web radio reception and for access to Facebook and Twitter.
Source: BMW
Gallery:
BMW 1-Series 3-Door (2013)