Few production cars can match the ZL1's performance, and all of its high-velocity achievements were conducted with a stock test vehicle wearing all the street-legal, factory-issued components – and no time-consuming equipment adjustments at the racetrack.
More than just power and raw numbers, the ZL1 features technologically advanced and highly developed chassis and suspension systems. They help it deliver balanced, track-ready handling and braking power to complement high engine output, and include third-generation Magnetic Ride Control.
2015 Camaro ZL1 is available in coupe and convertible models. Each wears a unique front fascia not shared with any other Camaro models. It was developed for the unique airflow requirements for engine cooling, brake cooling and aerodynamic downforce.
ZL1 models also include high-intensity discharge headlamps, rear park assist, a rear-vision camera system, MyLink with a seven-inch-diagonal color touch screen, a driver information center with color display and head-up display. Recaro performance bucket seats are available on the coupe, and models equipped with the automatic transmission include remote vehicle starting.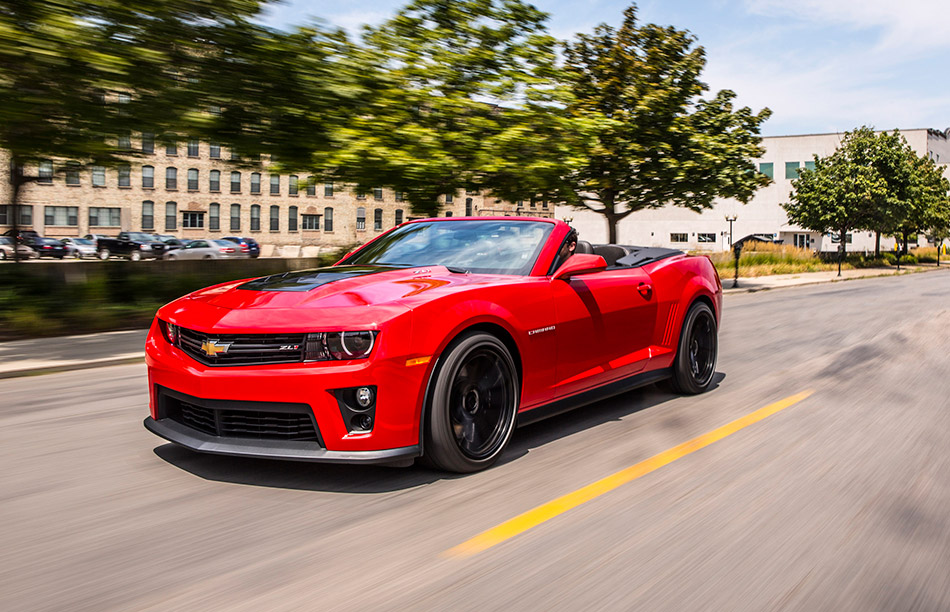 Downforce-optimized design
To maintain stability and steering response at the speed Camaro ZL1 is capable of achieving, it features an aerodynamic design that generates downforce to press tires against the track. The Camaro ZL1 produces 65 pounds of downforce at an equivalent 150 mph (241 km/h) – compared to 200 pounds of lift in a Camaro SS – which was offset by an increase of only 40 counts of additional aerodynamic drag.
Camaro ZL1 convertible details
Because the Camaro's architecture was designed to accommodate a convertible model, it gives ZL1 convertible coupe-like driving dynamics and performance capability. Four strategic reinforcements enhance the already-stiff body structure to quell the cowl and steering wheel shake common in convertibles. They include:
A tower-to-tower brace under the hood
A transmission support reinforcement brace
Underbody tunnel brace
Front "X" brace and stiffer cradle as well as rear underbody "V" braces.
Additional structural reinforcements in ZL1 convertible are designed to improve noise and vibration characteristics, while also reducing unwanted ride and body motions, including a hydroformed tube in the A-pillars.
Supercharged LSA 6.2L V-8
Supporting dynamic track and street performance of ZL1 is LSA 6.2L supercharged engine, which is rated at 580 horsepower (427 kW) and 556 lb.-ft. of torque (754 Nm). The engine's bottom end uses six-bolt main bearing caps that clamp and lock in a forged steel crankshaft within a deep-skirt cylinder block. Additional features include:
Balanced, lightweight reciprocating assembly
High-strength hypereutectic pistons
Sixth-generation Eaton supercharger with four-lobe rotors
Piston oil squirters.
The 1.9L Roots-style blower uses an efficient four-lobe rotor set and compact intercooler to deliver boosted air into the high-flow cylinder heads. The engine also draws its breath through a unique induction system, with a low-restriction air filter, dual inlet paths and enhanced airflow through the supercharger housing.
Because the Camaro ZL1 uses electric power steering, the engine does not incorporate a conventional hydraulic power steering pump on its accessory drive system. This enhances performance, because no engine power is used to turn a steering pump pulley.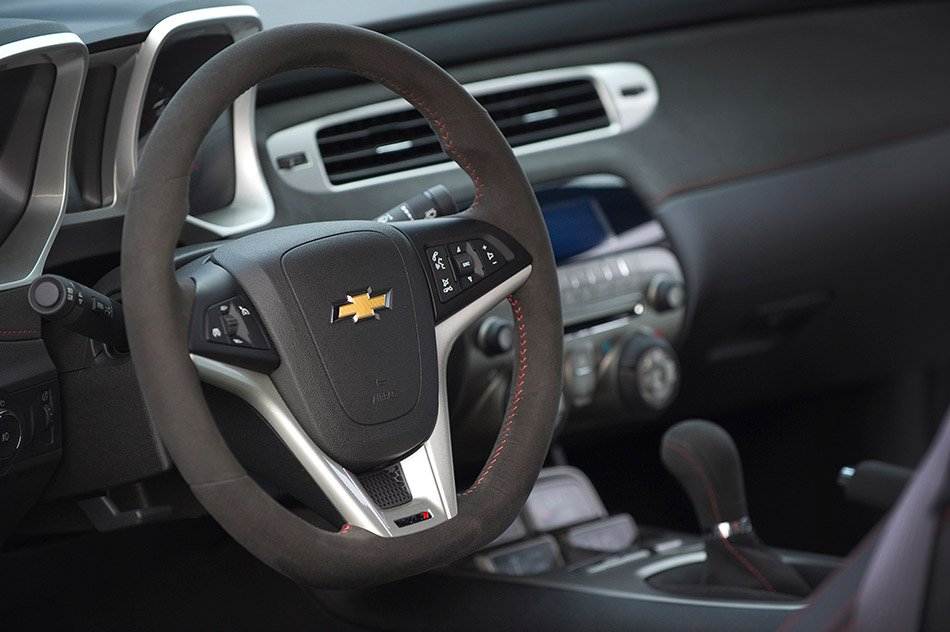 Performance Traction Management and Magnetic Ride Control
Performance Traction Management (PTM) is standard on Camaro ZL1 coupe. It integrates the exclusive third-generation magnetic ride control – with driver-selectable Tour and Sport modes – launch control, traction control, electronic stability control and electric power steering response to enhance performance.
With PTM, launch control feature (manual transmission only) automatically modulates engine torque for the best-possible acceleration without excessive wheel spin. When driver pushes the throttle to floor, the system holds a predetermined engine speed until the driver releases the clutch. Then, the system modulates engine torque 1,000 times per second to maximize the available traction. Similarly, on a road course, the driver can apply full throttle when exiting a corner and Performance Traction Management will automatically manage acceleration dynamics to maximize exit speed based on available traction.
Source: Chevrolet
Gallery:
Chevrolet Camaro ZL1 Convertible (2015)