Caprice PPV is designed to provide maximum comfort so officers can do their job more effectively. The front seats are sculpted to "pocket" the equipment belt, which greatly increases the comfort for a great range of officer sizes. The foam density of the seatback and cushion insert surfaces is designed to conform to the shape of an equipment belt's various items, too, allowing the officer's back to rest properly on the seatback surface.
Along with comfort, the materials used in the seats were also carefully selected. High-wear, low-friction materials were chosen to stand up to long hours of everyday use, while breathability, long-term durability and ease of cleaning were also important criteria. Engineers worked on several iterations of the seat, testing a couple of versions in the field to get real-world feedback from police officers, who used prototype seats in their cruisers for a month. Their input helped determine the final design.
As a result, the front seat cushions have been made wider, for increased comfort, with revised bolsters that allow easier entry and exit. Also, the back bolsters are revised for greater comfort with a duty belt.
The front seats feature four-way power adjustability, including lumbar control and manual reclining back – as well as quick-adjust manual fore and aft movement for additional comfort. There's also a built-in security panel.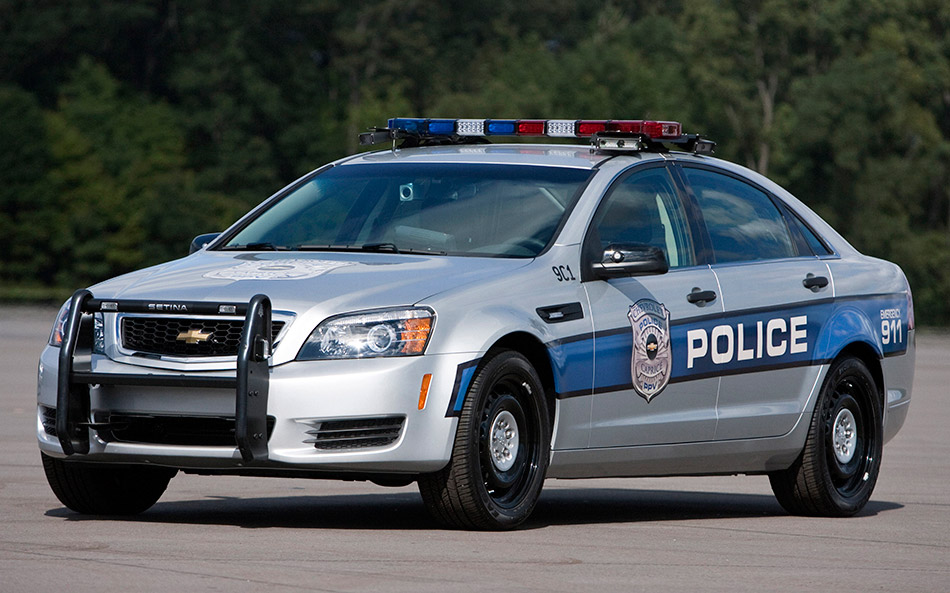 Caprice PPV performance
LFX-code 3.6L V-6 is the standard engine in Caprice PPV, with 6.0L V-8 optional. The 301-horsepower (224 kW) LFX is a 60-degree design, with the cylinder block and cylinder heads cast in aluminum for low weight. A forged steel crankshaft provides optimal strength in the bottom end, while the cylinder heads include four valves per cylinder, with a dual overhead camshaft design incorporating continuously variable valve timing.
Additionally, optimized-flow fuel injectors and the integrated exhaust manifolds/cylinder heads promote lower emissions. LFX's composite intake manifold also has a comparatively small radiated surface area to help it maintain excellent noise and vibration characteristics. Direct injection fuel system enables greater performance and efficiency, giving it horsepower that even some V-8s didn't offer only a few years ago. It is also E85-compatible.
Caprice PPV's 6.0-liter V-8 is rated at 355 horsepower (268 kW) and 384 lb-ft of torque (521 Nm). It features Active Fuel Management technology, which helps save gas by allowing the engine to operate on only four cylinders during certain light-load driving conditions, saving the fuel normally used to drive all eight cylinders. It is also E85-capable.
Both engines are backed by a six-speed automatic transmission performance-calibrated for police duty. It features the Sport Mode feature, which delays upshifts and allows earlier downshifts when maximum engine power and transmission responsiveness are desired. Its unique calibration allows the transmission to "understand" driving conditions and select the appropriate gear, even through tight turns, and provides optimum engine torque.
All models feature a four-wheel independent suspension, with heavy-duty components that deliver responsive, high-performance driving characteristics that are crucial in some police scenarios. A tight turning diameter of 38 feet (11.4 m) and a generous ground clearance of six inches (153 mm) enable excellent maneuverability.
Caprice PPV safety and crash-avoidance features
Officer safety is a fundamental element of Caprice PPV's design. Body structure features extensive use of high-strength steel and ultra-high-strength steel for greater strength and crash protection, while standard and available air bags offer protection in the event of a crash.
Dual-stage driver and front passenger air bags are standard, along with head curtain air bags for driver and front passenger, front seat-back-mounted pelvic-thorax air bags and driver and front passenger knee air bags. The front seat-only head curtain air bags enable the use of a full-width prisoner partition for greater officer safety. Combined front and rear head curtain air bags are available, providing rollover protection.
Front seat-mounted side pelvic air bags work to reduce the risk of pelvic injury by up to 30 percent. Each features an additional cell that inflates to a higher pressure to better distribute crash energy loads across the occupant's pelvic area and chest.
To help avoid crashes, the Caprice PPV includes standard StabiliTrak electronic stability control, with a special police calibration for aggressive driving maneuvers.  Large, four-wheel disc brakes with anti-lock (featuring a police-specific calibration) are also standard, along with strong, durable 18-inch steel wheels (with bolt-on center caps or full wheels covers) matched with performance Goodyear P235/50R18 tires.
Source: Chevrolet
Gallery:
Chevrolet Caprice Police (2015)