Elantra exemplifies Hyundai's emotional "Fluidic Sculpture" design principles. "Fluidic Sculpture" considers the interplay of wind with rigid surfaces to create the illusion of constant motion. Hyundai Elantra is an evolution of the design qualities found in Sonata.
Successful sedans in the U.S. market all have a distinct silhouette and Day Light Opening (DLO - a designer's term for the side glass) and Hyundai Elantra is no different. Along Elantra's sides are Sonata's flowing lines, with the addition of a strong undercut feature line starting at the front door. These lines, along with muscular wheel arches and a sleek roofline, create a memorable and spacious package. Flowing lines also lead to an aerodynamic body. The drag coefficient for the Hyundai Elantra is an exceptionally low 0.28 that compares favorably to the Chevrolet Volt (0.29).
Hyundai's signature hexagonal front grille and detailed swept-back headlights give Hyundai Elantra a compact athletic face. The assertive stance is complimented by 15-, 16- or 17-inch alloy wheels and athletic proportions. Available fog lights and side repeater mirrors complete the distinct design. Hyundai Elantra was designed at Hyundai's North American Design Center in Irvine, Calif.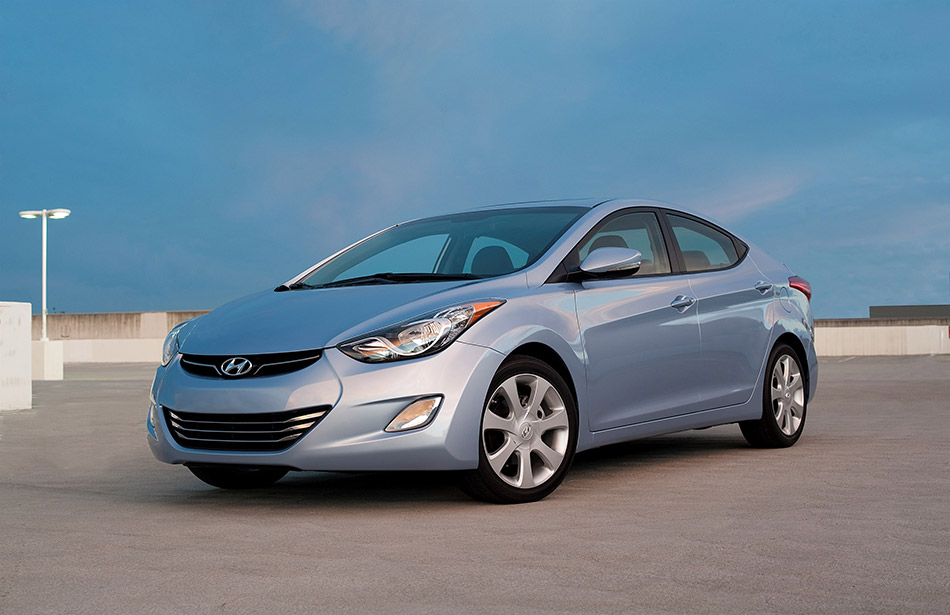 40 MPG Powertrain
Under the hood, the Hyundai Elantra is powered by an all-new 1.8-liter Nu four-cylinder engine with 148 horsepower and 131 lb-ft of torque (145 horsepower and 130 lb-ft of torque for Elantra PZEV). The Nu engine was developed to replace the 2.0-liter Beta engine from the previous generation Hyundai Elantra. The Nu is smaller in size, weighs 74 pounds less and helps achieve an 18-percent improvement in highway fuel economy, when compared with its predecessor. Thanks to advanced clean engine technology, most Hyundai Elantras sold in California, Oregon and several Northeast states are certified as Partial Zero Emission Vehicles (PZEV) by the EPA. The PZEV Elantra is as clean as many hybrid electric vehicles. The PZEV Elantra helps Hyundai meet its environmental commitments. Outside of these "green" states, the Hyundai Elantra is available as an Ultra Low Emission Vehicle (ULEV).
Key Engine Components
Aluminum block and head
Dual Continuously Variable Valve Timing (D-CVVT)
Variable Induction System (VIS)
Roller swing arm and Hydraulic Lash Adjusters (HLA)
Electronic throttle control
Offset crankshaft
The Nu engine features an aluminum block with a cast iron cylinder liner, cylinder head and crank. This unique configuration results in a block that is 30 percent lighter than an iron block, shedding more than 74 pounds off the entire engine weight, while still providing comparable strength.
The 1.8-liter Nu also offers Dual Continuously Variable Valve Timing (D-CVVT) camshafts and hydraulic engine mounts for optimum power, efficiency and refinement. Using D-CVVT on both camshafts has several advantages when compared with using it just on the intake camshaft. They include a two percent improvement in performance (increased volumetric efficiency), two percent improvement in fuel economy (reduced pumping loss) and a 30 percent reduction in hydrocarbon emissions. In the valvetrain, roller swing arms and hydraulic lash adjusters reduce valve driven friction to improve fuel economy one percent compared with direct valve driving. The Nu engine also features a maintenance-free silent timing chain system to enhance durability and improve Noise Vibration and Harshness (NVH).
The application of a plastic two-stage Variable Intake System (VIS), enables switching between long and short intake manifolds, resulting in an across-the-board performance increase. These result in a four percent improvement in performance, a 15 percent reduction in cost and 30 percent reduction in weight, when compared with aluminum.
Another tool Hyundai engineers have incorporated into the next generation Hyundai Elantra is an electronic throttle control. The electronic throttle control replaces the conventional cable and mechanical linkage found in the previous generation Hyundai Elantra with fast responding electronics. This system accurately controls air intake and engine torque, improving drivability, response and fuel economy.
Hyundai's first application of double-pipe plumbing (internal heat exchanger) is found in Hyundai Elantra. Double-pipe plumbing improves cabin cooling performance, while minimizing the capacity of the compressor, which further reduces fuel consumption. An external controlled variable compressor is also used to improve fuel efficiency versus an internal variable compressor.
The Nu four-cylinder engine also has an offset crankshaft design that reduces friction between the piston and cylinder wall for a one percent improvement in fuel economy.
Six-speed transmissions
The 2011 Elantra can be equipped with a six-speed manual (M6CF3-1) or automatic (A6GF1) transaxle with SHIFTRONIC manual control. The 2011 Hyundai Elantra is the first small car in the Hyundai lineup to receive a six-speed automatic. Hyundai now has its own six-speed automatic transmissions in its small, medium and large FWD cars. Hyundai is also only one of four global car manufacturers building their own unique six-speed automatic transmissions.
The all-new six-speed automatic is 11 pounds lighter than Hyundai's global five-speed and 17 pounds lighter than the five-speed automatic found in Honda Civic. It is considerably simpler, having 62 fewer parts, which is a key to increased durability, lighter weight and lower cost. It also features a super flat torque converter that shortens the unit's overall length by 0.43 inches, while being 2.6 pounds lighter.
This transmission mated to the 1.8-liter Nu engine helps Hyundai Elantra deliver improved fuel efficiency - 11 percent more than its closest competitors and a four percent gain in fuel economy.
The 2011 Hyundai Elantra's six-speed manual transmission is also all-new and provides crisp shifts and further optimizes engine performance. These crisp shifts are courtesy of triple-cone synchronizers for first and second gears, double-cone for third gear and single-cone for fourth, fifth and sixth gears.
Overall Dimensions
The all-new Hyundai Elantra rides on a 106.3-inch wheelbase, just two-inches longer than the previous generation. Its overall length has increased by 0.9 inches to 178.3 inches, with the 69.9-inch width remaining the same. The height has been lowered by 1.8 inches to 56.5 inches, without affecting headroom. Consequently, Hyundai Elantra maintains its "class above" status when it comes to interior room, in comparison to Honda Civic and Toyota Corolla. In fact, the Hyundai Elantra is so roomy the U.S. Environmental Protection Agency (EPA) classifies it as a mid-size car, not a compact car like Civic and Corolla.
Hyundai Elantra's total interior volume of 110.4 cubic feet beats the 2011 Honda Civic sedan, 2011 Nissan Sentra, 2011 Chevrolet Cruze, 2011 Ford Focus and 2011 Toyota Corolla. Surprisingly, it even surpasses the Acura TSX (107.1 cu. ft.), Nissan Maxima (110.0 cu. ft), and VW Passat CC (109.3 cu. ft.) in total interior volume. Ultimately, the long wheelbase allows for compact car efficiency with mid-size car comfort. An example of this is found in the long seat track, delivering best-in-class front seat legroom. Hyundai Elantra's trunk volume at 14.8 cubic feet also beats Civic and Corolla.
2011 Elantra architecture
The all-new Hyundai Elantra is fitted with a McPherson strut front suspension, with coil springs and gas shock absorbers. The rear suspension is a light weight coupled torsion beam rear suspension for enhanced steering stability and monotube shock absorbers for ride comfort. A 23.0 mm diameter front stabilizer bar helps reduce body roll when cornering.
All Elantras have column-mounted, motor-driven electric power steering that adjusts instantly to changing driving conditions while improving fuel economy over a conventional steering system. A quick-ratio steering rack is used for crisp feel on turn-in. Hyundai Elantra's turning diameter of 34.8 feet is better than Corolla's at 35.6 feet.
World-class weight efficiency was one of the program targets for the Hyundai Elantra engineering team. In fact, the 2011 Elantra leads all of its competitors in weight efficiency. Hyundai engineers also targeted leadership in power-to-weight ratio. Having these targets paid huge dividends in both performance and fuel economy.
The Hyundai Elantra's widespread use of high-strength steel provides a 37 percent increase in body stiffness at a lower body weight. High-strength steel allows the suspension to work optimally. At 2,701 pounds, the automatic transmission Hyundai Elantra GLS is lighter than its competitors, while offering more interior room than Focus, Cruze, Civic and Corolla, with body-bending rigidity 50 percent higher than the Corolla. This weight efficient unibody architecture allows for Hyundai Elantra to achieve an estimated 40 mpg EPA highway rating, without the need for a special eco model.
Modern, sophisticated interior
Inside the Hyundai Elantra, customers will find Hyundai's expertise in interior packaging, lighting, leading-edge design and craftsmanship. This approach is visible in the clarity of the instruments and the tilt and telescopic steering wheel. The seats help fuel economy and the environment, being made of lightweight, environmentally friendly foam. Heated seats are available in the front and the rear, a segment first. Not only does Hyundai Elantra have multiple storage areas, but it delivers useable storage capacity.
The 2011 Hyundai Elantra GLS has a two-tone interior. Gray and beige are the two GLS interior color choices. The Limited trim adds a monotone black interior. All Elantras have cloth-like pillar trim made of fibrous tissue and volcanic rock for a premium look and feel.
Hyundai Elantra is available with two audio systems. Standard is a 172-watt AM/FM/Satellite Radio/CD/MP3 audio system with six-speakers and iPod®/USB/auxiliary input jacks. A 360-watt system with external amplifier is optional.
Touch-screen navigation is available on GLS and Limited trims and includes a high-resolution 7.0-inch screen and voice-activation by headliner-mounted microphone. The sound system plays compact discs, accesses digital music files via Bluetooth streaming audio or allows driver and passenger to access their personal listening devices through the iPod/USB/auxiliary inputs. Bluetooth audio wirelessly streams music from select mobile phones to the head unit. The XM Satellite Radio interface is also integrated into the navigation unit and features channel logos, real-time NavTraffic and XM Data services, such as XM NavWeather®, XM Stock Ticker and XM Sports Ticker. The system also integrates a rear-view camera, which cannot be found on the Honda Civic or Mazda 3. Users can even upload personal pictures from a USB rather than a CD to be displayed on the system's home screen.
Hyundai Elantra owners can also get premium features, such as a proximity key with push button start and immobilizer, power sunroof, one touch driver's window and leather seating surfaces.
This modern, sophisticated interior is also whisper quiet. Engineers worked hard on reducing noise and vibrations inside the cabin.
The all-new Hyundai Elantra is fitted with a McPherson strut front suspension, with coil springs and gas shock absorbers. The rear suspension is a light weight coupled torsion beam rear suspension for enhanced steering stability and monotube shock absorbers for ride comfort. A 23.0 mm diameter front stabilizer bar helps reduce body roll when cornering.
Advanced standard safety technologies: part of hyundai's assurance commitment
Hyundai Elantra was one of the first compact sedans with ESC when it launched in July of 2007. The 2011 Elantra now takes compact car safety to the next level with the introduction of Vehicle Stability Management (VSM). Similar to the one found in the Hyundai Equus, VSM optimally manages ESC (Electronic Stability Control) and the Motor-Driven electric Power Steering (MDPS).
VSM works to control two effects. The first is when a driver accelerates or brakes on a split-mu surface (slippery on one side, dry pavement on the other) and the vehicle wants to pull in one direction. VSM detects this condition and sends a signal to the MDPS to apply steering assist. VSM counters the pull and automatically provides 8 Newton meters of counter steering. VSM reacts the same way during sudden lane changes or fast cornering. ESC is still not standard on the 2011 model year Civic.
Hyundai Elantra features six airbags - including dual front, front seat-mounted side-impact, and front and rear side curtain airbag.
The Hyundai Elantra also features a state-of-the-art braking package. The package includes four-wheel disc brakes (Civic, Jetta and Corolla still feature rear drum brakes) and an Anti-Lock Braking System (ABS) including Brake Assist, which provides maximum braking force when a panic stop is detected, and Electronic Brake-force Distribution (EBD), to automatically adjust the braking force to front and rear axles based on vehicle loading conditions. This package delivers shorter braking distances from 60 miles per hour than Civic, Corolla and Mazda 3.
Hyundai Elantra engineers even looked at something as simple as the parking brake, having introduced Hyundai's first integrated rear parking brake caliper for weight reduction.
In terms of passive safety, the Hyundai Elantra has strong unibody construction, along with front and rear crumple zones and the rear doors have internal dual beams unlike some of its competitors.
2011 Elantra pricing
The all-new Hyundai Elantra offers modern design, loads of comfort and convenience features, and is an outstanding weapon against gas prices all with a low starting price of $14,830.
Source: Hyundai
Gallery:
Hyundai Elantra (2011)