As electronic engine management and emissions technology developed, so too did performance. The lone remaining 1960s muscle car marques; Mustang, Camaro and Firebird, all grew in power and handling better than the cars that preceded them. With the end of production of the Camaro and Firebird lines in 2002, only the Mustang remains as the sole survivor of the pony car era.
Debuting in Spring 2002 as a 2003 model, the Cobra returned, this time with vastly increased power and handling. Dubbed during development as the "Terminator" Cobra, it received a T56 6-spd transmission coupled with a supercharged 4.6L DOHC V8. Due to the reduced power handling capability of the new WAP aluminum blocks, these new Cobras used the GT's cast iron engine block. Power was rated at 390 hp (290 kW). Muscle Mustangs & Fast Fords and other Ford-themed magazines have performed dyno tests on several Cobras that put down rear-wheel power numbers in excess of 380 hp, which would suggest actual flywheel power to be around 450 hp. This amount of power meant that the 2003 Cobra was capable of mid-12-second quarter-mile times right off the showroom floor.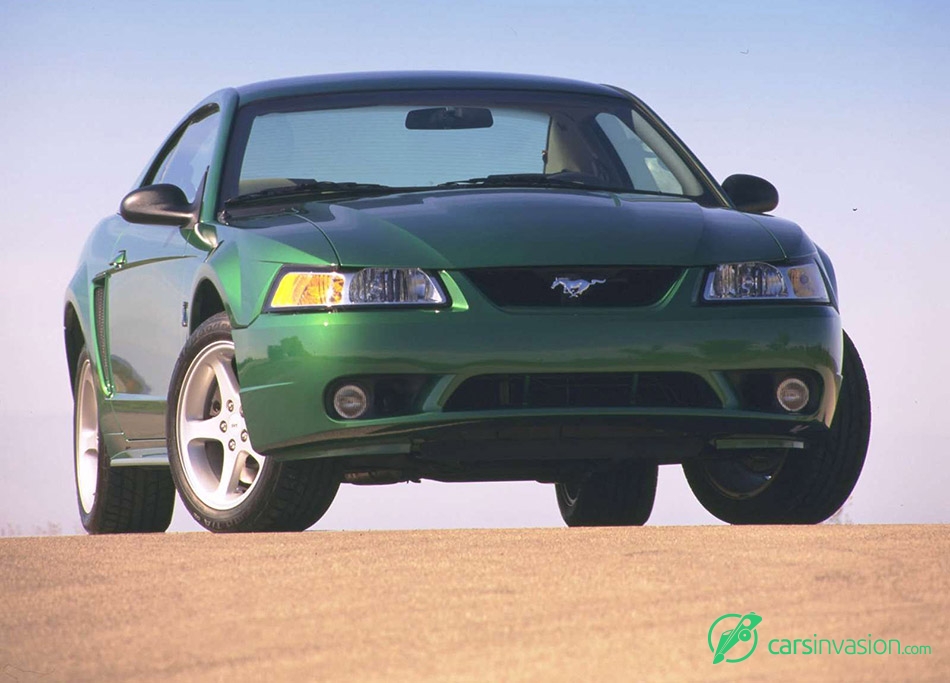 Also returning in 2003 was the "Mach 1" nameplate. The original 1969 and 1970 Mustang Mach 1s were (and remain) some of the most popular Mustangs ever, so Ford decided to try to keep interest in the Mustang high until the release of the S-197 with yet another special-edition Mustang. The Mach 1 used a non-supercharged version of the Cobra's 4.6 DOHC V8 which utilized cams from the Lincoln Navigator motor, and it was conservatively rated at 305 hp. Other special features included "retro" interior styling, with seats made to look like the "comfortweave" seats in the original Mach 1s, old-style gauges, and aluminum pedals and shifter. Outside, the Mach 1 featured a striping package and blacked-out spoiler designed to mimic the original Mach 1, "Magnum 500" styled 17-inch wheels, and a "Shaker" hoodscoop.
The "Shaker" hoodscoop was special, and so named because it was attached to the engine and stuck out through a hole in the hood, and would move with the torque of the motor. Ford utilized the same casting for the new "Shaker" that they had for the 1969 model year. The Mach 1 was also produced for 2004. Despite having camshafts that produce power at lower rpm, the Mach 1's 4.6 made just as much horsepower as the 01' Cobra, due to the 4-valve heads being revised, the compression being bumped to 10:1, and the ram-air system. It also out-torqued the Cobra, and had 3.55:1 rear gears, making it capable of very low 13- second 1/4 mile times with a good driver.
Source: Wikipedia
Gallery:
Ford Mustang SVT Cobra (1999)