The Ford Puma was a small coupe produced by the Ford Motor Company from 1997 to 2002. It came in four versions over the years: 1.4 Zetec-SE (90 bhp), 1.6 Zetec-SE (103 bhp), 1.7 Zetec-SE VVT (125 bhp), and 1.7 Ford Racing Zetec-SE (155 bhp). The car was based on the Ford Fiesta with new engines (from Yamaha), a new body and modified suspension, as well as other changes. 1.7 Pumas came with both low speed traction control and anti-lock brakes, 1.4 Pumas had an option of anti-lock brakes.
Weighing approximately 1,040 kg (2,293 lb), the relatively decent amount of power was sufficient to give the car decent performance. The 1.7 version accelerated from 0 to 62 mph (0 to 99 km/h) in 8.6 seconds, and could accelerate from 30 to 70 mph (48 to 112 km/h) in 8.8 seconds.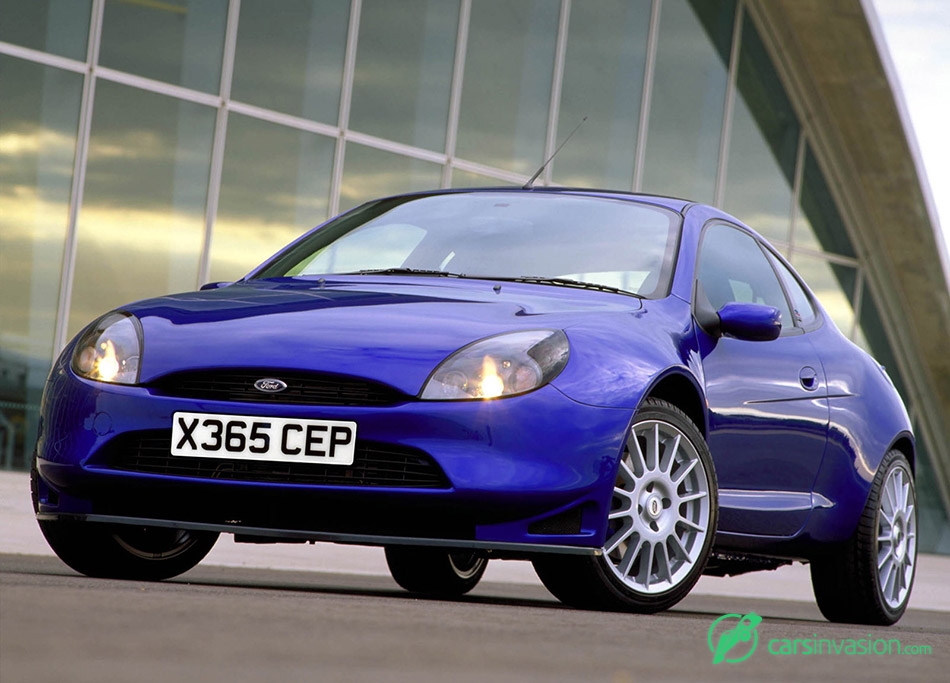 Stylistically, the Puma followed Ford's New Edge design strategy, as first seen in the 1996 Ford Ka. While not as controversial as the Ka when it first appeared, the Puma did achieve critical acclaim for its well-proportioned and cat-like design cues.
The Puma was memorable for its launch campaign that featured the late Steve McQueen. The original UK television commercial used clips from the movie Bullitt and cut McQueen into the modern setting of a Puma in San Francisco.
The Puma was only sold in Europe and was supposedly replaced by the Ford StreetKa, which is based on the Fiesta just as the Puma was. The StreetKa also borrowed the Puma's transmission and suspension. The discontinuation of the Puma seemed to herald the end of the small coupe market in Europe, with the Vauxhall Tigra entering a short hiatus later on, as well as similar models from other manufacturers.
Source: Wikipedia
Gallery:
Ford Puma (1999)