Ford Ka (pronounced "Ka", "car", or "K.A.") is a city car from the Ford Motor Company marketed in Europe and elsewhere. The European version is produced at Ford's Valencia plant in Southern Spain.
The car was introduced in September 11, 1996 as a small and low-cost addition to the Ford range, following the enlargement of the Fiesta. The Ka is based on the same platform as the MK4 Fiesta, but with a radically different external design. When the Ka was first introduced to the public it provoked mixed reactions due to its original and striking New Edge design, created by Jack Telnack.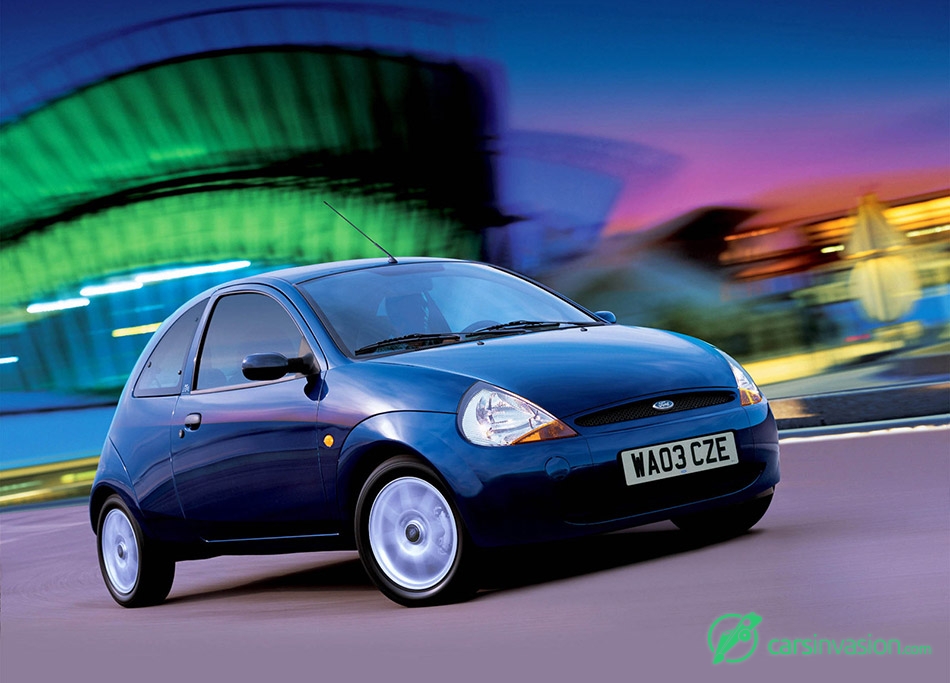 The UK model range consisted of the standard version, the Ka, and the higher specification Ka2. The Ka3 was introduced later. Initially, all Kas were delivered as the standard model and upgraded to the higher variants at Ford dealerships, saving on production costs. However, this practice was dropped following the renaming of the Ka2 and Ka3 as the Ka Collection and the Ka Luxury (later LuxuryKa).
These offered colour-coded bumpers for the first time, although this lost the designer's original itention of the black plastic bumpers avoiding parking damage to paintwork in city conditions. The Luxury version came with a Quickclear heated windscreen, leather seats and interior trim as well as standard air conditioning and Ka Sun Collection with a full-length fabric folding roof was also added to the range during the summer months.
Besides the styling, the Ka, like its sister cars Fiesta and Puma, was lauded in the motoring press for its nimble handling. Under Richard Parry-Jones' supervision, the suspension and steering settings allowed for spirited cornering and high levels of grip making it one of the best handling cars of the current generation superminis, not unlike the original Mini. Like Renault's Twingo, the main drawback was the Ka's 1300 cc OHV 4-cylinder Endura-E engine, a design dating back to the 1960s Kent engine used in the Ford Anglia. Although not very modern, it provided enough torque to allow relaxed if not spirited driving. In 2002 the Endura-E was replaced by the overhead cam Duratec engine, with claimed improved fuel efficiency and increased refinement, mostly caused by taller gearing on the non-air conditioned models.
The Ka has proved highly profitable for Ford despite its low selling price, largely due to the lack of spending required in its development. It was the best selling car in its class in the United Kingdom for a number of years.
Source: Wikipedia