The Taurus received another redesign in 2000, which minimized some of the oval design elements from the 1996 model. The redesign also featured a taller roof over the rear-passenger space, to increase passenger headroom that had been sacrificed by the tapered 1996 design. The taller and roomier trunk also served to make the vehicle more functional. The interior was completely changed for a much more conservative design. Certain elements of the interior were retained from the 1996 model, such as the integrated control console, which combined the sound system and climate controls into one panel. The suspension was also softened to appeal to a broader, non-sporting audience. To reduce the price and increase profitability, many features such as such as four-wheel disc brakes were eliminated. The SHO model was also dropped. The re-introduction of the Chevrolet Impala in 2000 affected Taurus sales this time.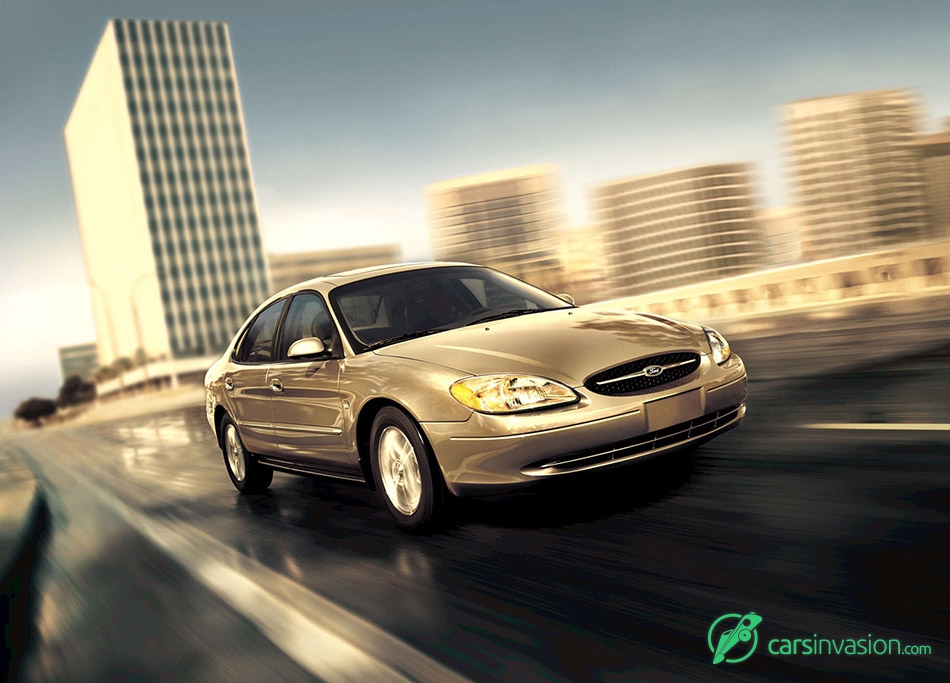 The 2002 Taurus included extra equipment on every trim level, including a CD player and power driver's seat on the SE, a power moonroof or leather interior on the SES and both of these luxury options on the SEL. Side airbags and traction control were added as options on all models.
For 2004, the Taurus received minor cosmetic changes to the front and rear fascias, including an eggcrate grille. Inside were a new instrument cluster and steering wheel. The Duratec engine received a boost in power, to 201 hp and 207 ft·lbf of torque. 2005 to 2007 models remain unchanged from 2004. Currently, the Taurus continues on in fleet sales and will do so until it reaches the currently scheduled end-of-production date, after the 2007 model year.
Source: Wikipedia
Gallery:
Ford Taurus (2003)