Powerplants consisted of both straight-sixes and V8s, with the entry-level Barra 182 six-cylinder being a significant improvement over the AU Falcon's six, with a gain of 25 kilowatts (33 hp) of power for a total of 182 kilowatts (244 hp). The 156 kilowatt (209 hp) LPG-only Barra E-Gas engine was offered as an option on lower specification models.
A turbocharged variant of the Barra engine was introduced in a new XR6 Turbo model and produced 240 kilowatts (321 hp) of power. A 5.4 litre V8 replaced the Windsor engine of the AU. The new V8 was a modified version of Ford's North American Modular V8 available in two variants: the Barra 220 generating 220 kilowatts (295 hp) and a 260 kilowatt (348 hp) Boss 260. The new engine was smoother, more fuel efficient, and quieter than the engine it replaced.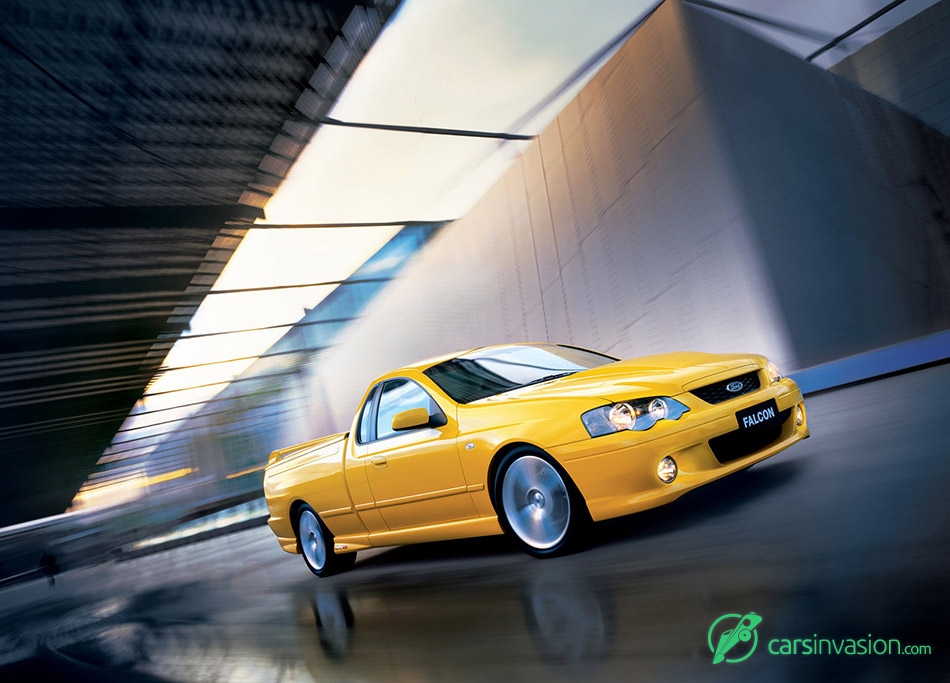 Two transmissions were available for the BA—a four-speed automatic and a five-speed manual. The automatic transmission featured Sequential Sports Shift, a first for the Falcon nameplate in Australia. The new Control-Blade independent rear suspension (IRS) fitted to all sedans—first used in development of the Ford Focus and the Jaguar X-Type— was superior to the optional double wishbone IRS suspension used on AU sedans, and was cheaper. However, it was heavier than the previous live rear axle used for base models, and the change contributed to the base model XT sedan's 130 kilogram (287 lb) weight increase from the previous model. The wagons and utilities retained the leaf spring live axle rear suspension of the AU wagon and utility; consequently, they did not gain as much weight as the sedan.
The Ford BA Falcon was also smoother on the road, with increased towing capabilities from previous models. Fuel consumption in the Barra 182 was measured at 12.5 L/100 km (19 mpg U.S.) for city driving and 8.2 L/100 km (29 mpg U.S.) for highway driving. These numbers were government figures, measured indoors using a dynamometer. Real-world testing has shown that an extra 12% is actually consumed.
Safety
Passenger safety was a key design aspect for the Ford engineers. Anti-lock brakes were standard on all models; electronic brakeforce distribution was also standard on most variants. The addition of traction control for higher trim levels helped to prevent loss of traction. On top of this, dual front airbags were a standard fitment across the range; with side-impact airbags being equipped on higher luxury levels such as the Fairmont. In a crash safety assessment conducted by ANCAP, the BA model scored 27.27 out of a possible 34 points, giving a rating of four out of five stars.
Mark II
Ford released the Mark II (BA MkII) Falcon in October 2004 to maintain sales interest until the 2005 introduction of the BF update. Modifications included some cosmetic changes and a new six-speed Tremec T56 manual transmission replacing the five-speeder on XR6 Turbo and XR8 models. The Futura model gained power adjustable pedals, and side airbags, with a DVD entertainment system being offered on upmarket trim levels. The XR8 sedan variant also received the premium audio system.
Source: Wikipedia
Gallery:
Ford BA MkII Falcon Ute (2004)