In 2002, the all new third-generation car was unveiled. This was for the first time, a completely clean sheet design, with no genetic links to the 1976 original. Most engines were carried over from the previous Fiesta, but renamed "Duratec" with the "Zetec" tag used for the sportier models in place of the previous Si. The styling was heavily inspired by the larger Focus. Trim levels available initially were Finesse, LX, Zetec and Ghia, with Limited Edition variants soon following.
Engines available include 1.25 L, 1.3 L, 1.4 L, 1.6 L, 2.0 L petrol (gasoline), plus 1.4 and 1.6 TDCi (common rail diesel engines developed in a joint venture with PSA).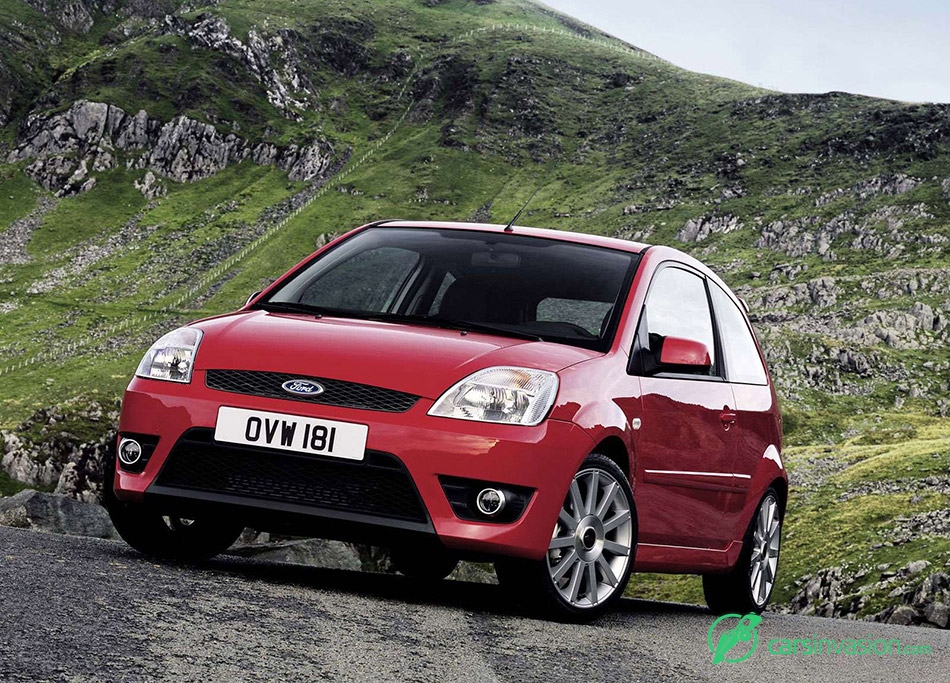 The Ford Fiesta ST is the performance variant of the new Fiesta, capable of speeds of up to 130 mph (210 km/h) and hopes to relive the success of the XR2. To differ it from the standard Fiesta, it also has visual enhancements, including 17" alloy wheels, unique front and rear bumpers, partical leather seats and a ST logo on the steering wheel. The ST version features a 2.0L petrol engine, which produces 150PS.
This was also the first Fiesta to be sold in Asia and Australasia (all 1.6 L LX 3dr/5dr, Zetec 3dr, Ghia 5dr), replacing the Kia-based Festiva. In Brazil and Argentina, a Fiesta Sedan version was introduced in late 2004. A similar Fiesta sedan model, with a different front end, was released in India in late 2005.
A facelifted version, with an exterior restyle and a new soft-feel dashboard went on sale in November 2005.
In 2006 Ford introduced a slightly tweaked version of the popular Mark VI Fiesta. Although not mechanically different, there are a number of subtle cosmetic changes which have helped improve the car's look. The front and rear headlamps have been reshaped and the bonnet and bodystyling has been altered to give it a chunkier, more streetwise look. Inside, the dashboard has been updated with new "soft feel" plastics following criticisms of the hard, cheaply textured original, and the digital fuel readout has been ditched in favour of a new analogue instrument display in a style similar to the Mk.2 Focus.
New "optional-extras" now available include satellite navigation, powerfold mirrors, Bluetooth voice control and MP3 player connectivity. Another inclusion by Ford are the new range of exterior metallic paint colours.
Source: Wikipedia
Gallery:
Ford Fiesta ST (2005)