Previewing an exciting new performance model - the new Focus ST - Ford is demonstrating to performance enthusiasts they don't have long to wait for another special model from Ford Team RS. The new Focus ST - sporting around 220PS and finished in brilliant orange for its Geneva preview - will be introduced towards the end of 2005.
Powered by a turbocharged Duratec ST 2.5-litre, 5-cylinder engine and equipped with a six-speed manual gearbox, the Focus ST promises, in its specification and its distinctive design features, to raise the new Focus's reputation as a driver's car to new heights.
"When performance enthusiasts see this car, they are going to have high expectations. The Focus ST is going to live up to them," said Jost Capito, who heads Ford's racing and performance arm, Ford Team RS. "This car looks fast from its design, and every functional attribute is being engineered to deliver on that expectation."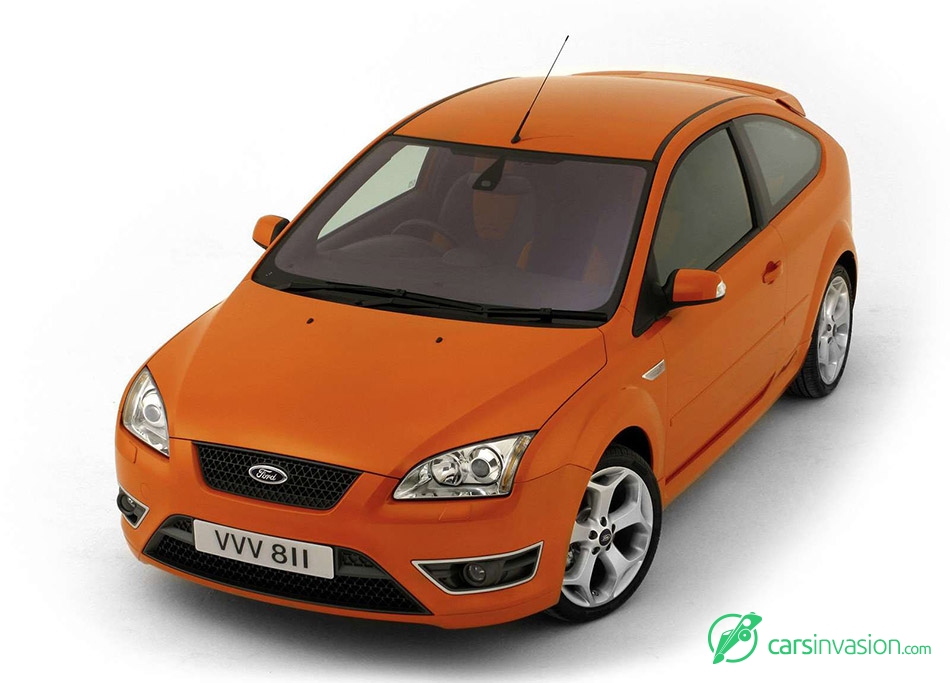 Focus ST's stance - low-profile 225/40 performance tyres on sculpted 18x8-inch five-spoke cast aluminium wheels - speaks driving confidence and grip. Inside and out, Focus ST 's design makes its performance attributes clear, but in a manner that also supports refinement, craftsmanship and practicality. Focus ST remains a comfortable car for everyday family driving.
"The new Focus was engineered to provide a flexible base for derivatives and is especially suited to performance models," said Derrick Kuzak, Vice President, Product Development, Ford of Europe. " Focus ST embodies the ethos of what our Sport Technologies brand stands for: a great-to-drive product that is visually differentiated from the rest of the model range and appeals to performance enthusiasts without losing sight of its everyday practicality and accessibility to own and insure."
Together with the recently introduced Fiesta ST model and the acclaimed Mondeo ST220, the new Focus ST epitomises the sporty attributes Ford ST models stand for: extending the strengths of their core models and enjoying clear differentiation from rally car inspired RS derivatives.
"We created the Focus ST using the same principles as the Fiesta ST, delivering sporting credentials with full family capability," Capito said. "It will have performance and handling attributes like those we delivered in the original Focus RS, but will be a truly civilised all-rounder. . Our test drivers are having a lot of fun with it at the Nürburgring -- ocus ST should appeal to everybody who loves cars."
Previewing the ST model so early in the product cycle demonstrates Ford's commitment to performance derivatives and building the ST brand, according to Geoff Polites, Ford of Europe's Vice President of Marketing, Sales and Service.
"We're serious about extending the ST family under the halo effect of our renewed commitment with Focus in the World Rally Championship," Polites said.
Strong Visual Performance Appeal
Focus ST communicates an athletic air - toned, taut and balanced - with refined sports styling outside and a stylishly purposeful yet comfortable driver-oriented environment inside.
"Focus is ideally suited to performance derivatives," said Chris Clements, Chief Designer, Ford Team RS. "With its fast silhouette as a starting point, we added distinctive design cues to communicate its more overt sporting characteristics. The result is a design that begs to be driven."
Designers evolved certain design cues established on the Fiesta ST to communicate Ford's competition heritage. They re-emphasised the visual weight of the front bumper to give Focus ST a low centre of gravity and incorporated an aggressive inverted-trapezoid lower grille. The upper grille of Focus ST is taller and narrower than that of core Focus models. Both upper and lower grilles feature a graphite mesh with signature triangular pattern hinting at mechanical power.
Flanking the top of the lower grille, foglamp openings are trimmed in brushed aluminium. At the rear, reversing and rear foglamp features are given similar design treatment, while the lower bumper has been sculpted to create a visual 'venturi effect' from which the chrome-tipped dual sport exhausts emerge.
Specially shaped sill mouldings - aligned with the chin of the front bumper - further communicate the low centre of gravity and agility of the Focus ST . Attention to detail - the special ST badge on the front wings - and performance - the highly sculpted, five-spoke, 18-inch wheels - communicate dynamism.
Focus ST also sports a more purposeful tailgate spoiler. Shaped for both aerodynamic and visual effect, the spoiler extends beyond the width of the tailgate to just above the high-mounted tail lamps of the Focus.
"We needed extra width for increased aerodynamic functionality, so we floated the spoiler over the lamps," Clements said.
Details like the spoiler, plus door handles, mirrors and body side mouldings, are all finished in the insistent, spirited bright orange that is destined to become a signature colour for the first new Focus performance derivative.
Interior of an enthusiast's Focus
The interior design of the new Focus ST also plays a role in communicating its sporting credentials. Even from the outside, Focus ST 's unique additional instrument pod, incorporated atop the upper instrument panel, creates an immediate visual difference.
The additional instrument pod is one of several special design features inside Focus ST . Under its half-dome 'eyebrow' shape, a trio of instruments - turbocharger boost pressure, oil temperature and oil pressure - are grouped. These new gauges, as well as the 160-mph speedometer, rev counter, temperature and fuel gauges in the primary instrument cluster, are given a new graphic design deeply ringed in aluminium opal colour to match other brushed aluminium interior accents.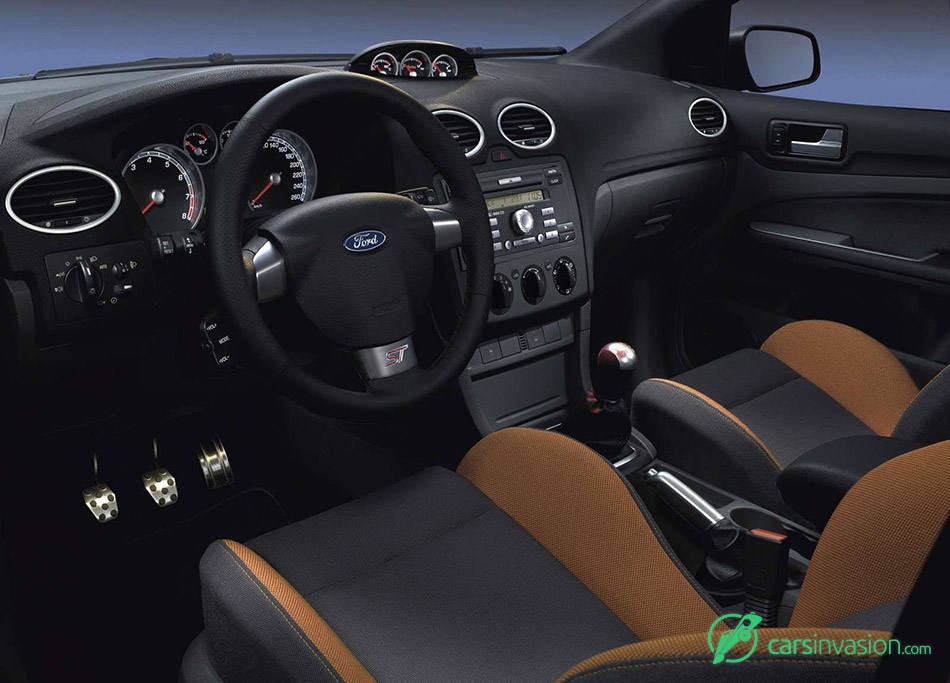 Focus ST's black headliner and A-pillars give the interior a dark, purposeful intent, giving the Focus ST a jet fighter cockpit feeling.
"These details are normally only found in the premium segment," said Narendra Karadia, Focus ST interior designer. "It creates an interesting feeling, making the driver acutely aware of the outside."
The leather-wrapped steering wheel has increased rim section with bold thumb grips and three brushed aluminium-finished spokes. The bold red ST logo is engraved into the centre spoke.
Focus ST's leather trimmed, brushed aluminium gear knob also features a red six- speed gate graphic.
Focus ST is fitted with special sport driver and passenger seats trimmed in a combination of leather and grippy orange cloth to provide optimal lateral support during spirited driving. Matching leather inserts differentiate the interior door panels and complement special brushed aluminium ST door pull sills.
Other aluminium details inside Focus ST are its purpose-designed performance pedals with rubber pads set in cast aluminium and its unique ST scuff plate finish panels.
Quick to market from Ford Team RS
Expected within a year of the introduction of the mainstream Focus family, the new Focus ST is quicker to market than previous ST models. It is one of the key benefits from the formation of Ford Team RS, according to Capito.
"Faster delivery time is one of the synergies that have resulted from combining Ford of Europe's motorsport and performance car engineering teams," Capito said.
"In the past, ST models came in the middle of a product cycle. Now we're aligned with the design, vehicle dynamics and powertrain functions to better integrate performance derivative development and take fuller advantage of the vast array of resources made possible by Ford's global shared technologies approach."
Source: Ford
Gallery:
Ford Focus ST (2006)