The basic midsize sedan market represents a highly competitive and immensely popular segment in America. Consumer demands have helped these vehicles evolve toward higher levels of adaptability and practicality. Some sedans in this segment have become practical, utilitarian appliances that appeal to a consumer's pragmatic senses without stroking one's passion for driving. It is this very realization which has driven the design of the 2005 Mitsubishi Galant, which combines the functionality and practicality, with the enhanced style, safety and performance that help sets it apart it from the class competitors.
Designed to yield substantial improvement in interior packaging, overall refinement, and engine output, the bigger, better 2005 Galant offers a practical, yet stylish alternative to the pedestrian, appliance sedans that populate the segment and is designed to attract family sedan consumers with family-sized needs.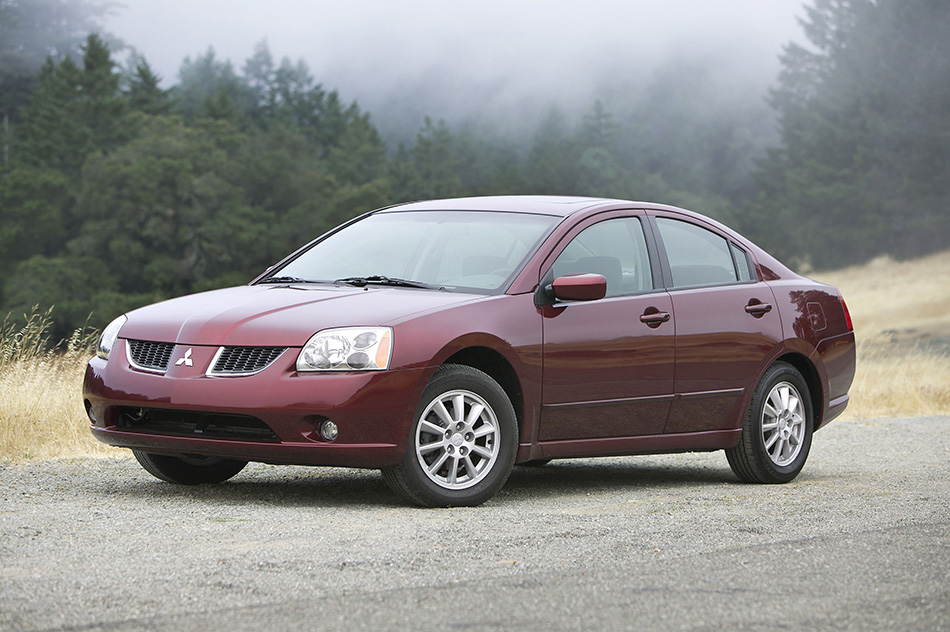 "The 2005 Mitsubishi Galant represents an exceptional value in the mid-sized sedan segment by offering consumers a stylish alternative at an unbeatable price without sacrificing quality, comfort and ride,'' said Rich Gilligan, president and chief executive officer of Mitsubishi Motors North America, Inc. (MMNA). "Utility and style go hand in hand with this latest version of Galant - the ninth generation and our fifth in North America. And the vehicle gives us a clear edge with buyers looking for something more distinctive in the class - a car that offers equal parts performance and excitement."
BUILT ON A SOLID FOUNDATION
A vehicle's fundamental quality comes from its chassis, and the 2005 Galant is carved from a solid foundation. From the floorpan to the roof, the Galant has a stronger and more rigid platform than any previous generation. Every opening in the body, including doors, trunk and engine compartment, is reinforced to help resist the bending and twisting forces that are exerted on a moving automobile. The body employs higher tensile strength steel panels to reduce body weight and increase body rigidity. The Galant's robust structure is key to its crash safety ratings, ride quality, handling feel and overall refinement.
This five-passenger, four-door sedan is powered by a choice of two robust engines designed to produce the majority of torque at lower revolutions. All Galants are equipped with a four-speed automatic transmission, and the V-6 equipped LS and GTS trim lines also benefit from a Sportronic(TM) mode that allows drivers to manually engage their desired gear.
ROOM TO MOVE
Along with offering a comfortable ride, a successful midsize sedan needs to be able to offer seating and cargo capacity for every day needs. To facilitate passenger entry and exit, the Galant's height is 57.9 inches (58.1 inches for GTS). Thanks to its stretched wheelbase, rear legroom is a generous 37 inches and provides comfort during the drive as well as more room to maneuver when entering or exiting. The Galant leads its class in rear shoulder room, providing 57.1 inches of shoulder space for rear passengers. The driver and passenger view the road from an elevated position on comfortable front seats that are among the widest in the class. Passenger comfort is enhanced by a thoughtfully designed and well-tuned chassis, which combined with efficient fuel economy, makes the Galant an ideal vehicle for long drives.
An intelligently designed rear suspension utilizes a low-mounted multi-link configuration which not only creates an excellent ride and stable handling, but also helps reduce road noise and improves quietness by adopting a resilient cross member. The easy-to-operate trunk lid-complete with an interior handle-swings up to offer a large cargo area, and the trunk hinges are designed not to intrude on the available cargo space. And to minimize hassle, the trunk features a wide opening and the low lift-over.
"HIGH-STYLE" EXTERIOR
The Galant's exterior design makes a bold visual statement about the product and the person who owns it, distinguishing itself from the traditional, ultra-conservative styling of most four-door sedans. The Galant's athletic fender arches, European-inspired front fascia treatment, and long, arching C-pillar help the Galant break from the three-box school of sedan design.
The Galant's purposeful front and rear bumpers help communicate an image of strength and safety. The vehicle's strong visual silhouette is wedge-shaped, highlighted by a waistline that rises toward the decklid. Viewed from the front, the larger fenders help accommodate the wide 61.8-inch track and reinforce the Galant's bold hunkered-down stance. Large lower air intakes in the front fascia also help convey an image of aggressiveness and purpose. Galant's sleek exterior results in a low .31 coefficient of drag. The Galant offers attractive exterior paint finishes with highlights that add depth and appeal to the sheetmetal.
INTERIOR
The Galant's interior exemplifies the Mitsubishi brand's spirited product virtues by offering a stylish, upscale atmosphere. The Galant's dashboard is dominated by sculpted, modern, architectural form housing user-friendly, intuitive controls for both the driver and the front passenger. The center dash features a prominent climate and audio control stack that was designed to resemble a modern, high-tech home audio interface with large control knobs. Atop this center panel is an available 4.9-inch color LCD display that provides climate and directional information, and even functions as a interface that can allow owners to customize many of the vehicle's interior functions. At night, the gauges, interior control knobs, and switches are illuminated with striking ice-blue LED lamps that help create a sophisticated interior ambience.
Storage capacity was an interior design priority on the Galant, as evidenced by a large-capacity glove box and the numerous secondary cubbies and storage compartments. The intelligently designed center console includes a pair of large-volume cup holders, while other cubby spaces are capable of holding cell phones and sunglasses. The Galant's door panels are covered in modern, padded and textured materials that match the seat covering and instrument panel.
The front door panels include large door pockets ideally sized for large map books or magazines, and the rear door panels feature a cubby space large enough to hold Game Boys, juice boxes or other travel items.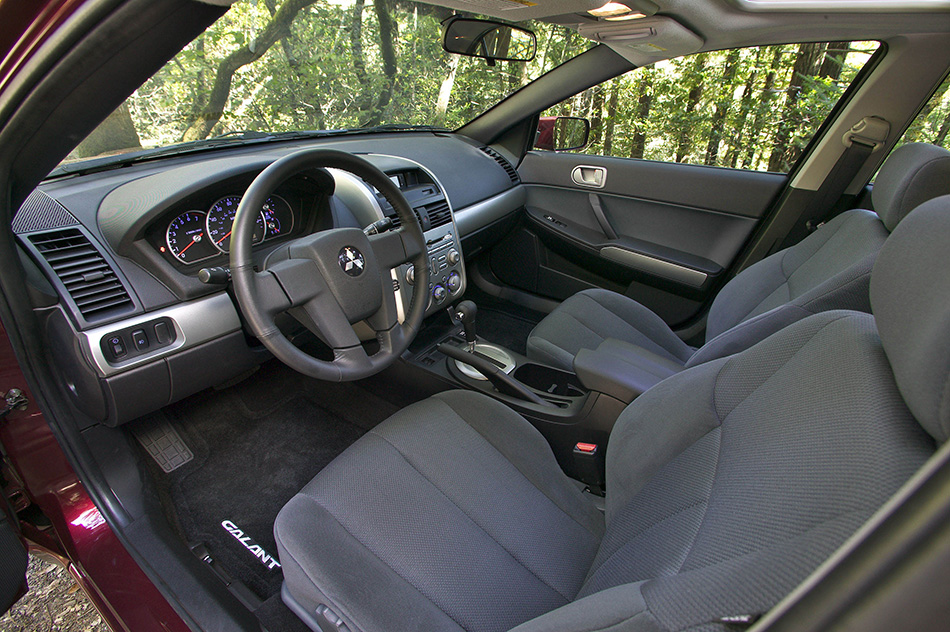 The Galant's plush seats offer generous shoulder and hip room for superior comfort. The seats, depending on the trim level, are covered in either cloth, premium fabric or leather and they feature deep accent lines to help emphasize the seat width. Leather seat coverings, standard equipment on Galant GTS, are available as part of an option package on the Galant ES and LS. In the interest of reducing fatigue and increasing comfort during drives, the Galant is equipped with ideally positioned door panel armrests, a center console armrest pad and a rear folding armrest complete with cup holders. The Galant's driver's seat includes a seatback pocket, handy for storing magazines or coloring books, and is available with a lumbar support adjuster that is standard on the Galant LS.
DRIVETRAIN AND CHASSIS
The Galant is powered by one of two engines. A responsive 2.4-liter inline four-cylinder engine, standard on the DE and ES trim lines, develops 160 horsepower and 157 pound-feet of torque, thanks to Mitsubishi Innovative Valve timing and lift Electronic Control (MIVEC) system. Through this system, which makes use of different sized cam lobes to increase lift for continuous power, even the entry level Galant achieves a high level of performance. But for anyone who equates high power with luxury, the LS and GTS trim lines offer just that. Both offer a standard 3.8-liter, 60-degree, SOHC V6 engine that is ideally suited to provide brisk acceleration for spirited driving while maintaining efficient fuel economy. Rated at 230 horsepower at 5250 rpm, with peak torque of 250 pound-feet at 4000 rpm, the Galant's V6 provides plenty of power and tremendous torque from a wide part of its rev range. The engine's intake and exhaust events are tuned to achieve maximum torque early in the rev range where the engine will spend the most time.
The Galant's 3.8-liter V6 engine is mated to a sophisticated four-speed automatic transmission with Sportronic(TM) shifting. The transmission features fully adaptive shift control that "learns" driver inputs and tailors transmission operation to their habits. Both engines are mated to transmissions equipped with final drive ratios optimized to improve the vehicles off-the-line acceleration. And the gear ratios are also well-suited for highway performance.
SUSPENSION
The Galant's four-wheel independent suspension was designed to provide superior stability, excellent ride quality and nimble handling. The Galant utilizes a proven MacPherson strut design front suspension. A large, rigid cross member minimizes the torsional flexing forces of the front sub-frame, improving suspension performance while also reducing noise, vibration and harshness.
The Galant's rear suspension utilizes a low-mounted, multi-link configuration with trailing arms. Stiff hydro-formed cross members also help reduce road noise and improve suspension performance by reinforcing the rear suspension mounting points to reduce flex. The Galant's wide, 61.8-inch (1570 mm) front and rear track endow this broad vehicle with superior stability and control. And in the interest of handling, ride quality and style, the Galant is equipped with either attractive 16-inch wheels with 215/60R16 tires or five-spoke, cast aluminum 17-inch wheels wrapped in wide 215/55R17 rubber.
The Galant utilizes a proven power rack-and-pinion steering system that is designed to provide the direct feeling and response of a sports car, while the system's effort multiplication provides the low-speed steering control that makes parking and low-speed maneuvering so easy.
BRAKES AND SAFETY
The Galant's unibody structure features extensive reinforcement to help provide additional passenger protection in the event of a collision. Robust front subframe members are connected with a dash panel crossmember and strong, front steel crossmember to help create a rigid boxed section front subframe area.
Reinforced side sill members also help disperse energy in the event of a collision. High-strength steel crossmembers across the floor absorb side impact energy and help protect occupants. In the interest of front passenger safety, the Galant is equipped with advanced front airbags with occupant sensors. For 2005, the Galant offers standard front seat-mounted side impact airbags designed to help protect the occupant's head in the event of a collision.
Pretensioning seat belts with force limiters are standard equipment on all Galants. Extensive use of energy absorbing materials appear on the interior and headliner and are used to cover the inside of the front center and C-pillars to help reduce the possibility of injury during a collision.
All Galants utilize four-wheel disc brakes. The front ventilated discs measure 10.9 inches (upgraded to 11.6 inches on the LS and GTS). Rear brakes are 10.3-inch solid discs. Coupled with available ABS (standard on both LS and GTS) and EBD systems, the Galant's powerful brakes provide excellent control during panic stops and on rain-soaked roads.
Source: Mitsubishi
Gallery:
Mitsubishi Galant (2005)