A smile on the face of Fiesta and a tough new look for Fusion are the outward signs of significant improvements to Ford's small best sellers - giving them even more of a sparkling personality in a crowded marketplace.
The Fiesta has been acknowledged as one of the best small cars to drive, and new versions of both Fiesta and Fusion keep their 'fun to drive' personality. Exterior styling revisions and major changes to the interior bring a fresh look to both vehicles and emphasise their different roles.
It's a bright, fun look inside too. Both cars get all-new, high quality fascias, featuring re-designed and easier to read instruments and a slush-moulded, soft-feel top section available in a range of colours.
Customers really have the chance to make their mark on their new car. Wider colour and trim choice is another key element of the improvements, with striking new seat fabrics that can be matched with various fascia and trim panel colour combinations, offering real scope for customers to personalise their new vehicle. Both cars are truly tuned to the needs of their owners, with significant improvements to the Fiesta and Fusion's electrical features.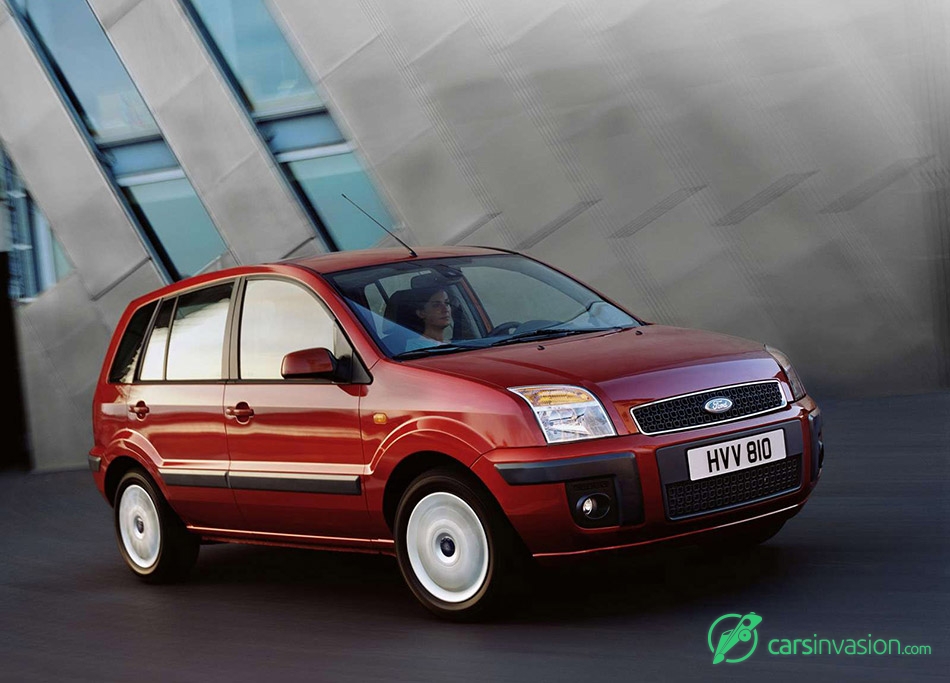 Fiesta - Wide Eyed Fun
The revised Fiesta range - including the newest ST and Sport models - now boasts a striking new front end design intended to reflect visually the car's widely-praised driving behaviour. Always fun to drive, Fiesta now has a fresh, wide eyed look, thanks to distinctive new lamp units.
In the front lamp units, Fiesta's designers have separated out the three front lighting elements - headlamps, parking lamps and indicators - and surrounded each by a chrome-finish ring. These are packaged behind a new cover that adds to the individual new look.
Fusion - Tough and Tall
Distinctive, with a look that makes it stand out from the crowd, the exterior changes to the new Ford Fusion have helped to differentiate further it from its stablemate. This is especially noticeable in the all-new front end where its new square lamps are quite different to those of Fiesta and have prominent orange indicator reflectors across their upper quarter.
Quality and colour tell the inside story
The cornerstone of the interior improvements that run right across the Fiesta and Fusion ranges is an all-new fascia incorporating an easier to read instrument cluster, improved integration of dashboard features, an entirely new audio system and, importantly, a new two-part structure.
The top section of the new fascia is formed in soft-feel, slush-moulded and grained material, giving greater interior quality. The slush moulding process in which a thin surface 'skin' is formed over the dashboard's core to create the finished fascia section also enables colour variations to be created. This allowed the designers more freedom of choice in their usage of interior trim colours. The result is a series of striking new interior treatments, matching some dramatic new two-tone fascia colours with eye-catching new fabric designs in a wide range of permutations.
The new fascia is a major enhancement. The most noticeable change is to the instrument cluster where there are new, highly readable instruments, including analogue minor gauges. Also the dials are white rimmed with white on black read-outs. The new audio system is seamlessly integrated into the centre panel of the fascia as is the new climate control system and minor switchgear has also been re-ordered and improved in look and feel.
Advanced electronics bring large car luxury
The new dashboard is the driver interface for many of Fiesta and Fusion's new electrical features. Not only do these bring new, high levels of comfort and convenience to the small car segment, they also allow customers a unique opportunity to personalise the way some of these features operate.
The Fiesta and Fusion's new 'personalisation menu' allows these preferences to be easily set and changed. The system has been designed into a new vehicle computer whose dot matrix display is integrated into the instrument cluster. Operated by a button on the indicator stalk, the computer can be cycled through conventional functions, but in addition offers a personalisation sub-menu. Here those features just mentioned can be adjusted to taste as can the choice of having the audio display repeated in the instrument panel.
Alongside this B-segment 'first', the new cars can also boast another - voice control technology as first seen on the new Ford Focus. This allows the driver hands-free control of climate control temperature and fan speed, radio tuning and CD. The system is operated via the 'mode' button of the audio system's remote control stalk and will mute the radio and play the caller's voice in tne event of an imcoming call over the car's speakers for maximum clarity.
The new audio system itself is another significant improvement for Fiesta and Fusion. They are the first Ford models to benefit from what will be a new, high quality audio unit that will eventually find its way into larger Ford models.
Fully Electronic Automatic Temperature Control (EATC) is also new to the Fiesta and Fusion. This electronic climate control allows desired vehicle temperature to be dialled in and maintains it via sensors that monitor interior temperature and sun load.
Source: Ford
Gallery:
Ford Fusion EU-Version (2006)