In the two years since the stunning Jaguar F-Type Roadster hit the streets, its cache has continued to grow. And no wonder, as this purebred roadster is the all-round spiritual successor to the legendary Jaguar E-Type.
PIECHA Design of Rottweil, Germany, inspired by the passion and flair of the F-Type have now put their own design stamp on it, with aerodynamic styling components and alloy wheels that enhance the sporting flavour of the British Roadster.
 
The aerodynamically sculpted Front-Cup-Wings clean up the air around the nose, reducing lift, while the side sill Wings integrate into the F-Type's lower flanks, emphasising its sleek form and adding to its impression of width.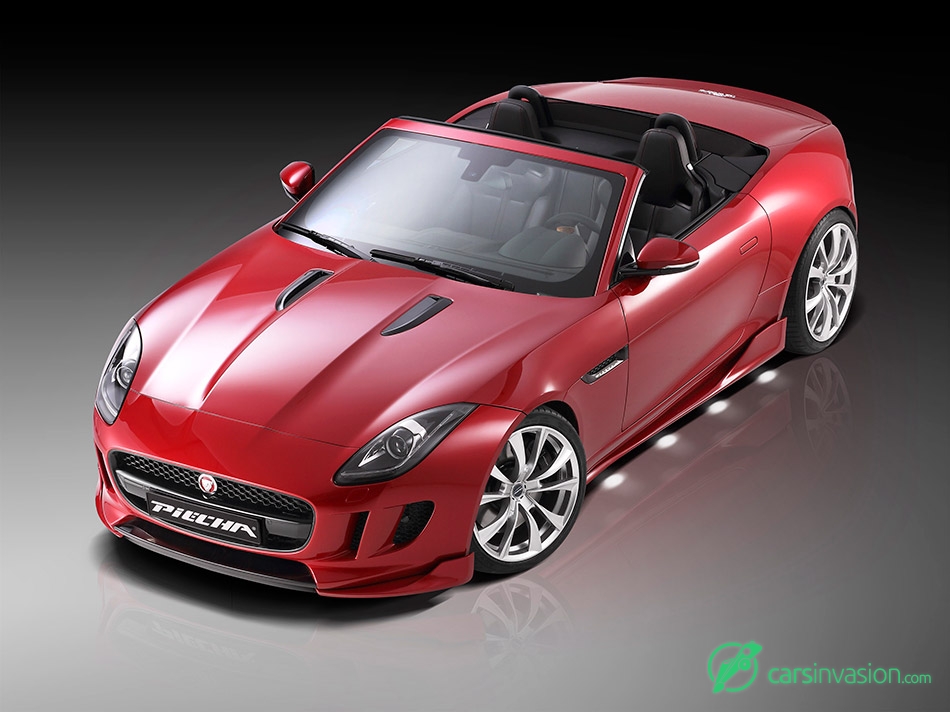 The black standard rear underbody diffuser lacks visual definition, so Piecha replaced it with a 40 cm wider design incorporating a pair of vertical stabilising fins to smooth the underbody airflow separation and reduce drag.
The contoured body coloured undertray and stainless steel grille inserts break up the visual mass of the diffuser area, and frame the four exhaust tail pipes. Piecha's larger, bespoke, 90 mm trim pipe ends attach to the original tail pipes and deliver a crisper, more premium look.
Last but not least, the Piecha rear spoiler lip that sits on the edge of the tail, helping to reduce lift and drag, is so harmoniously integrated into the lines of the car it looks like it left the factory this way.
To match the extra visual muscle conferred by the aerodynamic additions, the 9.5x20 and 11.0x20-inch PIECHA MP1 monoblock alloy wheels paired with the standard tyres use different offsets to increase the cars track slightly, filling out the wheel arches more fully. In combination with 30 mm shorter sports springs, this gives the car a lower, more purposeful stance.
The Piecha F-Type Roadster is not all about performance and looks. Comfort and convenience are also on the agenda, and delivered by the Comfort-Varioroof-Module. This includes One Touch roof operation and automatic window closing following convertible top operation with just three clicks of the standard key fob from a distance, plus a few other features.
The complete Piecha Design Jaguar F-Type programme is now available for all 3.0-litre V6 and 5.0-litre V8 Roadster and Coupe variants.
Source: Piecha Design
Gallery:
Piecha Jaguar F-Type Roadster (2015)