The all-new Ford Mondeo makes its world debut at the 2006 Paris Motor Show between September 30 and October 15. Ford of Europe's stylish new flagship model is being previewed in its wagon bodystyle in near production specification, with launch scheduled across Europe from the second quarter of 2007.
"The new Mondeo is critical to the Ford of Europe business," said John Fleming, President and CEO of Ford of Europe. "The Ford Mondeo has always been a major player in the European CD segment, and with over four million owners looking for us to deliver something special, we have every intention of meeting their significant expectations with this all-new model."
New Mondeo will follow and build on the success of the new Ford S-MAX and Ford Galaxy models, both of which have been launched to media and customer acclaim during 2006.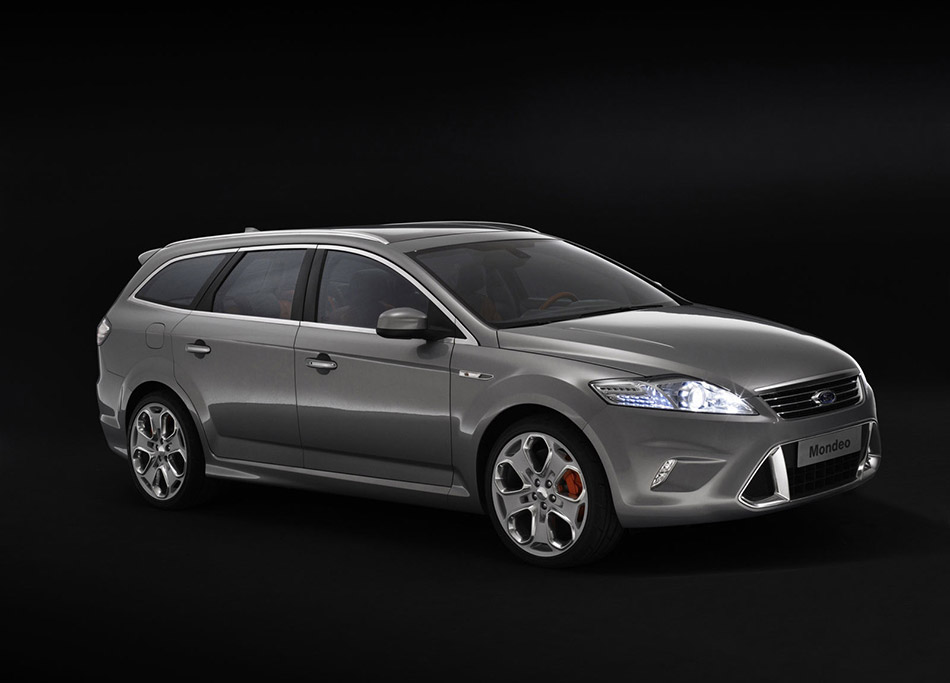 To meet customer needs and wants, the 2007 Mondeo will deliver more comfort, more space, and more premium quality features, while remaining affordable.
Benefiting from Ford's 'Shared Technologies' initiative, new Mondeo shares much of its architecture and technology with S-MAX and Galaxy, as well as a production line.
New Mondeo completes a € 715 million investment that has modernised Ford's Genk plant in Belgium and transformed it into a world-class, flexible manufacturing facility. From early 2007, new Mondeo bodystyles will join S-MAX and new Galaxy on the same assembly lines using common architectures and technologies.
This gives the company tremendous flexibility and manufacturing efficiency to respond to market demands and fluctuations.
Genk also plays an increasingly important role in the global Ford business. Ford of Europe continues to strengthen its role as the developer of high quality vehicles like the new Mondeo which are targeted not just at Europe, but also at the Asia Pacific and African markets.
New Mondeo has also been developed in line with Ford's Product Sustainability Index.
PSI provides a basis for permanent evaluation and improved sustainability performance for new generations of vehicles across environmental, social and economic areas. This holistic approach to product development is an industry first, with the new S-MAX and Galaxy being the pioneer vehicles created with PSI.
New Mondeo Design - Energy in Motion
The new Mondeo is striking and unmistakably a member of the Ford family. It takes the company's 'kinetic design' form language to a new level.
A comprehensive range of core bodystyles will be launched concurrently in the new range, but the Ford of Europe design team has chosen the new wagon as its Paris hero.
"The wagon bodystyle is very important in the CD segment so it is appropriate that we show this derivative in Paris first," said Martin Smith, Ford of Europe's Design Director.
"The new Mondeo's wagon bodystyle really emphasizes the sporty, dynamic and premium appearance of the new range," added Smith. "Above all, we've managed to achieve this kinetic look without compromising luggage capacity. I believe new Mondeo will challenge everyone's perceptions of a big Ford car, and prove that we can once again deliver style with substance in a desirable form."
The new Mondeo clearly demonstrates how Ford of Europe's 'kinetic design' language is shaping the company's new models. This form language will be progressively applied to future Ford vehicles in an appropriate way, depending on individual vehicle or market segment tastes.
The new Mondeo range will incorporate all of the key 'kinetic design' elements:
Dynamic lines and a three-plane plan front-end view
Full surfaces
Strong shoulders
Bold wheel lips
A rising belt line
A distinctive kick-up of the window graphic at the C-pillar
"With the purest expression of 'kinetic design' revealed in the Ford iosis Concept at Frankfurt 2005, we then introduced the first elements into volume production on the new S-MAX and Galaxy," Smith added. "Now, the new Mondeo takes the next major step along our journey towards a more expressive and emotional Ford range."
Immediately evident in the new model's appearance is the distinctive front end, with its chamfered corners and the deep offset between the top of the bonnet and the front wings. Seen from above, the three-plane plan view of the frontal area is immediately obvious, and a key visual link between the new Mondeo and the 2005 iosis Concept vehicle, emphasizing their proportional relationship.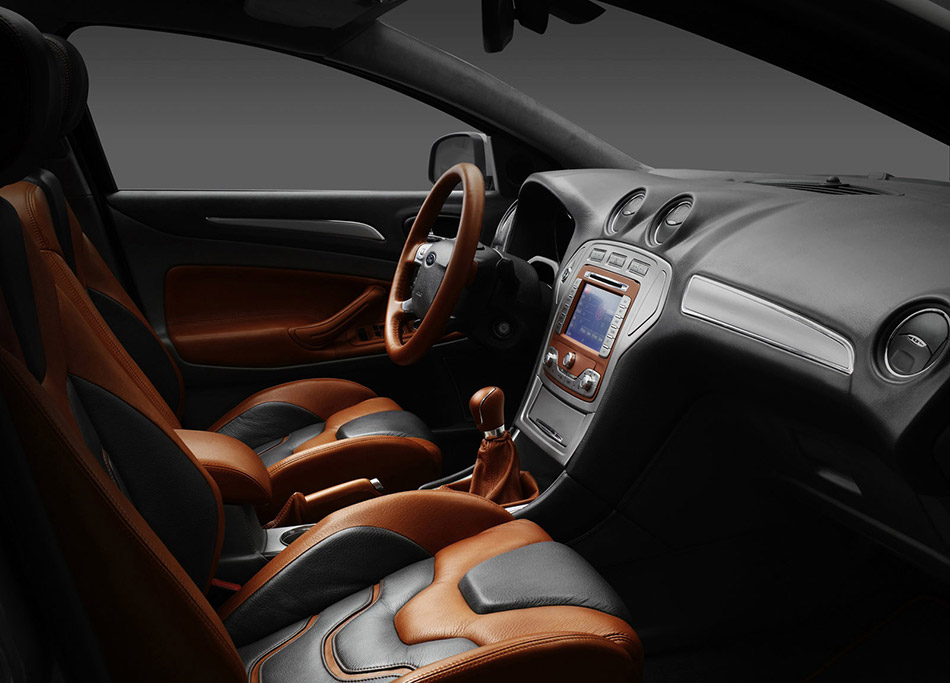 The new family face of Ford is further represented at the front end by a premium-feel, large upper grille opening, and an inverted trapezoidal lower grille. Large and distinctive headlamps and lower foglamps are a key design element, and draw the eye around the chamfered corners, neatly disguising the volume required to meet the latest pedestrian protection requirements.
A muscular shoulder line runs through the side of the car to a high point at the rear. This produces a dynamic window graphic when the so-called "daylight opening" (DLO) is viewed in profile, and an upward kick at the rear of the DLO further emphasizes the feeling of motion. Distinctive rear lamps also feature carefully designed graphics that enhance the overall feeling of premium quality.
A strong undercut line runs from the bold front wing wheel lips through the side of the car. Under this, full surfacing extends down to strong rocker panels to ensure the vehicle maintains a dynamic road presence.
The undercut and full surfaces are key graphic elements of 'kinetic design' and are already becoming familiar as new S-MAX and Galaxy become more visible on European roads.
'Kinetic design' themes are carried through to the all-new interior, which features high quality surfaces, materials and finishes.
Here, dynamic lines and full surfaces are again evident, and the low profile instrument panel provides very generous cabin space for front seat occupants. The flow-through centre console allows the gear shifter to be located high and within easy ergonomic reach of the driver.
The design team has also paid great attention to interior detailing, and examples of this include new generation infotainment systems, plus the next generation of Ford's Human Machine Interface (HMI). This easy to use system features the same steering-wheel toggle switches seen on new Galaxy and S-MAX, but introduces the availability of a large central LCD screen with full colour graphics situated between the main analogue instruments in front of the driver.
Rear seat headroom and legroom have also come in for scrutiny by the Mondeo development team, and these have been maximized for occupant comfort and safety.
"New Mondeo will deliver premium levels of comfort in a class-leading package," says Steve Adams, Ford's Vehicle Line Director for Large Cars. "You can also expect innovative and top-of-the-range new technology features, particularly those aimed at assisting and pampering the driver."
New Technology Combined with Driving Quality
The 2007 Mondeo range will feature many of the new technologies seen on Ford S-MAX and Galaxy, and also introduce some new features unique to the new model.
The Ford team is also determined to ensure that new Mondeo will maintain its position as the best CD car for driving quality, with superior driving dynamics, and targeting best-in-class steering, ride and handling.
A wide range of dependable Ford powertrains will be offered, from the powerful and well-proven Ford Duratorq 2.0-litre TDCi diesel and a high-performance 2.5-litre turbocharged Duratec petrol engine derived from that fitted to the new S-MAX, to efficient 1.6-litre Duratec petrol and 1.8-litre Duratorq TDCi diesel engines with outstanding fuel economy.
Source: Ford
Gallery:
Ford Mondeo Wagon Concept (2007)