Launched in October 2007 as Mazda's first new-generation vehicle to be evolved to a new level, the all-new Mazda2 was an immediate hit with European customers, finding almost 40,000 owners through April 2008. In December last year, Mazda2 five-door was awarded five stars for adult occupant protection at Euro-NCAP crash testing. It won a host of automotive awards as well, including the World Car of the Year award (see below), and many national awards such as the Car of the Year in Austria, Belgium, Bulgaria, Croatia, Denmark and Slovakia, Japan and South Africa. Now Mazda2 is about to get even more popular with a new three-door model that has all the award-winning attributes of the five-door, and is even more stylish, sportier and more affordable.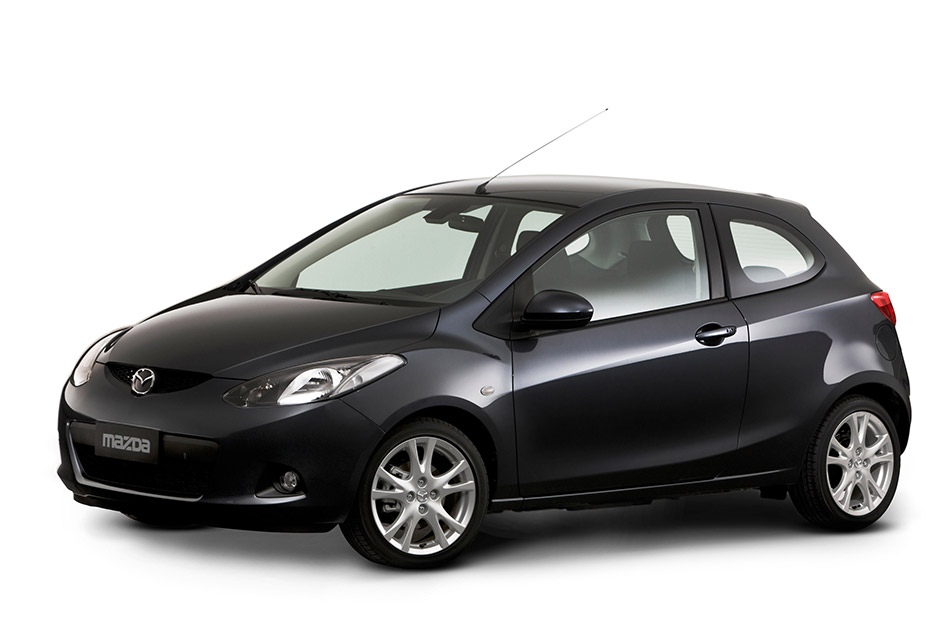 Design – Sportiness Enhanced
The new Mazda2 three-door builds on the five-door's exterior design – that evokes movement and athleticism using unique body panel articulation and compact dimensions – for even more sporty appeal. Its rear side window has a unique shape that, when combined with the rising belt line and wedge shape of the Mazda2, communicates an even more fun-to-drive character. Fresh and dynamic-looking, its overall design communicates a calm strength achieved through formal beauty and the highest levels of build quality yet seen on a Mazda B-car. And its eye-catching design is also 4 percent more aerodynamic than the old Mazda2. A coefficient of drag (Cd) of only 0.31 and a coefficient of lift (CLF) of just 0.02 help reduce fuel consumption and operating costs, which is important to young, first-time buyers. For more sporty-minded customers, a Sports Appearance Package is available with a special front bumper design and side sills that visually lower the car's centre of gravity, and a rear roof spoiler. On the inside, a dark keynote colour contrasts nicely with white instruments, silver accents, a three-spoke steering wheel similar to the Mazda MX-5 roadster, a silver ringed driver cluster and centre-console mounted shift lever for an ambiance that is both sporty and high quality.
Comfort, Functionality and Equipment
As with the five-door version, the new Mazda2 three-door has a roomy interior, despite its compact and dynamic exterior design. For optimum access to the rear seats, the door opening is 163 mm wider than the front door opening of the five-door. The three-door version includes handy walk-in functionality, which folds the seatback of the front passenger seat and slides it forward to produce one of the segment's widest access widths for easy entry. Once inside, passengers find themselves in a roomy and comfortable interior. A relatively long wheelbase (2,490 mm), an innovative roof header shape, reduced roof-lining thickness and a lower rear hip point height combine to deliver plenty of head, shoulder and leg room both front and back. The driver's seat can be slide adjusted up to 250 mm and height adjusted up to 55 mm. This is combined with adjustable steering wheel height and a centre console-mounted manual shift lever for a sporty, wrap-around cockpit with room for people of nearly all shapes and sizes.
The higher shift lever placement makes room between the front seats for a floor console with a drink holder in the front and a storage tray in the rear large enough for a woman's handbag, along with an AUX jack for plugging in an MP3 player to use with the car's audio system (depending on grade) and a 12-volt power socket that can be used to power or charge electrical accessories. Other handy storage compartments include a unique magazine rack in the glove compartment, front door pockets with space for a half-litre bottle and an A4 atlas, and three compartments in the dashboard for smaller items. The luggage capacities are unchanged compared to the five-door version. Behind the rear seats is a 250 litre luggage compartment that can hold two suitcases or a baby buggy, and can be extended to 787 litres when the rear seats are folded (60/40 functionality for all grades except base) to take larger items.
Mazda2 three-door will be offered in three grades (depending on market) with a full slate of equipment for young, fun-minded drivers. Remote central locking, electric adjustable side mirrors, electric power assist steering and ABS are standard on every Mazda2 in Europe. Also onboard – depending on grade and market – are six airbags, heated and retractable door mirrors, 15 or 16-inch alloy wheels, manual or automatic air-conditioning, power front windows, rain and light sensor system, adjustable speed warning system, cruise control (1.5-litre petrol with board computer only), dynamic stability control DSC (depending on engine), keyless entry and start system, and other features.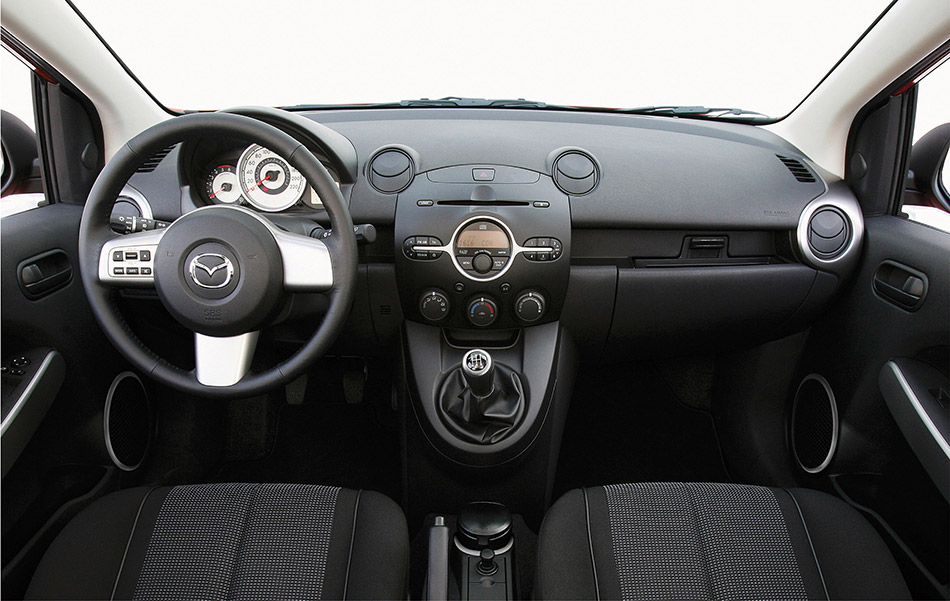 Powertrains – Low Consumption and Low CO2 Emissions
Mazda2 three-door comes with the same petrol powertrain line-up as the five-door with engines that are lively and responsive, yet use low amounts of fuel and produce markedly less CO2 than the engines of the outgoing model. The base MZR 1.3-litre aggregate has variable valve timing and comes in two power derivatives (depending on market): a Standard Power version producing 55 kW/75 PS and a High Power version producing 63 kW/86 PS. Both use just 5.4 litres of petrol per 100 km and produce a low 129 g/km of CO2 emissions. The largest petrol engine is an MZR 1.5-litre that produces 76 kW/103 PS of power, while using just 5.9 litres of fuel per 100 km and producing 140 g/km of CO2.
1.4-litre Common-Rail Turbo Diesel Now Available
Now also available is an MZ-CD 1.4-litre common-rail turbo diesel with high fuel efficiency and low emissions. This engine is  special for the European market where low operating costs are a vital criteria for B-car customers. It produces 50 kW/68 PS of maximum power at 4,000 rpm and 160 Nm of torque at a low 2,000 rpm for lively acceleration and driving fun. At the same time, it uses just 4.3 litres of fuel per 100 km (combined) and produces only 114 g/km of CO2, the lowest CO2 value ever achieved by a Mazda production car sold in Europe. All engines come with Mazda's five-speed manual transmission with gear ratios that are between 3 to 10 percent higher than the previous five-speed, which contributes to lower fuel consumption.
Chassis and Safety – Lightweight with Safety Features Equal to the Five-door
The Mazda2 five-door was launched with a body shell that is nearly 100 kg lighter compared to the previous Mazda2. By keeping vehicle weight under the 1,000 kg threshold, the new Mazda2 reversed a general trend in the automotive industry of making each new model heavier. This outstanding result was achieved mostly by engineering solutions – like employing large amounts of strong yet light high-tensile steels and reducing weight wherever possible – but also by reducing the car's dimensions, making it agile with low fuel consumption and lower operating costs.
Mazda took this vital attribute one step further in developing the new Mazda2 three-door. It is another 5 to 10 kg lighter than the five-door, ranging from 950 kg for the two 1.3-litre petrol derivates to 970 kg for the 1.4-litre diesel.
High tensile steel also delivers some of the B-segment's best crash safety, as was shown when the Mazda2 five-door scored the highest possible ranking of five stars on Euro-NCAP testing with 34 points for adult occupant protection. It also received an outstanding four-star ranking for child occupant protection with 37 points, making it one of the few sub-compacts to achieve this level of child protection. And for pedestrian safety, it achieved an admirable 18 points and a two-star ranking. The body structure of the Mazda2 three-door is reinforced around the B-pillar and in the doors, including specific side impact protection bars. Its superior passive safety package includes six airbags, ABS, electronic brake force distribution (EBD), emergency brake assist and DSC (depending on grade and engine).
Source: Mazda