The 2011 Ford Explorer has been redesigned from bottom to top, inside and out, to reflect a contemporary vision of what customers today want in a modern SUV.
"Ford has changed everything about the all-new Explorer, yet it's still instantly and instinctively recognizable as a Ford Explorer," said Moray Callum, executive director of North America Design. "We believe that's because it's a contemporary interpretation of the same capabilities Ford Explorer has always stood for, without compromise."
"The all-new Ford Explorer combines bold, evocative design language with a wind- and noise-cheating aerodynamic shape on a rigid unibody platform," said Melvin Betancourt, design manager. "Explorer has the height, stance, ground clearance and SUV cues that clearly indicate its off-the-beaten-path capabilities."
The Ford Explorer design team was challenged with reinterpreting the segment-defining icon as a modern, contemporary SUV for the 21st century.
"The new Ford Explorer starts with proportions and stance," Betancourt said. "Its agile, fluid lines combine with the muscular toned sheet metal, delivering athletic good looks and unsurpassed aerodynamics. The liftgate spoiler lip and the flexible lower air dam - integrated into the fascia - harmonize to provide wind tunnel-proven fuel economy. Blackened rockers lift the eye, denoting Ford Explorer's rugged four-wheel-drive capability and driver empowerment."
Strong, body-color C-pillars and blackened D-pillars are traditional Ford Explorer cues, while the blackened A-pillars and B-pillars provide a fresh new wraparound daylight opening.
Ford Explorer's design is connected to Ford brand DNA through wheel flares inspired by the Mustang and a body-side undercut that follows current Taurus design protocol, Betancourt explained. "Up front, Ford Explorer has a new interpretation of the Ford signature three-bar grille. Below the bumper, the Ford DNA trapezoidal lower grille provides visual continuity across Ford vehicles on the showroom floor."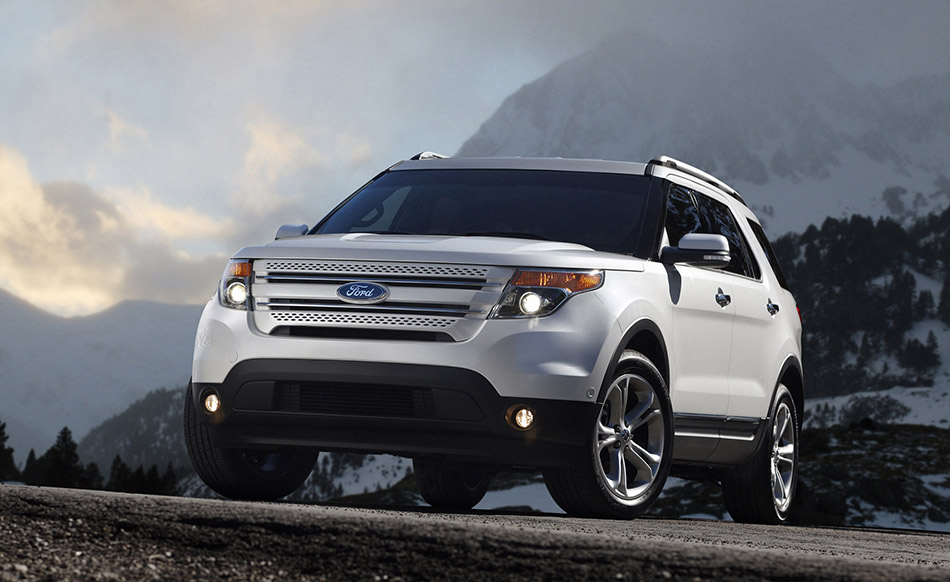 Standard roof rack, rounded corners, shorter overhang, and aggressive wheels and tires provide the rugged cues that customers recognize in an SUV.
From the rear, LED stop lamps glow from the jewel-like taillamp cluster. The Explorer name projects from the rear liftgate appliqué.
Inside Ford Explorer: Soft touches and upscale seating for seven
As with the exterior, the Ford Explorer interior design brief was to modernize, making soft-touch surfaces and occupant comfort key priorities. A goal was to make the Ford Explorer interior a three-row medium for the technology, convenience and connectivity it contains, while inspiring driver confidence in dynamic driving on any road, anytime, anywhere.
The feeling of the interior is one of an upscale, premium vehicle, from the choice of materials to the high levels of fit-and-finish.
"Make it look expensive: That was my goal for the new Explorer interior," said Mike Arbaugh, interior studio manager. "This is a vehicle that challenges higher-end SUVs like BMW X5 and Audi Q7, so the interior design, craftsmanship and fit-and-finish should play in that league."
The new Ford Explorer interior package is a best-of-both-worlds approach, combining premium European design cues - imparting a sense of driving dynamics - with a sophisticated and uniquely American familiarity. The graceful, seamless flow from instrument panel into the doors and the forward-leaning center stack reflect the sporty, European theme while the command seating position bestows the sense of security so important to SUV buyers.
The Ford Explorer interior package also reflects the latest iteration of Ford DNA storage thoughtfully arranged throughout the cabin, including clever spaces for everything active families like to take along.
"As a designer and an audiophile, I'm really excited about the metal speaker grilles in the door panels," said Arbaugh. "They impart SUV ruggedness, they look technical and expensive, and they offer superior sound transparency."
Instrument and door panels all reflect soft-touch surfaces, making the Ford Explorer interior environment more pleasing from both aesthetic and tactile perspectives. Cloth interior surfaces - including the black headliner - are comprised of 25 percent recycled content. Seating foam from environmentally friendly soy-based content helps Ford Explorer keep it green.
"The modern design, soft-touch surfaces and chrome accents harmonize to give the new Explorer an upscale aura we think customers will really appreciate in a three-row, fully capable SUV," said Arbaugh. "The media hub and MyFord Touch™ driver connect technology not only reflects SUV buyer lifestyles, it enhances them."
World-class craftsmanship
The new Ford Explorer elevates the importance of SUV fit-and-finish, not just for North American customers but on a global stage. Ford Explorer is the most exported North American nameplate in the Ford brand portfolio. To that end, the 2011 Explorer was designed and developed to exceed not only North American standards, but global standards for the execution of interior surfaces and the absence of protruding edges.
Meeting these global standards called for tighter surface margin gaps and tolerances, equal to or better than Audi. While this presented some challenges for the interior design team, it also served to underpin the advance in Ford Explorer interior craftsmanship and quality.
A global internal Ford craftsmanship and quality process was instituted with Ford Explorer development, providing metrics and benchmarks to include better quality materials, with enhanced focus on how well interior and exterior parts come together.
Taken to new heights
As part of Ford's global product development system, Ford Explorer was subject to extreme testing while still in the virtual computer-aided design phase. Issues identified and addressed in the virtual realm help deliver a higher quality vehicle when prototype build begins. Then these running prototypes are tested and validated to ensure that the attributes targeted at the outset are delivered for customers.
The Ford Explorer vehicle engineering team took prototypes over Colorado's 13,114-foot Imogene Pass, buried them in deep sand in the California desert, carved through snow in Minnesota and Northern Michigan, traversed a slippery red clay mud bog in Alabama, and logged countless development and validation miles at both Arizona and Michigan proving grounds.
The goal: Deliver a durable, high-quality, fully capable and fuel-efficient SUV for today's customers in more than 90 countries around the world.
Quietly capable
The 2011 Ford Explorer was designed and developed to deliver best-in-class levels of NVH control and to rival premium SUVs in quietness. Customer research told the Ford Explorer development team that the interior of an SUV should be serene and soothing.
Ford Explorer's quiet ride began in the design phase. A unibody configuration with fewer parts means reduced opportunity for squeaks and rattles. The front bolster housing the radiator is one single component, whereas a key competitor requires 11 separate pieces to perform the identical function. In addition, Ford Explorer features a hydroformed front structure to add strength, save weight and reduce NVH.
Ford Explorer development employed NoiseVision technology and statistical modeling to optimize NVH balance. NoiseVision consists of a sphere with hundreds of tiny cameras and microphones that allow engineers to pinpoint individual sounds at various frequency bands. This enables isolation and correction of potential noises early in the process.
To provide a quiet ride, Ford Explorer features acoustic-laminated glass, an acoustic headliner, a driver's side hush panel, full-perimeter hood seal, underbelly pan, a lofted high-density hood insulator, mass-backed barrier carpet and mastic floor treatment. Inner-dash and tunnel insulators, a dash doubler, a spare tire carpet cover door, liftgate and pillar trim absorbers all contribute to interior quietness.
Statistical modeling was employed to tune Ford Explorer sounds. Customers prefer some engine noise - upon acceleration, for example. This analytical measure helps engineers to balance eradication of unwanted sounds, yet accommodate for sounds that appeal to drivers.
Ford Explorer V6 sets new standard
The Ford Explorer 3.5-liter V6 is offered as standard equipment across base, XLT and Limited models. Delivering an anticipated improvement in fuel economy of more than 20 percent versus the previous Explorer model, this smooth and powerful V6 enables intelligent four-wheel drive (4WD) with terrain management. The improvement in efficiency helps Ford Explorer to surpass fuel economy figures for the 2010 Honda Pilot and other vehicles in the segment.
Using Ti-VCT for optimized fuel economy and reduced part-throttle emissions, this engine delivers an estimated 290 horsepower and 255 lb.-ft. of torque.
This V6 engine has been highly developed for the Ford Explorer application, with multiple actions that enhance mechanical efficiency, increase fuel economy, lower emissions, reduce operating costs and bolster durability.
Mechanical efficiency, performance and fuel economy have been improved through Ti-VCT, a low-tension drive belt featuring a one-way clutch for the alternator, a direct-acting mechanical bucket (DAMB) valvetrain with polished buckets to reduce friction, piston-cooling jets, improved bay-to-bay breathing through the cylinder block and composite cam covers that reduce engine weight.
Ti-VCT allows precise, variable control of valve overlap, or the time when intake and exhaust valves are open concurrently. This enables increased mechanical efficiency for improved response and performance, while optimizing fuel economy. In part-throttle conditions, Ti-VCT helps reduce emissions.
The 3.5-liter V6 also features improved deceleration fuel shutoff technology to maximize fuel economy in closed-throttle situations.
The Explorer V6 has been engineered for durability with a chain-driven camshaft, high-strength forged powder metal connecting rods with floating pins, fully counterweighted forged steel crankshaft, a die-cast aluminum deep-sump oil pan and four-bolt main bearing caps with side bolts through the engine block.
Noise, vibration and harshness (NVH) characteristics are controlled and reduced through a tuned composite upper and lower manifold, the silent-chain cam drive and an acoustic engine cover.
The Ford Explorer 3.5-liter V6 delivers best-in-class fuel economy yet offers power to tow up to 5,000 pounds when properly equipped.
EcoBoost 2.0-liter I-4 delivers normally aspirated V6 punch
For SUV drivers seeking maximum fuel efficiency, Ford introduces the all-new Ford Explorer with an available EcoBoost2.0-liter I-4. Combining direct injection of gasoline and turbocharging, this advanced engine delivers performance comparable to normally aspirated competitive V6 engines. Developing up to 237 horsepower at 5,500 rpm, this I-4 delivers 250 lb.-ft. of torque.
Estimated fuel economy improves by more than 30 percent, putting the fuel efficiency of the Ford Explorer in line with sedans such as the 2010 Toyota Camry V6.
Like other Ford EcoBoost engines, peak torque is generated at a low 1,700 rpm across a broad band to 4,000 rpm. This torque plateau makes for flexible, efficient power delivery across a wide range of engine and vehicle speeds, while helping save fuel by making power at lower rpm levels. Ti-VCT, four valves per cylinder and DAMB valve lifters increase mechanical efficiency through improved engine breathing across the broad power and torque bands.
A relatively high compression ratio is enabled by the use of direct gasoline injection, operating at fuel pressures from 2,200 to 2,800 psi. The unique turbocharger is optimally matched to the EcoBoost I-4 engine and SUV vehicle performance behavior. Precise fuel pressure control allows the Ford Explorer I-4 to deliver boosted power at low rpm, without annoying turbo lag.
The EcoBoost I-4 uses 5W30-GF4 oil to reduce friction and reduce cost of ownership through 10,000-mile oil change intervals.
Targeted durability is 10 years, or 150,000 miles. Durability actions include enhanced oil filtration and cleanliness, the addition of an aluminum oil cooler with improved heat dissipation and cast inter-bore cooling inside the aluminum engine block. This engine represents the initial U.S.-market application of the brick-style charge-air cooler, delivering increased thermal efficiency.
The new 2.0-liter EcoBoost engine is being introduced globally by Ford Motor Company, with applications in various products in Europe, Asia and Australia, in addition to the new Explorer.
EcoBoost technology will serve as a key element in Ford's global sustainability efforts, powering up to 1.3 million vehicles on an annual basis by 2013.
Six-speed transmissions help performance and economy
The unique six-speed transmission paired with each Ford Explorer offers performance and economy advantages with the flexibility of optimum gearing for every situation. Lower gears provide the benefit of improved acceleration from a full stop, while higher gears help increase fuel economy by allowing the engine to operate at lower speeds when cruising.
Ford Explorer XLT and Limited models offer a SelectShift Automatic™ transmission, allowing drivers to manually change gears using a shifter-mounted +/- toggle switch.
Ford Explorer powertrains have been developed to provide SUV drivers with the power and capability they expect and deserve, coupled with the fuel economy they really want.
Surprising level of convenience and connectivity technologies
The all-new Ford Ford Explorer will offer SUV customers a broad range of trim levels and customer convenience and connectivity technologies that will raise the eyebrows among even luxury SUV owners.
"Today's SUV customers really aren't interested in compromising," said Amy Marentic, group marketing manager. "They want luxury, convenience and technology with their all-road capability. Until now, they had to choose a luxury SUV to get the features they want - a feature level that this all-new, industry-leading Ford Explorer now exceeds."
The new Ford Explorer challenges the SUV status quo by offering luxury levels of convenience, connectivity and technology. From the highly equipped base model that includes MyFord driver connect technology through the volume-series XLT to the luxurious Limited series, Ford Explorer provides SUV buyers unexpected technologies and conveniences normally found in premium SUVs.
Blind spot monitoring, which looks out for the driver when backing from a parking spot with limited visibility, adaptive cruise control that safely monitors vehicles ahead, and active park assist that aids in finding and executing a parallel parking maneuver all represent technologies a buyer might expect to find when shopping premium SUVs. The all-new Ford Explorer offers these and more.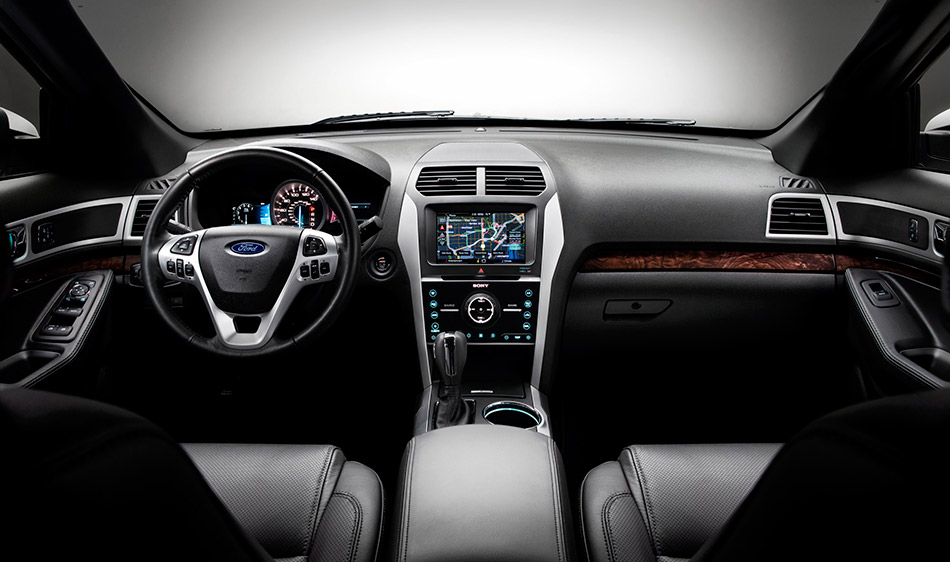 Base is the new well-equipped
The base Ford Explorer delivers a strong package of customer convenience and technology features, with the following items as standard equipment:
Hill start assist
Dual chrome exhaust tips
Projector-style headlamps
Power remote sideview mirror
LED taillamps
Air filtration system
Media hub, including an auxiliary input jack
Four 12-volt power points
Second- and third-row dome/map lights
Tilt/telescoping steering column
Steering wheel-mounted five-way and secondary audio controls
Cruise control
Power windows with one-touch driver's down
Single CD/MP3-capable six-speaker audio system
MyKey™ owner control feature
Keyless entry remote
The base Ford Explorer features cloth seats with first-row adjustable buckets, a 60/40 split fold-flat bench seat in the second row, and a 50/50 third-row split folding bench.
XLT volume series adds tasteful touches
The all-new 2011 Explorer XLT offers all the base model equipment with a higher level of harmonizing chrome and satin-finish accent trim, 18-inch aluminum wheels, unique cloth seating, leather covering for steering wheel and shift knob, SelectShift Automatic™ transmission, SecuriCode™ keyless entry keypad, fog lamps, SIRIUS® Satellite Radio (including a prepaid six-month subscription in 48 contiguous states), perimeter alarm and reverse sensing system.
Customers specifying Ford Explorer XLT models are offered broader option choices, including the following packages:
Driver Connection Package includes MyFord Touch driver connect technology with two driver-configurable LCD cluster screens, an 8-inch color touch screen in the center stack, expanded media hub with USB ports, an SD card reader and RCA video input jacks, Ford SYNC and electrochromic interior rearview mirror
Comfort Package includes leather-trimmed, heated seats with 10-way power adjustment for driver and six-way power adjustment for first-row passenger. Also includes four-way first-row head restraints
A premium audio system with eight speakers, rear view camera and dual-zone electronic automatic temperature control is also available.
Ford Explorer XLT also offers a dual-panel moonroof, power-operated liftgate, BLIS with cross-traffic alert, inflatable second-row seat belts for outboard seating positions, 20-inch polished aluminum wheels, and premium paint colors - White Platinum Metallic Tri-Coat and Red Candy Tinted Clearcoat - as stand-alone options.
Range-topping Limited adds more luxury
SUV buyers seeking luxury with their capability will be impressed with the generous levels of convenience and connectivity technologies offered in the all-new Ford Explorer Limited. From remote start through a 10-way leather-trimmed driver's seat to adjustable pedals with memory settings, Limited takes Ford Explorer luxury to a higher level.
Visual distinction is assured with a unique body-color grille, body-color PowerFold® sideview mirrors with memory functionality, and 20-inch painted aluminum wheels.
Ford Explorer Limited includes all of the feature content offered in the XLT, plus:
Ambient lighting
Adjustable pedals with memory
Cargo net
Dual-zone electronic automatic temperature control
Leather-trimmed, heated seats
10-way power driver's seat with power lumbar and recline
Six-way power first-row passenger seat with lumbar and recline
Second-row 60/40 split bench seat with armrest and dual cupholders
Electrochromic interior rearview mirror
Sony® Audio System with high-definition radio and 12 speakers
Rear view camera
Remote start
110-volt outlet
SYNC voice-activated communications and entertainment system
Intelligent Access with push-button start
Universal garage door opener
The most luxurious Ford Explorer model also comes standard with MyFord Touchdriver connect technology. This includes a pair of cluster-mounted driver-configurable displays, an 8-inch LCD color touch screen in the center stack with compass and temperature display, media hub with a pair of USB ports, and an SD card reader and RCA video input jacks. Ford Explorer Limited offers five-way supplemental controls on the steering wheel.
The all-new Ford Explorer Limited can be further enhanced with a pair of series-specific option packages that add even more luxury, convenience and safety:
Limited Package 1 adds the voice-activated Navigation System, a single CD/MP3 player, SD card for map and point-of-interest storage, and integrated SIRIUS Travel Link™. Also included are perforated leather-trimmed seats with heating and cooling functionality for driver and first-row passenger, PowerFoldthird-row seating, a 10-way power adjustable first-row passenger seat with power lumbar and a power-assisted liftgate
Limited Package 2 provides active park assist, adaptive cruise control and collision warning with brake support, rain-sensing wipers, BLIS with cross-traffic alert and HID headlamps
Ford Explorer Limited also offers second-row captain's chairs and a second-row console for SUV buyers placing a higher priority on rear seat luxury and seating comfort.
"All these features help the all-new Ford Explorer challenge the notion of what SUVs can offer customers," Marentic said. "This level of luxury, capability, convenience and connectivity, combined with jaw-dropping fuel efficiency, is the kind of leadership today's SUV customers need and appreciate, coming from a nameplate they know and trust - Ford Explorer."
Source: Ford
Gallery:
Ford Explorer (2011)