The New Focus ST will take British Ford dealers by storm this autumn, with its unique balance of outstanding performance, handling, refinement and style.
The latest version of fast Ford fans' favourite is equipped with a 250 PS, 2.0-litre turbocharged EcoBoost engine, expected to achieve 0-62 mph in 6.5 seconds and a top speed of 154 mph. This uncompromising performance is complemented by enhanced dynamics and a comprehensive range of driver assistance features.
Using a tuned EcoBoost engine means Focus ST is expected to return 39 mpg and CO2 emissions of 169 g/km; a 20 percent improvement over the previous Focus ST.
"This is the car that performance Ford fans across the world have been waiting for," said Mark Ovendon, Ford Britain managing director. "Our engineers have worked hard to make sure drivers will experience the true essence of what the ST badge represents – in Britain, or any of the 40 countries where this global performance car will be sold."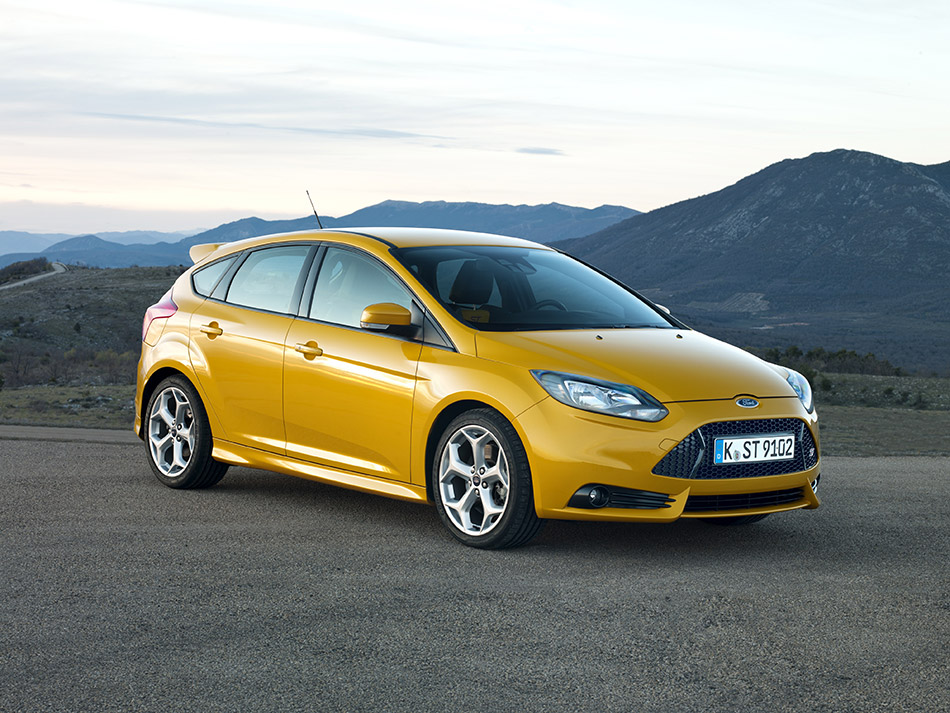 One Ford
The One Ford approach to delivering an all-new, global Ford Focus paved the way for the new Focus ST.
Ford's Global Performance Vehicles group established the DNA of the ST as a key part of its global performance car strategy following close collaboration between Ford Team RS in Europe, and the Special Vehicles Team (SVT) in the United States. Ford engineers from the Asia-Pacific region also provided input to ensure all new ST models would please drivers in key Focus markets.
"It's the same car everywhere, from the engine to the suspension to the styling – right down to the tyres," said Dieter Schwarz, head of Ford Team RS. "Now, you will be able to drive a Focus ST in Beijing and it will be the same dynamic experience as driving one in Los Angeles, London or Rome."
"Our performance strategy is based on the fact that performance fans globally want the same thing," added Schwarz. "For the Focus ST, that means combining a rewarding driving experience with the ability to ride to work in comfort."
Most powerful ST
The ST (Sport Technologies) badge was introduced first in Europe in 1997 and is reserved for sports-tuned variants of key Ford models. Customers have come to appreciate that cars carrying the unique Ford ST badge balance high performance with real-world practicality and refinement.
New Focus ST is powered by a 250 PS version of Ford's 2.0-litre EcoBoost engine that delivers the power of a larger displacement unit with the fuel efficiency of a smaller engine. It achieves this through a combination of high pressure direct injection, low-inertia turbocharging, and Twin-independent Variable Cam Timing (Ti-VCT), as well as redesigned intake and exhaust systems, and unique calibration.
The result is an engine which offers impressive, real-world performance, with strong torque levels and a broad, flat curve peaking at 360 Nm.
The Focus ST's six-speed manual transmission produces maximum punch from each gear shift throw using specially-revised gearing. The sixth gear helps drivers achieve excellent fuel economy on longer runs.
Distinctive sound
The engine also emits a distinctive soundtrack, engineered to be appreciated regardless whether heard from inside or outside the car. For those in the car, a newly-enhanced sound symposer relays the engine sound directly from the intake into the cabin.
"This channels a really sporty note into the cabin," said Matthias Tonn, chief program engineer, Ford of Europe. "It leaves the driver in no doubt that this is a special car. The new Focus ST is improved over the previous European model in every department – and we had to ensure the sound was just as exciting for the driver too."
The exhaust system, with unique twin hexagonal centreexhaust tailpipe, has also been tuned to deliver the right sound at the right time, refined at lower RPMs and a purposeful growl as the revs rise.
Dynamic ability
The new Sport Steering System variable ratio steering rack reduces steering sensitivity when driving in a straight line and increases sensitivity when cornering.
The steering wheel can be turned to almost full lock without the driver needing to remove either hand to change position; providing more control through tight corners and hairpins.
The Electronic Power Assisted Steering (EPAS) system has been specially calibrated for the new Focus ST and detects and counters torque steer using a more aggressively pitched version of Ford's Torque Steer Compensation (TSC). The Electronic Stability Programme (ESP) offers three distinct modes - drivers can turn ESP on for a tuned version of the system found throughout the Focus range; a reduced or wide-slip mode disables traction control and activates ESP only when absolutely necessary; and finally, ESP can be switched off altogether.
The new Focus ST also features Torque Vectoring Control (TVC); this applies brake torque to the inner wheel through a corner to reduce under steer. Cornering Under Steer Control (CUSC), applies torque to create yaw torque based on the vehicle's under steer behaviour prior to ESP, both in power-on and power-off conditions.
Sports suspension
The suspension setup of the new Focus ST complements the advanced driver assistance features and the specially-developed Goodyear Eagle tyres. Cornering precision is enhanced by the introduction of uprated shock absorbers and springs which lower the chassis by 10mm compared to other Focus models.
The rear suspension has also been revised with a number of new parts developed specially for the Focus ST. The uprated suspension knuckles and an all-new anti-roll bar design provide outstanding feedback and control.
Unique ST styling
The new Focus ST will be available in five-door hatchback, or estate model, proving that practicality need not compromise style or performance. Both models add muscular presence to the kinetic design of the standard Focus.
Tangerine Scream, the new signature colour, matches the Focus ST's exciting and energetic character. Spirit Blue, Race Red, Black, White and Silver are also available.
The Focus ST's aggressive and aerodynamic design features a one-piece interpretation of Ford's signature trapezoidal grille, bulging side skirts and dynamic rear bumper with prominent diffuser-style vents in the lower fascia. The roof spoiler improves high-speed stability and reduces drag.
Stylishly sporty interior
The Focus ST features a specially-designed steering wheel, gearshift and pedals. The darker headlining and trim on the pillars, an integral part of the ST's design DNA, adds to the performance driving feel.
Ford worked extensively with seat manufacturer Recaro to provide Focus ST customers with ultimate comfort and support. Lowered seats offer exclusive premium features including length adjustment, a segment-first, and cushion tilt. An all-new bench, made with special foam, makes sure there is no compromise to rear passenger comfort.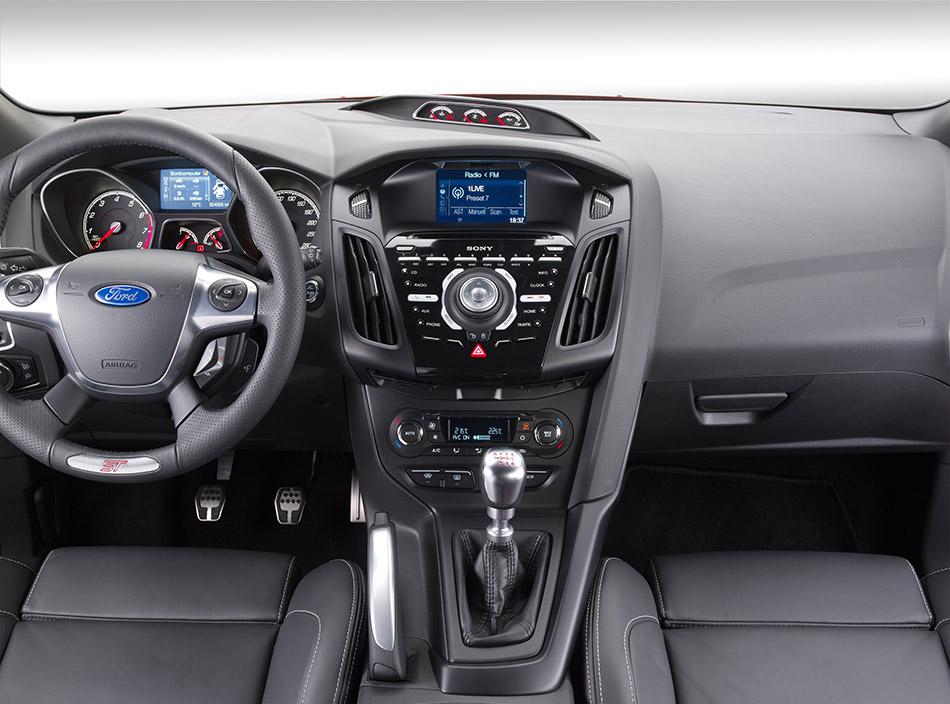 The three trim levels available are called ST1, ST2 and ST3.
All ST customers will be able to specify the 'Performance Pack' which offers the wheels in grey black with a high contrast red finish on the performance brake calipers, plus the 'Driver Assistance Pack', with an array of Ford safety features.
The new Focus ST is on sale in Britain from 1st June, for deliveries in September. It will launch late summer in North America and will be on sale in selected other markets by the end of the year.
Source: Ford
Gallery:
Ford Focus ST (2013)