The basis for the electronic output increase from G-POWER for the BMW M6 convertible is the fact that G-POWER, in contrast to the manufacturer, does not use standard software full of compromises for the engine but an individual solution. G-POWER calls this bespoke remapping of the factory ECU: Bi-Tronik 2. Among others, the parameters for the amount of fuel and the ignition timing are modified depending on the increased boost level. At the same time the Bi-Tronik 2 allows the individual wishes of the customer vis-à-vis throttle response and power delivery characteristics to be written into the software.
Of course all standard protection and diagnostic functions of the original BMW ECU stay untouched. During the engineering process of the latest generation of the successful Bi-Tronik the G-POWER R&D department has transferred its experience from the area of supercharging to the turbocharged BMW engines. After all, the ASA supercharger used for the G-POWER supercharger systems is closely related to the turbochargers featured by BMW, since both units us a centrifugal compressor to build up boost.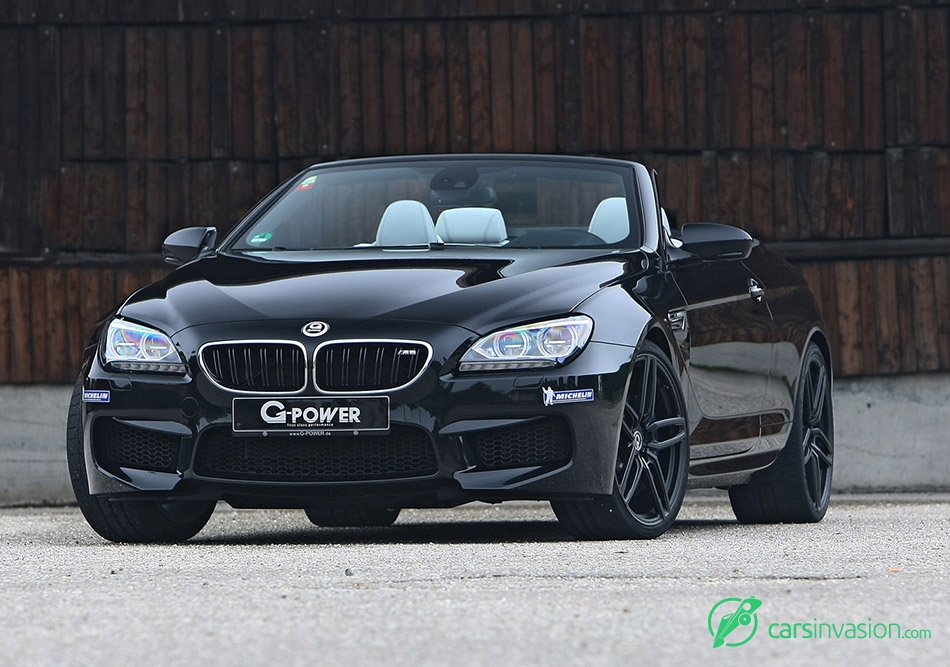 In order to achieve a power output upgrade to 740 hp (544 kW) 975 Nm, the modification of the ECU's software is not enough and additional modifications to the M6's hardware are required. Primarily it is necessary to reduce the performance debilitating backpressure of the standard exhaust system. Therefore G-POWER installs in a first step flow optimized Downpipes that are offered either completely without catalytic converts or 200-cell racing-catalysts. With this modification done the power output increases to 700 hp (514 kW)/ 905 Nm and is standing as stage V2 of the Bi-Tronik in the G-POWER price lists. With stage V3 a complete Titanium exhaust system - incl. Titanium 4-tip sport silencer and Titanium link pipes with resonators starting from the Downpipe - is added on top.
In addition to the power output increase the G-POWER Titanium exhaust system gives the BMW M6 convertible a deep, throaty sound that turns heads but is at now time annoying and at the same time saves approx. 12 kg compared to the factory exhaust system. The G-POWER exhaust system is available with four Titanium or Carbon Tailpipes with a diameter of 100 mm each.
Naturally the extensive modifications that G-POWER has done to the soft- and hardware of the M6 have a substantial effect to the performance figures, as well. The figure from stand still to 200 km/h is now just 10,7 seconds and the top speed is more than 300 km/h, thanks to the G-POWER V-MAX increase.
Reduced unsprung mass equates to improved handling, both of which G-POWER achieves with its 21-inch HURRICANE RR forged alloy wheels shod with 255/30ZR21 and 295/25ZR21 Michelin tyres.
Source: G-Power
Gallery:
G-Power BMW M6 F12 Convertible (2015)