The new Chrysler 300C SRT8 is there and GeigerCars.de already offers an equally extensive and exclusive tuning program for the sporty Chrysler top-of-the-line model.
Extra power via supercharger is the GeigerCars.de motto for the tune-up of the 6.1 litre V8 HEMI engine of the SRT8. The engine technicians of Europe's leading customizer for US cars are developing a supercharger engine for the big Chrysler. The GeigerCars.de system consists of a belt-driven supercharger with integrated, watercooled intercooler, a high performance exhaust system including special manifolds and steel-bed catalysts and a recalibrated ECU.
The compressor helps the engine to achieve a power increase from standard 430 hp / 317 kW to about 556 hp / 409 kW at 5,200 rpm. Maximum torque is increased to 679 Nm at 4,800 revs. The engine conversion reduces the acceleration time from 0 - 100 km/h to about 4.7 seconds, maximum speed will be 300 km/h plus.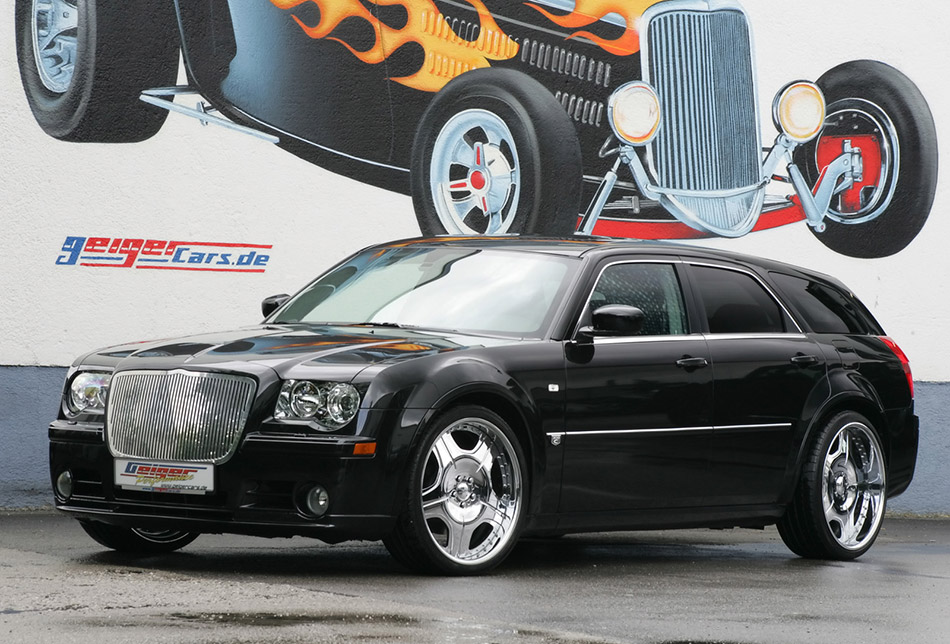 The GeigerCars.de supercharger kit for the 300C SRT8 will be available from fall 2006 when the development is finished. The sport exhaust system will be available soon. The exhaust system doesn't only deliver a more exciting engine sound but also a more spectacular look due to its alternatively two or four large chromed exhaust tips.
Of course GeigerCars.de also offers a wide range of exclusive accessories for both bodywork versions of the 300C. To be able to fully exploit the road performances of the supercharged engine it is necessary to furnish the car with bigger wheels. GeigerCars.de offers different versions up to the wheel/tire combination shown on the photos. The three-piece 9.5Jx22 light alloy rims and 265/35 ZR 22 tires front and rear are offered for a retail price of 8,500 Euros. A 24-inch version is in the pipeline.
To give the front of the 300C a more striking appearance GeigerCars.de offers a custom-made chrome radiator grille. The exactly fitting accessory, which is offered for a retail price of 850 Euros, can be easily mounted.
Source: GeigerCars