With the revival of the legendary Camaro, Chevrolet completed the squad of "resurrected" pony cars in 2009, which apart from the Chevy of course also include the Dodge Challenger and the Ford Mustang. (Although the latter was continuously manufactured as the only one of these vehicles, it restored its former glory not until 2004 when the fifth model generation was presented.)
The highlight of the fifth generation of the Chevrolet Camaro is the model type SS (Super Sport), which is powered by a 6.2 litre V8, which in connection with a 6-gear transmission, sends 432 HP to the driven rear wheels.
For GeigerCars.de GmbH from Munich, specialised in the sales and refinement of US cars, this was not enough and, thus, Karl Geiger and his team helped to boost the Camaro SS. The result is the Camaro Super Sport HP 564 – impressing all the way down the line.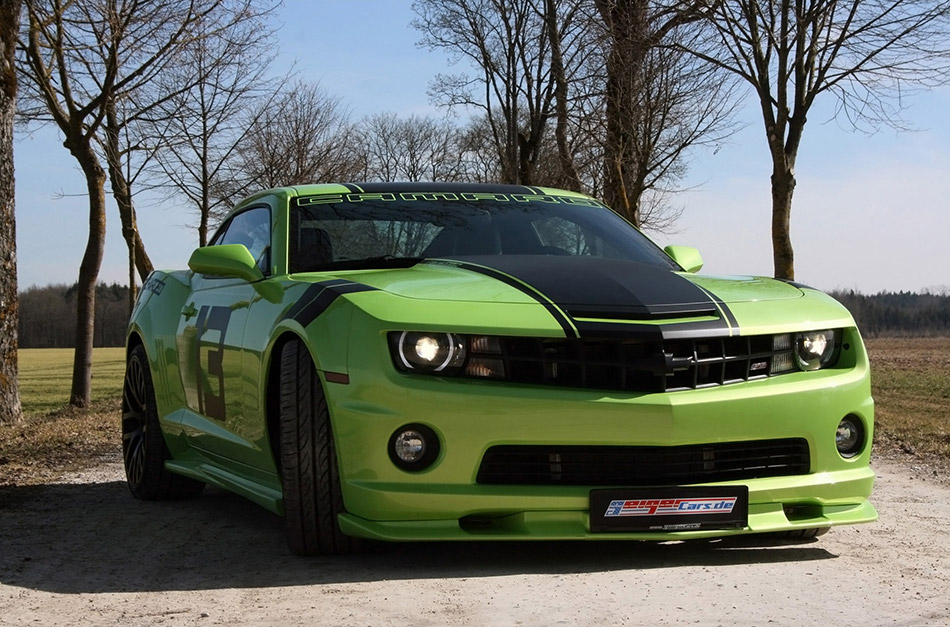 At first, it attracts attention through its conspicuous special paint in bilious green, before gazes wander over an in-house spoiler kit, consisting of front spoiler lip, side skirts as well as a remodelled rear part. With well-deserved pride, the Geiger Camaro holds its "Supercharged" nameplates: Its Geiger technicians exert a great amount of pressure on the 6.2 litre V8 (LS3) with a compressor. After optimising the engine software as well as installing a Geiger stainless steel sport exhaust system, the large-volume unit – it already anticipated the description of the vehicle – then performs vigorous 564 HP. Following the power cure, the maximum torque is 662 newton metres. In only 4.2 seconds, the power coupe accelerates from 0 to 100 km/h. In connection with a sports transmission with reduced fifth and sixth gear, the HP 564 reaches a maximum speed of prestigious 305 km/h.
In the voluminous Camaro wheel housings, Geiger rims rotate in XXL formats 9x22 inch front and 10.5x22 inch rear. The matching high-performance tyres from Pirelli measure 265/30ZR22 and 295/30ZR22. Alternatively, GeigerCars.de offers the trendy wheels also in the size 20 inches. The adjustable sports chassis comes from the specialists of KW and allows for a separate adjustment of bump and rebound damping. In addition, GeigerCars.de equipped the Camaro with a high-quality sound system with EU navigation.
The Chevrolet Camaro Super Sport HP 564 complete vehicle is available at GeigerCars.de in Munich for the price of 88,000 euros.
Source: GeigerCars
Gallery:
GeigerCars Chevrolet Camaro Super Sport HP 564 (2011)