The centrepiece of the new Ford Mustang Fastback GT Premium is its 5.0-liter V8 engine, which now sends significantly more power to the rear wheels thanks to a supercharger installation: The boosted motor now delivers a sensational 709 hp, with 706 Nm of torque.
These big numbers give the six-speed manual Mustang GT the raw performance that its masculine appearance suggests. Top speed of this thundering wild horse rises to 305 km/h, with the benchmark 0-100km/h falling in just 3.9 seconds along the way. The cost of this conversion over and above the basic price of the Ford Mustang Fastback GT Premium is just 18,900 Euro.
In keeping with the extreme power theme of the uprated motor, the Geiger stainless steel sports exhaust with valve control (3,900 euros) further enhances the deep, NASCAR grade roar of the supercharged V8.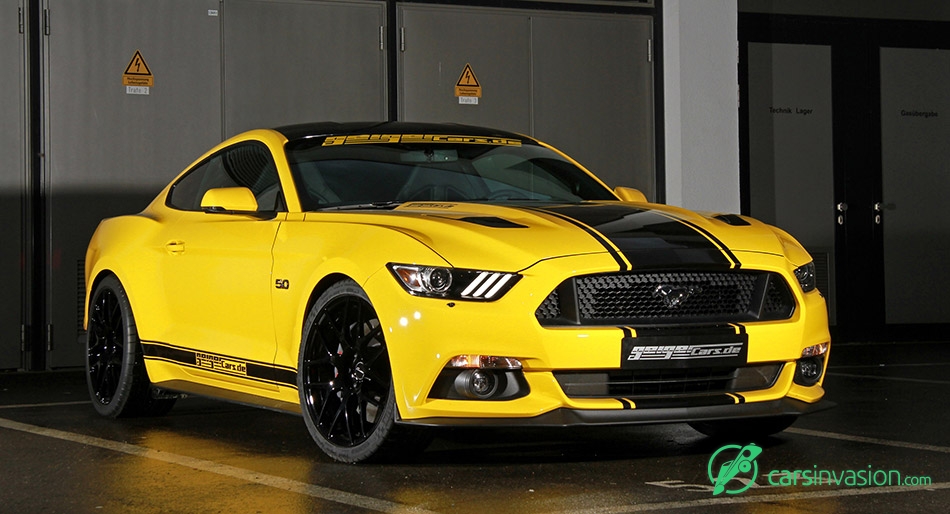 In addition to the power upgrade for the 2015 Ford Mustang Fastback GT, Geiger offers other factory performance extras. In addition to the six-speed manual transmission, the GT Performance package consists of an uprated cooling system, uprated springs for the front suspension, a 3.73:1 final drive ratio with Torsen limited slip differential, stability control system, and Brembo high performance brake system.
In the cabin, extra equipment includes Recaro sports seats, additional instrument package, parking aid and the "401A" package consisting of Shaker Pro-audio system, HD radio, memory function for the driver's seat and mirrors, and a blind-spot warning system.
Further performance upgrade parts from GeigerCars.de tailored to keen drivers are their 30 mm lowering springs, which cost 1,250 Euro. Uprated front and rear anti-roll bars to keep the car more stable in fast cornering are available for 650 Euro.
Geiger's black Y-spoke lightweight alloy wheels are a favourite choice with Mustang drivers. Sized 8.5 and 10x20-inch front and rear, and shod with 255 /35R20 and 295/30R20 tyres, these cost 4,300 Euro for a set. Foil wrapping can be carried out at GeigerCars.de starting from just 1,000 Euro.
With a modest 82,900 Euros price tag on the complete supercharged Mustang, GeigerCars.de delivers a real US steam hammer with a spectacular price-to-performance ratio!
Specifications, Ford Mustang Fastback GT Premium 5.0L V8
Engine: 5.0-liter V8
Displacement: 4,951 cc
Power: 709 hp
Torque: 706 Nm
Transmission:     6-speed manual transmission
Fuel consumption (city/highway/combined): 20.81 L/10.17 L/14.08 L/100km.
Acceleration: 0-100 km/h in 3.9 sec.
Top speed: 305 km/h
CO2 emissions: 328 g/km
Energy efficiency: Class G
Emission class: Euro 5
Price: 82,900 Euro
 Source: GeigerCars
Gallery:
GeigerCars Ford Mustang GT (2015)