The GeigerCars.de supercharger delivers a significant boost to the Wrangler's 3.6 litre V6 engine, lifting output by 80 hp and 70 Nm of torque, to 356hp and 417 Nm respectively.
This conversion, which includes a cold air intake box, charge air intercooler and bespoke ECU remapping, uses a modest boost pressure, and is thus a bolt-on conversion that does not require any internal engine modifications. Power and throttle response is further aided by the GeigerCars.de four-outlet-pipe stainless steel sports exhaust system, which lowers back-pressure and delivers a sporty, mellifluous soundtrack.
For even better off-road capability, a riser kit raises the ground clearance by 2.5 inches. Naturally, this elevates the seating position as well, providing a more commanding all-round view.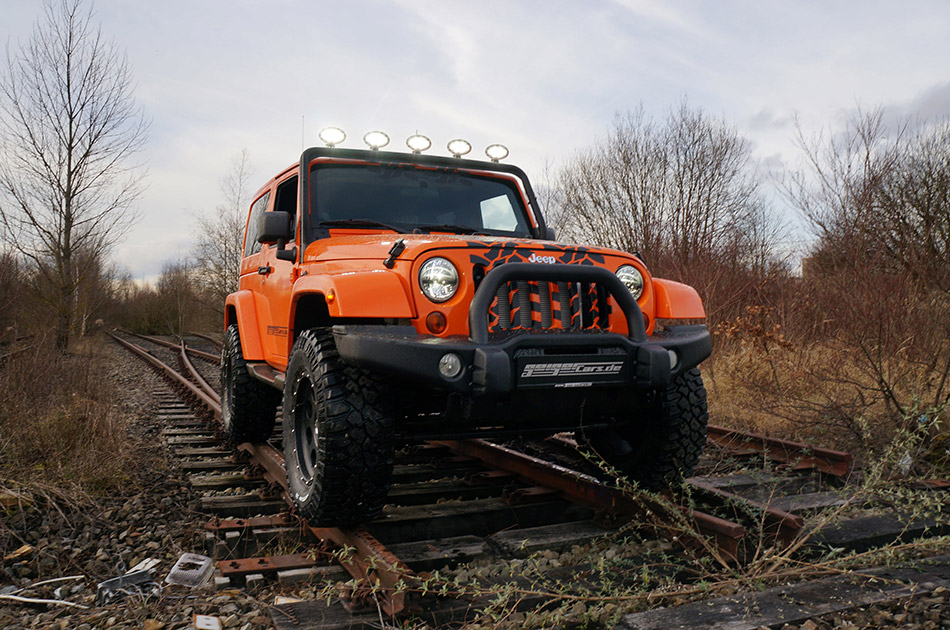 Despite the higher centre of gravity, Bilstein dampers improve the Jeep's handling both on and off-road, while both mechanical grip and the masculine aesthetics of this Jeep legend benefit from 18-inch alloy wheels shod with 305/70 Mickey Thompson tyres.
You will always be able to recognise the GeigerCars.de tuned Wrangler by its sharp-dressed appearance. The front bumper bull bar and tough metal front skid plate protect the front grille and the undercarriage when traversing difficult terrain, while the rear bumper features a special carrier for the big spare wheel and a water tank.
The roll-over bar that frames the exterior of the A-pillars and front windscreen also doubles as the mount for the five powerful LED E-marked street legal auxiliary lights that can turn night into day on dark country roads.
Painted in bright orange with a unique design on the grille, bonnet and roof in black foil this Jeep Wrangler really stands out on the road, and its tougher, more purposeful stance encourages others to give way when they see it coming.
Over the years, GeigerCars.de has helped dozens of happy clients make the US automobile dream come true, and this dream Wrangler is currently for sale. In addition to the GeigerCars.de conversion described above, this vehicle comes with the factory automatic transmission, hardtop, leather upholstery, high-end audio system, and a kilometres speedometer.
While this unique and very complete 64,200-euro vehicle also comes with onlooker attention guaranteed, all the GeigerCars.de components can also be ordered individually.
Specifications
Jeep Wrangler Sport 3.6L Supercharged
Engine: V6 petrol engine with intercooled supercharger
Engine Size: 3,600 cc
Power: 262 kW (356 hp)
Torque: 417 Nm
Transmission: 5-speed automatic transmission
Combined fuel consumption: 11.3 L/100 km (Super)
Co2 combined 273 g / km
Energy efficiency class: G
Base Price: from € 64,200
Source: GeigerCars
Gallery:
GeigerCars Jeep Wrangler Sport Supercharged (2015)