The Honda FCV Concept makes its North American debut at the 2015 North American International Auto Show with U.S. availability of the production vehicle in 2016. In an effort to ensure Honda's environmental vehicles remain strong competitors and provide a new sales-volume pillar, the company will offer several next-generation, advanced powertrain vehicles, including a new battery-electric model and plug-in hybrid model by 2018. Additionally, the company plans further application of its two- and three-motor hybrid systems in the years to come. Together, these vehicles will offer significant volume enabling Honda to bring ultra-low carbon transportation to consumers in the U.S. Honda also announced plans to introduce new VTEC® Turbo engines to be built in Ohio and debut later in 2015.
Honda FCV Concept
The Honda FCV Concept showcases the styling evolution of Honda's next fuel-cell vehicle, anticipated to launch in the U.S. following its March 2016 introduction in Japan. The new Honda fuel-cell car will feature a spacious cabin with seating for five-passengers, a driving range estimated to be in excess of 300 miles, and an anticipated refueling time of approximately 3 minutes at a pressure of 70 MPa. Its fuel cell stack, which fits entirely within under the hood, is 33 percent smaller with a 60 percent increase in power density compared to the outgoing Honda FCX Clarity.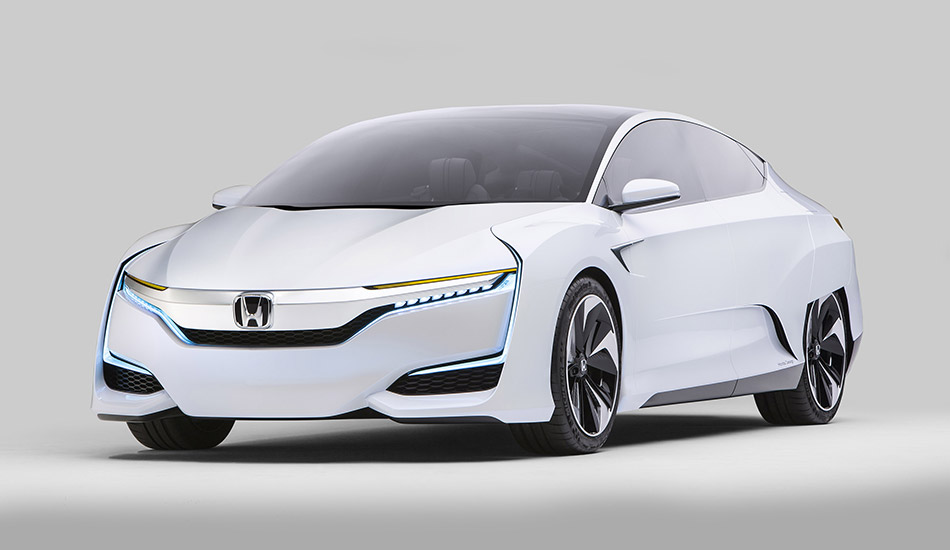 As the next progression in Honda's dynamic FCV styling, the Honda FCV Concept features a low, wide aerodynamic body with clean character lines. The interior strives to achieve harmony between man and machine by taking advantage of new powertrain packaging efficiencies delivering even greater passenger space than its predecessor, the 4-passenger Honda FCX Clarity fuel-cell vehicle. The Honda FCV Concept made its world debut in Japan on Nov. 17, 2014, followed by an announcement at the Los Angeles Auto Show that Honda will provide FirstElement Fuel with $13.8 million in financial assistance to build additional hydrogen refueling stations throughout the state of California in an effort to support the wider introduction of fuel-cell vehicles.
Next-Generation Advanced Powertrain Vehicle
In addition to the all-new fuel-cell vehicle, by 2018 Honda will introduce several next-generation advanced powertrain vehicles that will leverage new Honda Earth Dreams™ Technology powertrains. These next-generation vehicles will build on Honda's longstanding portfolio approach to advancing ultra-low carbon technologies for mobility and will include:
An all-new Honda plug-in hybrid model (PHEV);
An all-new Honda battery-electric vehicle (BEV); and
Further application of our two- and three-motor hybrid systems to contribute to significant sales volume growth for Honda's U.S. hybrid vehicle lineup.
New VTEC® Turbo Engines

Before the end of the year, Honda will begin to introduce our new 4-cylinder VTEC® Turbo engines – an extension of its Earth Dreams™ Technology powertrain lineup – that will deliver fun-to-drive performance while supporting fuel efficiency at a very high level. Production of the new VTEC® Turbo engines will begin later this year at Honda's Anna, Ohio, engine plant, the largest automobile engine plant in Honda's global production network1. Honda is investing $340 million at the Anna Engine Plant to produce the VTEC® Turbo 4-cylinder engines using domestic and globally sourced parts, including the addition of a third assembly line for production of 4-cylinder engines and additional manufacturing innovations.
Source: Honda
Gallery:
Honda FCV Concept (2016)