After the limousine, HAMANN-Motorsport now also vamps up the estate car version of the new BMW 5 Series. In Laupheim the Touring is upgraded to become a fitness studio for up to five persons. All done with the aid of an aerodynamics package with a variety of designs, a sports exhaust system, light-alloy wheels and improvements to the vehicle interior.
The refined HAMANN sporty makeover is even available in several versions for the 5 Series Touring. The selection starts at the front with a front spoiler lip for the normal Touring, an additional one for vehicles with the M-technology package and a front skirt specially developed by HAMANN with four integrated LED daytime running lights and larger air inlets. Sportily-designed side skirts continue the modified appearance right through to the rear. A diffuser-rear skirt with inserts for the four-tailpipe exhaust system, a rear spoiler and a roof spoiler ensure additional downthrust.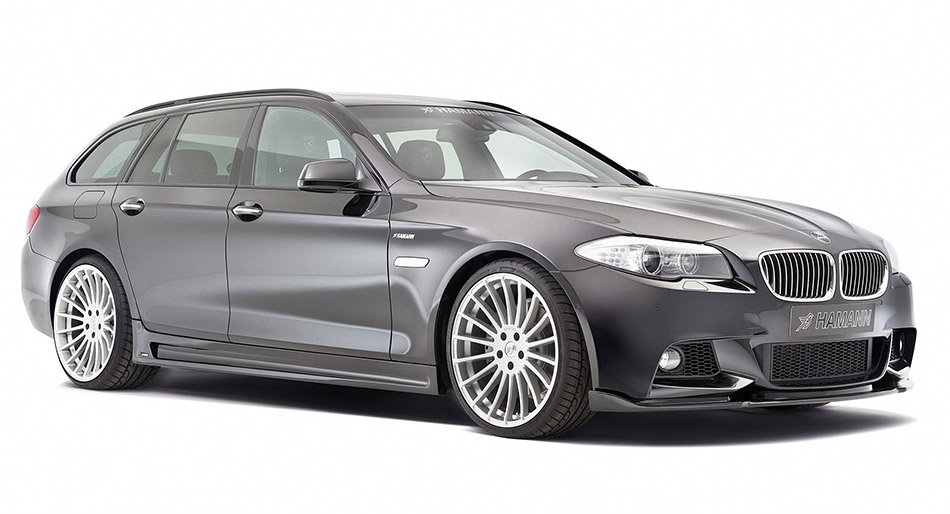 So that the 5 Series Touring can make an impressive appearance on the tarmac, HAMANN offers a choice of light-alloy wheels. Very appropriate for the job is the 21-inch "ANODIZED" EDITION RACE DESIGN. With Its matt black central boss and high-gloss rim, the "ANODIZED" EDITION RACE DESIGN is delivered as a complete wheel set with 255/30 ZR21 wheels at the front and 295/25 ZR21 tyres at the back at a price of Ђ8 390.00. In addition there is the "Anniversary Evo" design in 20 or 21-inch rim sizes with a choice of silver or matt black.
With progressively-wound suspension springs HAMANN lowers the BMW 5 Series Touring's centre of gravity by around 35 mm, which sets off the light-alloy wheels even better.
At the rear, the four tailpipes belonging to the sports rear silencer stand out; they are supplied by HAMANN for all engine models. In addition, and exclusively for the 550i Touring, a sports metal catalyser is available with middle silencer.
In order to give the occupants exclusive surroundings with a sporty note, HAMANN refines the vehicle interior with a 10-part carbon decorative set in matt titanium grey, also available in other colours at an additional charge, a sports steering wheel including airbag and aluminium pedals complete with footrest, as well as velours floor.
Source: Hamann
Gallery:
Hamann BMW 5 Series F11 Touring (2011)