Even the standard BMW 6-series Gran Coupe is amongst the most elegant luxury cars. Noble lines and bewitching proportions make the Coupe known at BMW as the F06 one of most attractive cars ever to roll off the production lines at BMW. So it was no mean feat for the designers at HAMANN-Motorsport to give the vehicle more glamour, and just the right amount of sportiness and individuality. But with their feel for shape and more than 25 years of experience in customising luxury cars, the specialists from the southern German town of Laupheim have managed to pull together a comprehensive customisation package – striking alloy wheels, a stylish aerodynamic profile as well as a gnarly sounding sports exhaust are just a few highlights from the extensive HAMANN range
The aerodynamic components alone show HAMANNs feel for clever customisation of the Gran Coupe. The newly designed front continues the BMW design language and supplies an extra dose of sportiness. HAMANN have replaced the standard components with a front grille with two integrated LED day lights, a new front bumper and a lighter carbon bonnet. To customise the rear, HAMANN have fitted a lift reducing Spoiler, a tailgate cover and a new bumper with an integrated diffuser to take the HAMANN 4-sports-pipe mufflers. The discreet side skirts tie the front and rear together visually and reduce the airflow between the axles.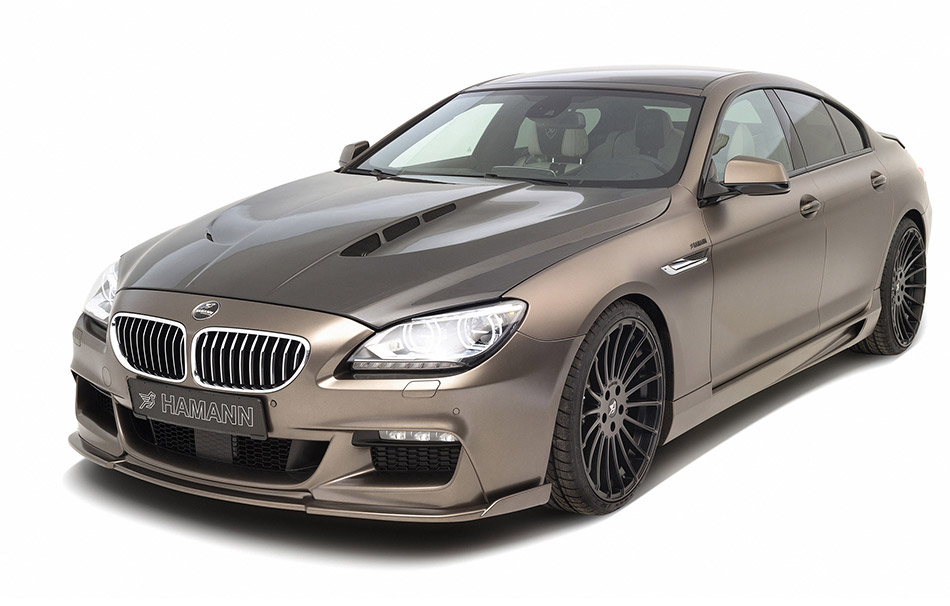 The range of wheels available is geared completely towards the customer for the 6 series. Whether strikingly sporty or elegant and classy, HAMANN offers various wheel styles and sizes.
Under the name ANNIVERSARY EVO HYPER BLACK, a monoblock 21 inch alloy wheel is available. Modern production methods and use of special aluminium alloys give this wheel the most strength of the least weight. The recommended wheel / tyre combination for this exclusive wheel design combines the size 9Jx21 inch with tyre size 255/30ZR21 on the front. At the back 11,0Jx21 inch wheels link up with 295/25ZR21 size tyres.
The lowering kit adds a sporty touch. Four advanced springs lower the centre of gravity of the Gran Coupe by up to 30mm. This gives a noticeable lift to handling. But it's not just aerodynamics and wheels which can be customised by HAMANN.
As an option, HAMANN can completely re-configure the interior of the BMW 6-series making it a VIP lounge. Piano Gloss, wood, leather or Alcantara – everything to make the heart beat faster is available on request. From personalised floor mats to anodised aluminium pedals to a full leather interior – everything is produced in hand crafted precision, individually designed and integrated into the car by experts.
Source: Hamann
Gallery:
Hamann BMW 6-Series Gran Coupe (2013)