Since its European launch in 1990, the Mazda MPV has been a spirited and smart alternative in its segment, with a comprehensive standard equipment list, roominess and flexibility. Last year saw the introduction of two new engines to the line up, a refined and torquey four- cylinder 2.0-litre MZR-CD common-rail diesel engine with 100 kW/ 136 PS, and a powerful 2.3-litre 104 kW/ 141 PS four-cylinder petrol, which improved the dynamic characteristics of the vehicle. The new Mazda MPV facelift has now been further enhanced to ensure it continues to meet the demands of European customers looking for a vehicle that is safe, fun to be in and drive, with lots of space and flexibility.
Along with the enhanced Mazda MPV in seven-seater layout, which is also sold with five seats in selected markets, a six-seat version called "Karakuri" is added to the regular line up in most European markets with levels of comfort that approach business class second row seating and unparalleled ease-of-use when stowing the third row of seats. With five, six and seven-seat vehicles available, enhanced stylishness inside and out, improved active safety, combined with all the powertrain and chassis strengths already in place, the new Mazda MPV facelift is truly a stylish "flex" mobile.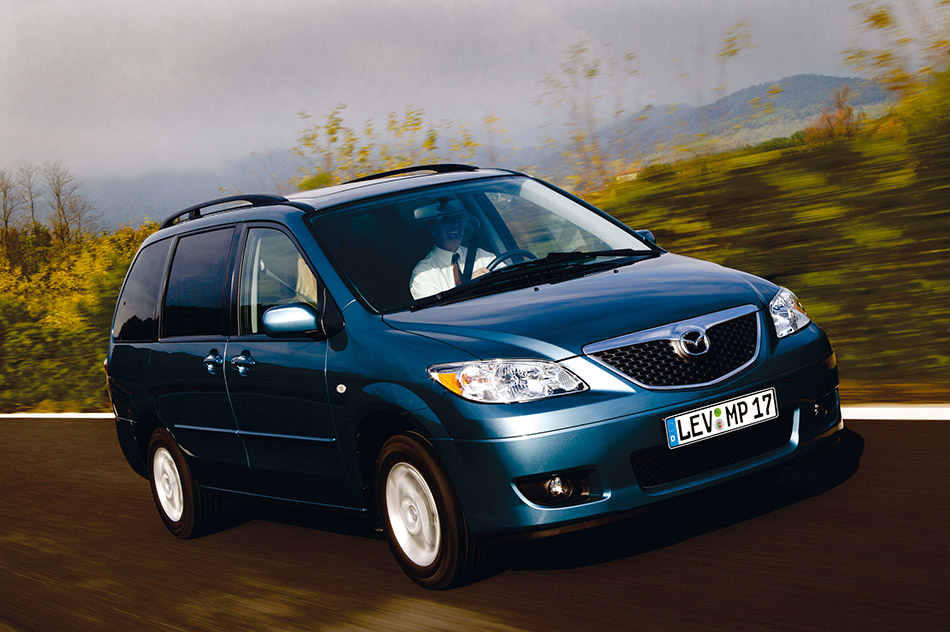 Exterior Design
Mazda's MPV has always represented a successful compromise between people carrier size, functionality and design, resulting in an exterior appearance that is athletic and strong, and carried out with solid build quality. The new Mazda MPV has exterior enhancements meant to emphasize its athletic character even more.
With a new bonnet design, a larger and redesigned five-point grille, more robust bumper and fender designs and new front "rounded" parallelogram headlamps, the new Mazda MPV really flexes its muscles, especially when seen in silhouette. The new version's athletic silhouette is not only achieved through its more powerful front end.  It retains the rounded D-pillar shape of the former model that, when seen from the side, not only gives it an elegant rear end form, but creates more third row and boot space. Added to this are new side protector mouldings and newly designed 15-inch and 16-inch (diesel powertrain only) alloy wheels, both with bold spoke designs to enhance the athletic look of the car from the side. Completing the picture are newly designed rear lamps with a sharper, clear-look design and red bezels.
Interior
The inside of the new Mazda MPV has seen many enhancements and upgrades, all of them meant to make the vehicle - regardless of seat configuration — even more enjoyable to be in and drive, by providing a more stimulating ambience and a clearer sense of refinement. These goals are achieved by the application of new seat materials, a new dashboard colouring and a new surface for the centre instrument panel, new trim panels, new chrome-look finishes and a new steering wheel.
The new Mazda MPV retains all the insightful details that have made it successful in terms of interior practicality and stowage solutions. There are large sliding doors on each side of the vehicle. The front seatbacks have assist grips with hooks, and there are flat folding second row seatbacks that form horizontal tables. Stowage compartments abound, with a total of eight standard cup holders and four bottle holders.
With its large tailgate and D-pillars that form an oval shaped opening, combined with a low load sill, the new Mazda MPV is easy to load and unload. Six luggage hooks can be used to keep transported items in place.
It has a long list of standard features including AM-FM radio with four speakers and steering wheel audio control buttons, manual air conditioning, heated power mirrors, power windows front and rear and remote keyless entry, among many others. And it can be upgraded with a trip computer for the petrol version, a navigation system, an eight-speaker audio system, leather steering wheel and sunroof. The new Mazda MPV facelift also has an optional new heating distribution system at the back of the vehicle, which optimises movement of warm air from the back towards the front of the vehicle and ensures more efficient heating to both the second and third rows and high levels of comfort in cold weather.
Source: Mazda
Gallery:
Mazda MPV Facelift (2004)