The X5's first-class road performance and comfort is inspiring. But what fans love most about the stout Bavarian is the impressing appearance. And after Hamann's refinement touches, the car definitely makes onlookers lose their cool.
From the front, the F15 received a whole new face – which will have a visible effect day and night: the front spoiler in the pithy Hamann design full of character integrates two individual fibre-optic daytime running lights and powerful LED front fog lights. The production model's body has been replaced by carefully manufactured wings with outlined air intakes and considerably wider hips. The distinctive curves make the car grow by 12 cm in width.
The aerodynamics concept bears all the marks of the Hamann designers: the wide-body kit integrates elegantly shaped door panels and elegant side skirts harmoniously merging into the rear section. The impressive wing extension is adjoined by a formidable rear skirt, the sporty style of which is staged by a diffuser. The eye is immediately caught by the striking, black or silver anodised tailpipes in Hamann design. Hidden behind is a high-grade stainless-steel four-pipe sports exhaust system being a real joy for sound enthusiasts. Hamann's two-piece roof spoiler sits enthroned above adding more power and drive to the production model's fluently sloping roof line – just as refinement fans prefer.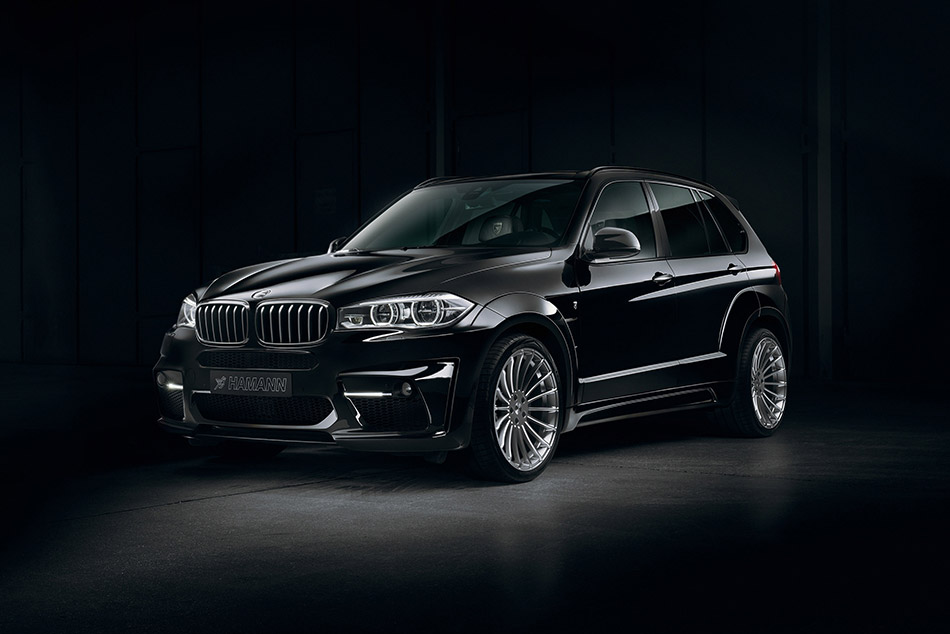 Wheels, tyres and suspension – perfectly attuned
The precise coordination of the suspension components relies on the exclusive wheel/tyre combination and customised sport springs. These bring the vehicle closer to the tarmac by as much as 40 mm and make the X5 a true star of the curves. Leading part here are Hamann's 22-inch light alloy "Anniversary Evo Hyperblack" rims with a noble black/silver lustre. On the front axle, Hamann wraps the one-piece quality rim in multi-spoke design with 295/30ZR22 high-performance Vredestein Ultrac Vorti tyres. But this is not enough for the rear axle – for maximum grip, the individualisation experts from Laupheim equip it with 335/25ZR22 tyres. These fulfil 100 per cent of the refiner's requirements in terms of cornering, grip during acceleration and deceleration, and steering precision.
Those seeking an exclusive interior will strike it rich. In the cockpit and on the headrests, Hamann cossets the driver with noble leather Alcantara applications. The foot space is upgraded by black anodised aluminium pedals and luxury-style mats.
Hamann has carefully combined different modules to achieve a perfectly concerted F15 kit. However, the individual components can also be purchased separately. Hamann refines the cars at its headquarters in Laupheim as well as at international partner sites.
Source: Hamann