For the past five years, Ford F-150 truck enthusiasts have had the special opportunity to own the SVT Raptor. With 411 hp and baja pre-runner capabilities, the Ford Raptor was one of the most capable 4x4's ever built. Sadly, Ford Raptor production has ended, leaving a void in the market for 2015.
Thankfully, the team from Hennessey will soon be offering their 2015 VelociRaptor 600 Supercharged upgrade for Ford's new aluminum-bodied pick-ups.
"We've built over four-hundred VelociRaptor 600 Supercharged Ford trucks over the past four years," said John Hennessey. "We are simply picking up where we left off with our 2015 VelociRaptor. Having Ford's world-class new truck design, with a weight savings of nearly 700 pounds, our VelociRaptor 600 Supercharged will have an even greater level of performance and driving excitement!"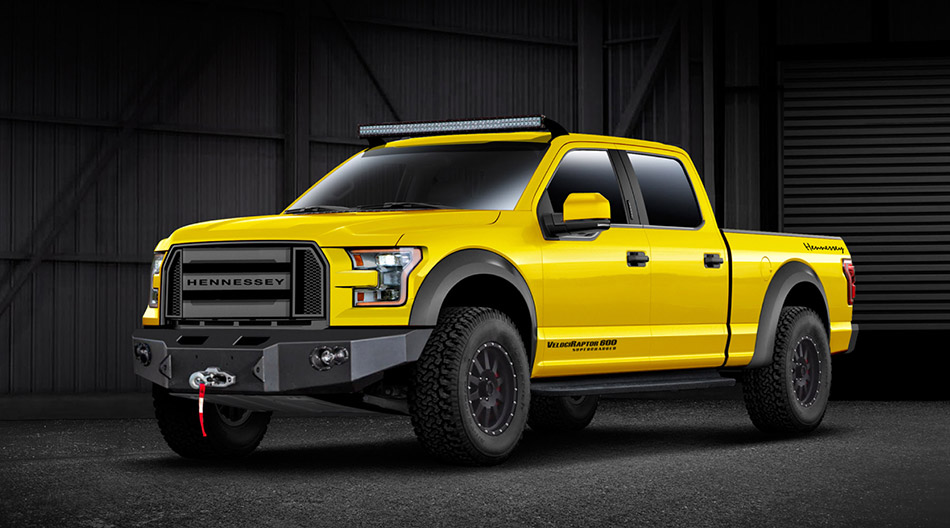 Key to the 2015 VelociRaptor's 600+ horsepower is the Roots-type supercharger packing 8 psi of boost. Helping the 5.0L V8 breathe more deeply is a high-flow air induction system and stainless-steel exhaust system. Upgraded fuel injectors will help feed the supercharged V8, under command of Hennessey's proprietary engine management calibration. The VelociRaptor will come with a 3 year / 36,000 mile warranty from Hennessey.
Just 500 units of the VelociRaptor 600 Supercharged will be produced for the 2015 Ford F-150 model year. Pricing starts at $73,500 USD including the base 2015 Ford F-150 FX4 Super Crew 5.0L V8 . The VelociRaptor 600 Supercharged package will also include 33 inch BFGoodrich tires on 17 inch Hennessey wheels. Greater personalization and off-road performance can be had by adding options such as custom off-road coilover suspension, upgraded front and rear bumpers, front winch, LED light bars, Brembo brakes and more.
"The 2015 VelociRaptor 600 will offer the best of both worlds for our clients," says Hennessey partner, Don Goldman. "Many of our VelociRaptor owners use their trucks to drive to work or to take the kids to school. However, when the going gets tough, the VelociRaptor is highly capable in inclement weather and off-road conditions."
New 2015 Hennessey VelociRaptor 600 Supercharged pick-up trucks can be ordered through your nearest Ford dealer, as well as any of AutoNation's 37 Ford dealerships across America. Hennessey will also offer a VelociRaptor upgrade package for 2015 Ford trucks equipped with the EcoBoost engine.
Source: Hennessey