The goals in developing the body of the Civic Si included high rigidity, an energy absorbing structure and excellent fit and finish. To meet these challenges, Honda engineers turned to new materials, new manufacturing techniques, and new thinking.
While developing a highly rigid chassis is ideal for enhancing handling, safety and NVH performance, it typically requires adding insulation materials and structural reinforcements--all of which adds weight. But weight robs fuel efficiency and performance--other key goals for the new Civic Si. So Honda's engineers turned to new materials--such as lightweight, high-tensile strength steel--and computer analysis, which enabled them to refine the chassis for maximum strength, minimum weight, and optimum collision performance.
As a result, the 2002 Civic Si Hatchback has increased torsional rigidity by 95 percent compared to the previous generation hatchback and bending rigidity by 22 percent. The use of high-tensile strength steel saved 44 pounds compared with a conventional steel structure.
"Smart-Linked Body Shell"
With safety being a top priority, the body of the 2002 Civic Si was designed to efficiently absorb impact energy. Helping to accomplish this goal are multi-directional cross members that have been increased in size and "smart-linked" together--creating an even stronger and more rigid body. In a frontal collision, energy is divided between the parallel side frame and sub-frame. In addition a gusset runs along the floor from one side of the Si to the other, passing through the B-pillars and helping to transfer crash energy directly to the floor. This design also provides increased rear passenger foot room.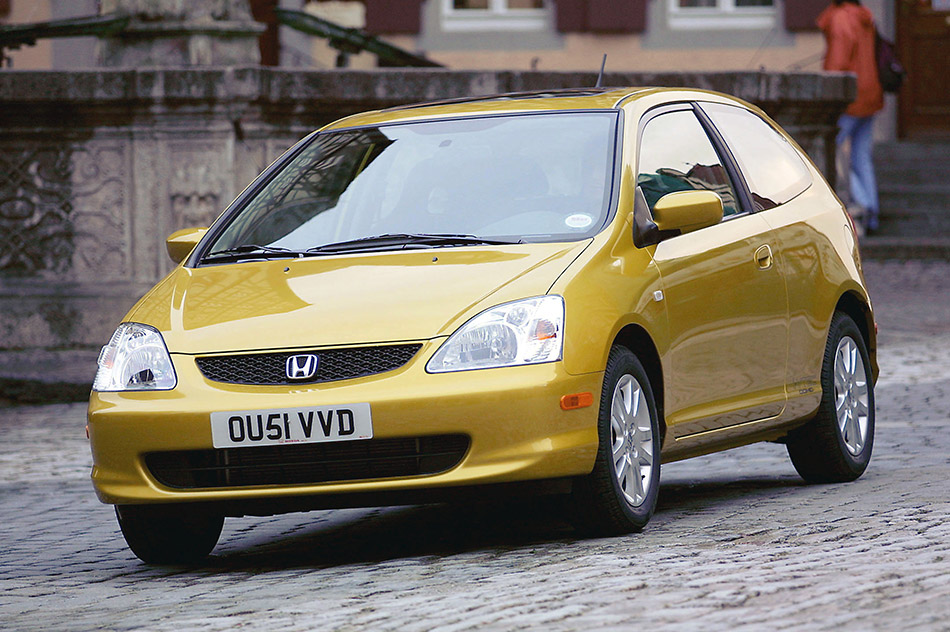 Rigid Front Sub-Frame
The new parallel front sub-frame supports and surrounds the engine and helps provide efficient energy absorption in the event of a collision. This sub-frame is dubbed a "shark's jaw" by Honda engineers because of its unique shape. The engine mounts to the sub-frame in two places, helping isolate the engine from the body and reducing noise and vibration in the passenger compartment.
Expanded Use of High-Tensile Steel
The 2002 Civic Si makes extensive use of lightweight and high-tensile strength steel. About 57 percent of the body structure, by weight, including the important mid-floor cross members and floor gussets, are made of high-tensile steel.
The use of high-tensile steel creates added challenges in manufacturing, as it is considerably harder to form than typical sheet steel. This can prematurely wear dies (which can have a negative impact on quality and body clearances), and it is harder to weld and inspect. To overcome this challenge, Honda production engineers devised ways to create durable dies and effectively check to ensure every vehicle is built to the same exacting tolerances.
Tighter Body Tolerances
Providing for improved fit and finish and tighter body tolerances was another goal of the body development team. Here are examples of some of the significantly tighter body tolerances for the 2002 Civic Si:
| | | |
| --- | --- | --- |
| . | 2001 Civic Si | Previous Civic Si |
| Body/bumper gap | 0.5mm | 3mm |
| Tail lamp/bumper gap | 1mm | 3mm |
| Headlight/bumper gap | 1mm | 3mm |
| Fuel filler door/body gap | 3mm | 4mm |
| Door/body gaps | 3.5-4.0mm | 5.0-5.5mm |
Making Tighter Tolerances Possible
Some of the manufacturing techniques that made these tighter tolerances possible included:
Advanced programmable robots ---- This new equipment provides more precise welds, which translates into tighter tolerances. In addition, these robots can perform more functions, which "shortens" the production line.
Honda engineers created a special "servo gun" that allows these robots to do more precise spot welds. This design is easier to control and moves faster than comparable hydraulic guns, which are used on other assembly lines. In addition, the electric servo guns require less energy to operate than the comparable hydraulic gun.
With these new advanced welding robots, in most instances, the welding head remains stationary and the part is rotated. In the past--with the hydraulic systems--the part was stationary and the welding head moved, which is not as accurate.
Accuracy was also improved by converting the existing manufacturing process to use a specialized jig for more precise, automated installation of the hinges and door panels. In the past, a skilled associate undertook door panel installation by hand.
Civic Si Exterior Dimensions
To help keep the overall length of the Civic Si as short as possible, Honda's engineers set out to shorten the engine compartment. To help accomplish this, and at the same time increase interior space and the impact absorbing front crush zone, the steering gearbox was moved from an area on the front-side of the engine, to a high-mount center position.
As a result, while the overall length of the 2002 Civic Si has been increased by only 25 mm, 2.8 cubic feet of cargo room has been added to the interior. Also contributing to the larger cargo area is an increase in 60 mm in the height of the vehicle, which also increases interior headroom.
The 101.2-inch wheelbase on the 2002 Civic Si has been shortened by 50 mm compared to the previous Civic Hatchback, helping to provide enhanced handling characteristics. Despite the shorter wheelbase, the tandem distance between front and rear passengers remains a class leading 752 mm.
Exterior Dimensions Comparison - 2002 Civic Si vs. Key Competitors
| | | | |
| --- | --- | --- | --- |
| . | 2002 Honda Civic Si | 2001 VW Golf | 2001 Ford Focus 3-Door |
| WB | 101.2 in. | 98.9 in. | 103.0 in. |
| Length | 165.6 in. | 164.9 in. | 168.1 in. |
| Height | 56.5 in. | 56.9 in. | 56.3 in. |
| Width | 66.7 in. | 68.3 in. | 66.9 in. |
Styling

The Civic Si's bold, European-inspired, 3-door hatchback shape was developed with a "solid and dynamic" design theme. It is characterized by a short nose and large hood, large aerodynamic cabin and dynamic side character lines. In front, a deep chin spoiler is smoothly integrated into the front bumper, while a mesh grille adds high-tech air. The rear of the hatchback is finished off with a roof spoiler, a skirt integrated into the rear bumper and dual chrome-tipped exhaust. In addition, the designers studied every aspect of the body in an effort to reduce drag and minimize wind noise.
The engineers also used a computer-generated "virtual wind tunnel" to predict wind flow around the car. This resulted in changes in the overall design prior to building prototypes helping to reduced costs while at the same reducing drag and improving fuel economy.
Source: Honda
Gallery:
Honda Civic Si (2002)