When the Honda Accord was introduced to the world in 1976, it defined a new kind of car - a practical automobile that combines economy and value with sporty style, spirited performance and environmental friendliness. Twenty-five years later, the 2002 Honda Accord expands its award winning, best-selling lineup with two new additions.
The Accord SE (Special Edition) is available in both Coupe and Sedan models, and the Accord Value Package is offered in a Sedan model. These new models for 2002 mirror the Accord's versatility as an automobile, reflecting the needs and wants of its consumer by offering added amenities at an affordable cost. Both 2002 models are now available in dealer showrooms.
The 2002 Accord SE is based on the LX 4-cylinder trim level with an automatic transmission, and costs about $1,500 less. The Accord SE pricing starts at $20,850. The SE trim level will be available on both the Accord Sedan and Coupe models. American Honda expects sales for both models to top 90,000 units.
Features setting the 2002 SE apart from Accord LX models include a three-in-one stereo system with AM/FM radio, cassette and CD player, driver's seat power height adjustment, wood-trimmed interior and floor mats.
The Accord SE model comes equipped with a remote security and keyless entry system and special 15" alloy wheels that replace wheel covers. The Sedan model is available in a wide variety of colors, including Satin Silver, Nighthawk Black and Firepepper Red. The Coupe is offered in Nighthawk Black and Taffeta White.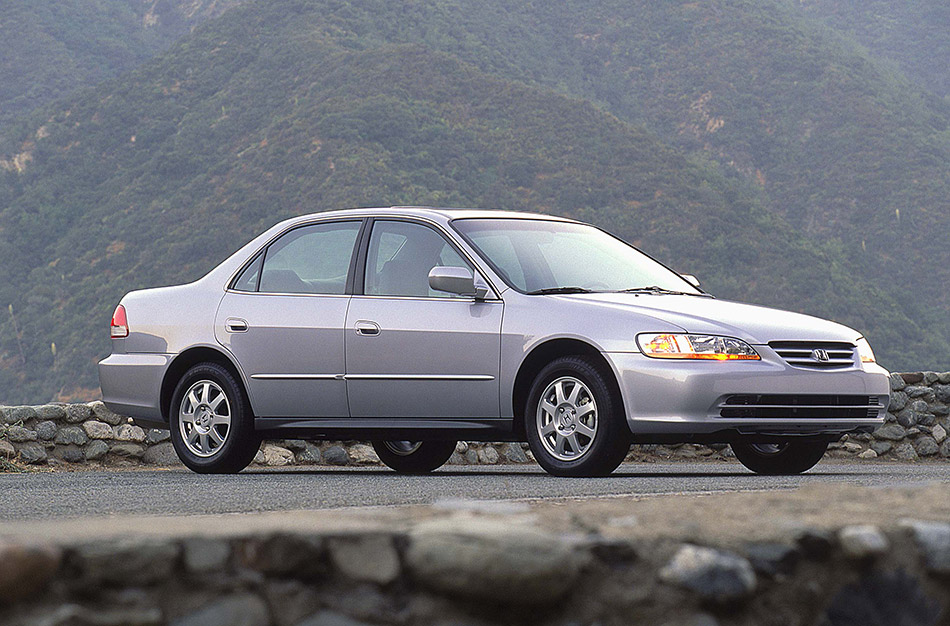 The 2002 Accord Value Package is based on the DX Sedan with an automatic transmission, boasts a three-in-one AM/FM stereo, cassette and CD player, six speakers (an increase from two speakers in the DX trim line) and costs approximately $1,000 less. Pricing for the Accord Value Package starts at $17,300. The Value Package also adds air conditioning, wood interior trim and floor mats.
Additional features in the 2002 Accord Value Package include body colored door handles and molding, exclusive wheel covers and chrome window trim. The Value Package Sedan is available in Satin Silver and Eternal Blue.
All 2002 Accords sold nationwide meet or exceed California's Low Emissions Vehicle (LEV) standard. One model, sold exclusively in California, meets the Super Ultra Low Emission Vehicle (SULEV) standard, the most stringent in the world.
All 2002 Accords use sophisticated dual-stage, dual-threshold passenger front airbags that detect seatbelt use and crash severity, and regulate bag deployment force accordingly.
Additionally, Honda Accords are outfitted with advanced side airbags as standard equipment on all V6 and EX models, and as optional equipment on LX and DX models. This innovative system prohibits the passenger side airbag from deploying in the event of a child or small-statured adult is leaning into the deployment path of the side airbag.
All 2002 Accords include the LATCH (Lower Anchors and Tethers for CHildren) child seat tether system. New Accords also feature adjustable three-point seatbelts in all five seating positions, a high strength body and subframe, side impact door beams, 5-mph bumpers and an illuminated anti-entrapment trunk release.
The 2002 Accord EX models also come equipped with cruise control, power moonroof, remote security and keyless entry system, floor mats and auto-off headlights. Additional features include a three-in-one stereo with AM/FM, cassette and in-dash 6-disc CD player. Accord 4-cylinder models with leather interior have steering wheel mounted audio controls.
The Accord LX features a six-speaker AM/FM stereo with in-dash CD player. Body-colored side moldings and illuminated power window switches are standard on all LX and EX Sedan models.
The Honda Accord's engine does not require a tune-up for the first 105,000 miles. The EX and LX trim levels feature a 2.3-liter, 16-valve 4-cylinder VTEC (Variable Valve Timing and Lift Electronic Control) engine that produces 150-horsepower and 152 pounds-feet of torque. All Accord V6 models are powered by a LEV-rated 3.0-liter VTEC V6 engine delivering 200-horsepower and 196 pounds-feet of torque. The Accord DX Sedan engine produces 135-horsepower.
Source: Honda
Gallery:
Honda Accord SE (2002)