Element body styling centers on a bold two-tone theme with integrated composite body panels that will stand up to more wear and tear than a typical paint job. The composite body panels provide a worry-free place to lean things like bikes or snowboards without jeopardizing the paint finish on body sides. The side cargo doors are free of a B-pillar to provide easy loading of equipment.
In its early concept stages, a lifeguard station formed the design inspiration for the Element's general shape with upright angles and the arched roof follows the curve of a surfboard. The design evolved into a rugged two-box SUV shape with traits developed to support a young, active lifestyle. With its wide opening side cargo doors, rear tailgate, large interior and durable body panels, Element provides the right features to operate as a base camp and a general hang-out spot. Open the doors and the place becomes monkey island. Lean stuff against the sides. Sit on the tailgate or "sidegate." Stand out of the rear skylight when stationary. The options are much greater than a typical SUV, truck or car -or anything currently on the market.
Side Cargo Doors
The cargo doors are designed for maximum utility and easy load-in with a best-in-class opening size of 55.5 inches. Because the Element does not have a B-pillar (the pillar mounted vertically between the top and the bottom of the vehicle in the middle) loading boxes and other bulky items is much easier than a traditional four- or two-door design. From a safety standpoint, the deletion of the B-pillar is compensated for with a reinforced vertical beam in the structure of the rear door, reinforced lower side sills, and floor and roof cross members. When shut, the base of the doors connect tightly to the body side sill with a hook and catcher system. Overall, the design is anticipated to achieve a five-star side-impact rating, the highest possible from the National Highway Traffic Safety Administration (NHTSA).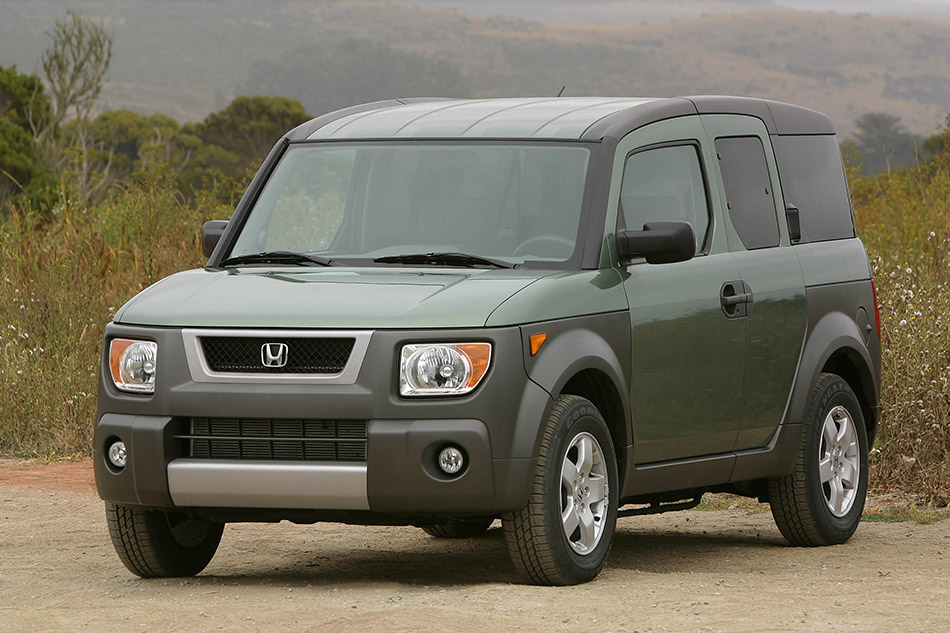 The side cargo doors feature an "interlock" safety lever to insure that the front doors always open first. Rear passengers can reach forward and open the front door to exit the vehicle if nobody is in the passenger seat. All seat belts have been specially construced into the design of the vehicle to not interfere with door functionality The front doors offer 3-position opening, and can reach an opening angle of up to 78 degrees. The rear doors use a forged steel gooseneck hinge and can open at an angle up to 90 degrees.
Composite Body Panels
Composite body panels are used as fenders to guard against scratches and create a two-tone look. Element DX models receive a standard gray surface while EX composite body panels add a metallic-look. Constructed of polypropylene and featuring no paint, the panels are useful for leaning equipment and gear against the vehicle sides. The fuel access door, located on the driver side rear fender, opens manually like a traditional truck instead of by a remote lever -a unique feature among all current Honda automotive products.
Tailgate
The rear tailgate drops down pickup truck style with the lower section forming a continuous surface with the interior cargo area when open. Perfect for tailgate parties, the tailgate can seat two 220-pound people (when the vehicle is parked, of course). The glass upper part of the tailgate hinges from the top of the roof, opening up and out of the way. The long overhang provides shelter from rain, sun and snow -a useful feature for loading equipment during inclement weather.
Removable Rear Skylight with Tilt
Element EX and DX models equipped with Real Time 4WD feature a rear skylight that tilts up and can be removed. Measuring approximately 20 x 30 inches, the skylight conveniently stores in a softshell case behind the rear seats on top of the floor. It accommodates ventilation, hauling tall objects and sleeping under the stars among other things.
Noise Insulation
Element incorporates extensive noise absorption materials and vibration control technology to provide a quiet, refined driving experience. At 60 mph Element registers a 65-decibel reading, similar or better than other vehicles in this price range. Road noise due to rough pavement is also minimized.
Xenoy Rear Bumpers
Element's rear bumper uses a highly efficient and resilient internal material called Xenoy in place of standard foam. Capable of absorbing more energy per stroke, this material helps achieve a short rear overhang and reduce rear impact costs. Element is the first Honda product to incorporate a Xenoy rear bumper.
Interior
Much of the 2003 Honda Element's functionality comes from an interior designed to support a dynamic and active lifestyle by combining the best traits of a pickup truck, SUV and cargo van. Its wide-open interior space, unique door openings and the overall shape fit a wide variety of sports equipment and large items. Meanwhile, durable seat and floor materials facilitate worry-free operation with no carpeting or delicate fabrics to protect from mud or the loading of equipment. Plus, the interior cleans up easy and fast.
Trim Levels
Element is available in two trim levels -the base model DX designed for the purchaser to configure the vehicle exactly to their taste and the more fully featured EX. On the DX, features such as air conditioning, audio system, armrests and other amenities can be added at the time of purchase. The DX offers an ideal platform for custom mobile electronics and other personalization. The EX trim level provides popular features including a premium audio unit with subwoofer and inputs for digital audio sources like an external MP3 player.
Modern Instrument Panel with Retro Style Meters
The instrument panel and meters demonstrate a unique styling direction for Honda with both modern and retro cues integrated into a bold exterior color-coordinated two-tone instrument panel. Inspired by a 3-D beveled wristwatch design, the speedometer, tachometer, engine temperature and fuel meters feature a classic design that's easy to read. The 3-D lens design creates an anti-glare surface.
Heating and air conditioning controls feature large knobs and are glove friendly. The two-tone instrument panel uses blue, silver or green accents coordinated appropriately with the interior color. The gear shift lever is mounted on the center of the instrument panel on both automatic and manual transmission models, saving space and creating a sporty feel with quick reaches between the steering wheel and gear shifter.
Seating Versatility
Element's four seats fold into a variety of positions ranging from a standard upright configuration to completely flat to the rear seats removed. When the seats are upright, Element carries four occupants including the driver. The reclining front seats feature easy-to-clean waterproof material (G), and seats slide forward and back by a whopping 11 inches to accommodate drivers of all sizes. EX models add a driver seat armrest, seatback bungee loops on driver's side front and rear seats, net pockets on passenger seat and waterproof rear seat fabric (instead of vinyl fabric). The removable flip-up rear seats feature a 50/50 split and recline independently. To facilitate cargo, the seats fold up and latch to the side with carabiner hooks or can be removed completely. All seats fold down to create a "lounge," which is just right for snoozing. The space between the front seats allows for a "walk through" between front and rear seats when the vehicle is stationary.
Urethane-Coated Utility Floor
Designed to be "worry-free," the pick-up style floor is constructed of Thermoplastic Olefin (TPO) Topcoat™, a highly scratch resistant yet grippy material and is coated with urethane for extra toughness. The material performs well against the sharp edges of snowboards, bikes and other gear. The utility floor (H) can be swept with a broom or wiped out with a wet cloth. The floor is water resistant, making it easy to clean up spills. Great care has been taken to isolate all low mounted electronics from moisture. The spare tire is located underneath the floor behind the rear seats. The square cover for the spare tire (41.6 x 29.4 x 26 inches, L x W x H) can be used as a table when removed by adding Honda Accessory table legs.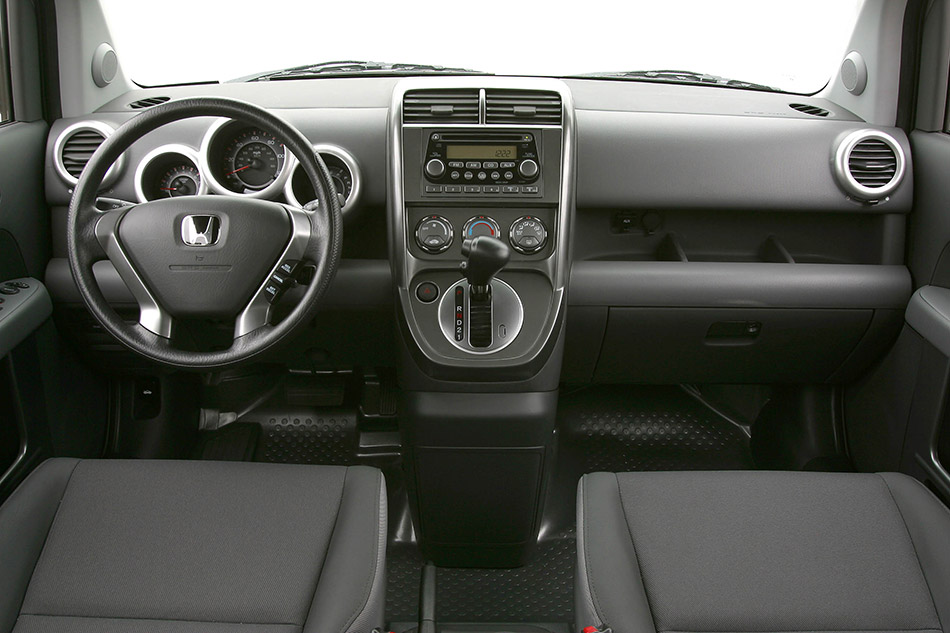 Equipment Hauling Targets
Designed to accommodate a wide variety of lifestyle modules and hold them firmly in place with a system of six cargo hooks, Element interior engineers bench-marked the following large sports gear and apartment/dorm room items. Some items can fit underneath the seats and still carry a full passenger load, while others require reclining or re-configuring the seats. If more storage is needed, an accessory roof rack is available.
Audio System
The high-output audio system in the EX trim level delivers dynamic, rich, loud sound and features: AM/FM tuner, CD player, auxiliary audio input for MP3 or digital devices, seven speakers including one Dynamic Linear Phase (DLP) 6.5-inch subwoofer located in the bottom center of the instrument panel, all powered by a 270-Watt amplifier. The DLP technology allows the 6.5-inch subwoofer to produce sound similar to a 10-inch subwoofer. Subwoofer response can be adjusted. For comparisons sake, the bass is eight-times louder than a Civic EX coupe audio system (which does not have subwoofer).
DX models, which come with no audio unit and no speakers, provide a pre-wired 2DIN slot for audio system additions at the dealership or through the aftermarket. The audio pre-wiring includes a standard wiring harness (powered) that runs to the speaker ports and to a roof-mounted antenna. An accessory multi-media player is available that can play Windows™ format and MP3 music files.
Plenty of Storage
Numerous storage bins and cupholders provide places for cell phones, CDs, super-size drinks and wet clothing. Storage areas include: five cupholders (A), low-profile floor console tray (B) between the front seats in the pass through, a large three-bin tray © above the glove box (perfect for cell phones and PDAs), an overhead storage bin (D) designed to hold a CD wallet (EX), seat back storage including bungee cord (E) on back of the driver's seat (EX accessory), six hooks for strapping down bikes or other bulky gear, and door storage pockets (F) on all four doors and behind the rear seats. The space occupied by the instrument panel-mounted subwoofer on EX models is utilized as a storage bin on DX models.
Air Conditioning
Element's heating and cooling system features high volume air output for quick cool down and large vents that minimize the loud "rushing air" noise that some systems create. The large vent design allows for high airflow with low wind noise and 360 degrees of flow direction control. The air conditioning unit has been optimized for ultra-quick interior cool down.
Chassis
Built on Honda's versatile Global Compact Platform, Element utilizes a rugged chassis that supports a wide suspension and a low, flat floor. Element features a firm and well-dampened ride that targets high stability and an overall fun-to-drive feel. The firm steering tuning ensures a connected feel to the road, while an ultra-tight turning radius provides incredible low speed maneuverability. A toe-control MacPherson strut front suspension and a compact double wishbone rear suspension deliver sure-footed handling. Element's suspension design facilitates light-duty off-road use.
Structurally similar to the 2002 CR-V, Element is slightly bigger in every exterior dimension except for length. Main chassis differences include 16-inch wheels (vs. 15-inch for CR-V), a slightly wider track, a compact rear damper, a lower floor height and structural adjustments to allow for no B-pillar construction. While the design and shape of components appear similar, chassis dimensions have been adjusted to provide a wider track and lower floor.
Braking System
Four-wheel disc brakes are standard equipment on all models (11.1-inch ventilated front discs/11.1-inch solid rear discs). EX models add an Anti-Lock Braking System (ABS) with Electronic Brake Distribution (EBD). The EBD system enhances braking performance on dry and wet surfaces by adjusting the front and rear braking force to compensate for factors related to passenger load and cargo positioning.
Suspension Components
The toe-control MacPherson Strut front suspension delivers quick, responsive handling by maximizing each front tire's contact patch with the road throughout the range of suspension travel. Since Element has a wide track compared to other products in the Global Compact Platform family, control arms and related components are larger. The rear compact double wishbone suspension provides a smooth ride with crisp and predictable handling by letting the tires move slightly rearward over bumps. A compact rear damper and spring assembly is used to facilitate the low, flat floor. Front and rear stabilizer bars are used to enhance cornering ability.
Steering System
Element tracks straight and true using the latest steering box technology from Honda. Similar to systems used on larger vehicles, the Element's power steering box features internal dampening valves to reduce kickback over potholes, bumps or while off the beaten path. It also provides a smooth and natural "on-center" feel when the vehicle is on slightly crowned highway stretches, adding to long distance driving comfort. Another benefit of this system is the high level of responsiveness, making for a sporty feel with a short delay time between driver steering input and response. Element has an ultra tight turning radius of 34.2 feet.
Wheels and Tires
The 2003 Element rides on 16 x 16.5-inch, five-bolt pattern wheels and P215/70R16 99S Goodyear Wrangler HP tires. Silver-painted steel wheels with a black center cap are standard on DX models. Silver alloy wheels are standard equipment on EX models. The tire package provides a great balance of all weather performance, fuel economy, comfort, noise and wear characteristics.
Source: Honda
Gallery:
Honda Element EX (2003)