With the development of the CVCC engine in 1972, Honda was the world's first automaker to clear the difficult hurdle of the U.S. Clean Air Act without the need for a catalytic converter, opening the door to an era of cleaner-running vehicles. Since then, we have continued to develop our own original technologies to meet our own high standards, leading the way in creating cars that are not only more environmentally friendly, but also safer and fun to drive.
Now, 30 years later, Honda is once again rising to the challenge, opening a new door that will change automotive history.
In response to pressing environmental problems including global warming, atmospheric pollution and resource depletion, we have been working to develop a new powertrain to replace the internal combustion engine. These efforts have resulted in the creation of an ultra-clean powertrain that uses hydrogen as an energy source-our new fuel cell vehicle, the FCX.
One hundred years ago, in the era of the horse and buggy, the introduction of the automobile was a huge step forward in the field of mobility. Honda is convinced that the FCX represents an advance of equal significance for the 21st century.
At Honda, we want cars to be the stuff of dreams. That's what drives us. Our ongoing mission is to redefine the automobile, and to apply our original technology to help give shape to the future.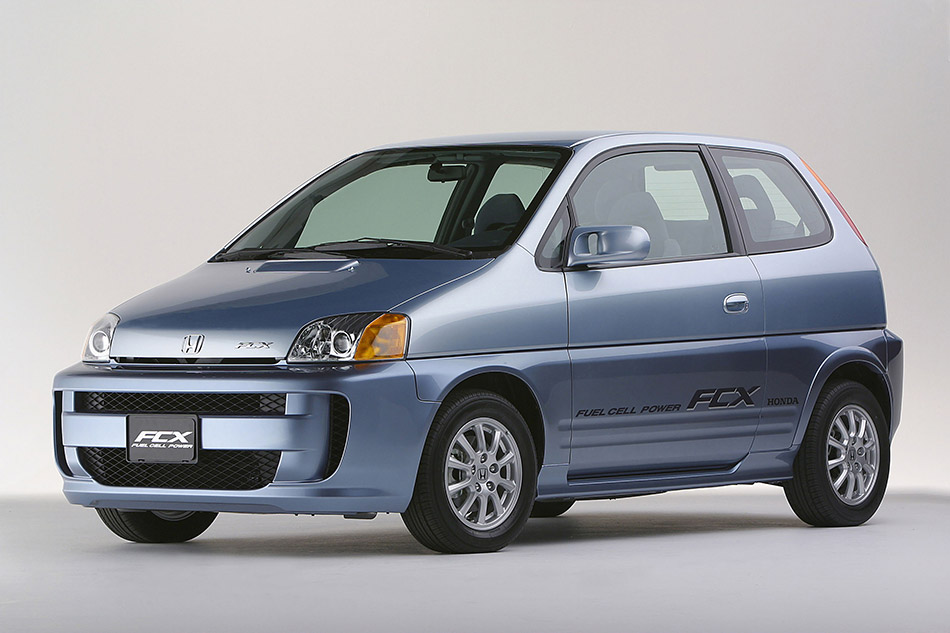 Development Concept
The new challenge of shaping the future of mobility
Honda has always worked to develop cleaner powertrains as demonstrated by its improved combustion technology for gasoline engines, electric cars, natural gas vehicles and hybrid vehicles. As part of this ongoing challenge, and faced with the need to find solutions to global warming, atmospheric pollution, depletion of fossil fuel resources, and other environmental problems, we turned to hydrogen as an energy source. Hydrogen is attractive not only in that it produces no CO2 or other harmful emissions, but also because it is not a fossil fuel.
Our goal was to create a powertrain built around the fuel cell, which provides the ultimate in green performance by combining hydrogen and oxygen in a chemical reaction that produces electricity and water as the only byproduct then install this powertrain in a fuel cell vehicle that exhibits superb energy efficiency, driving performance, comfort and safety.
The powertrain utilizes a high-pressure, pure-hydrogen type fuel cell system in combination with Honda's own originally developed ultra-capacitor to power an electric motor drive. Besides eliminating emissions of CO2 and other harmful substances, we also applied existing Honda technologies, including EV (electric vehicle) electric drive technology, NGV (natural gas vehicle) high-pressure gas storage technology, and advanced energy management technology used in our hybrid vehicle, to achieve greater energy efficiency. The result was a vehicle with the performance similar to a gasoline-engine vehicle.
We also put Honda's one-of-a-kind packaging technology to work to develop a custom platform that gives this fuel cell vehicle all the ease of use that people expect in a compact car.
Giving full consideration to hydrogen's special characteristics, we created an efficient layout that locates the powertrain's many structural components in the front, under the floor, and behind the rear seat. This layout provides a spacious cabin with room for four adults, while maintaining a high level of collision safety performance.
The FCX fuel cell vehicle is the product of Honda's challenge to create a completely new type of automobile through technological advancement and refinement. The age of hydrogen is upon us, and the possibilities are enormous.
City of Los Angeles Becomes the First U.S. Customer for an EPA-Certified Fuel Cell Car
The City of Los Angeles took delivery of the nation's first commercial lease of a fuel cell car, the Honda FCX, on December 2, 2002. The Honda FCX is being used for trips during city business and was delivered in a ceremony attended by Mayor Jim Hahn and Hiroyuki Yoshino, President and CEO of Honda Motor Co., Ltd., at Los Angeles City Hall.
The hydrogen-powered Honda FCX is the only fuel cell vehicle certified by the California Air Resources Board (CARB) and U.S. EPA for every day commercial use. Under the two-year lease agreement, the City of LA will pay $500 a month to lease five Honda FCX models.
In addition, Honda has contracted with Air Products and Chemicals, Inc., based in Allentown, Pennsylvania, with local operations in El Segundo, California, to provide the hydrogen fuel and refueling infrastructure.
"The City of Los Angeles is taking a major, national leadership role in putting hydrogen-powered fuel cell vehicles into practical, everyday use," Mayor Hahn said. "Los Angeles City employees will use these fuel cell vehicles on a daily basis, just like any other pool vehicle.
We believe hydrogen-powered fuel cell vehicles hold great promise for future clean air vehicles and it is important that LA play a leading role in assisting in the development and early use of this technology. Working with Honda Motor Company, which has a long history of firsts in developing environmentally sound vehicles, adds to the great prospect for continued air quality improvements for the citizens of Los Angeles."
Honda plans to lease about 30 fuel cell cars in California and Japan during the next two to three years. The company currently has no plans, however, for mass-market sales of fuel cell vehicles or sales to individuals.
"The future of the fuel cell vehicle shows great promise in reducing the global dependence on oil, and our association with the great city of Los Angeles is an important step in the pursuit of this goal," said Yoshino.
Both CARB and the EPA have certified the Honda FCX as a Zero Emission Vehicle (ZEV).
The FCX uses hydrogen supplied to a fuel cell "stack" to generate electricity that powers its electric motor.
Honda undertook fuel cell research in 1989 and has been road testing vehicles in the United States since 1999. Honda has also been a member of the California Fuel Cell Partnership based in Sacramento, California, since 1999.
Hydrogen production and fueling stations-for the hydrogen-powered society of the future
At Honda, we feel it is important that the entire process for making the hydrogen to power fuel cell vehicles, from production to storage and supply, should produce no CO2 emissions.
That is why, as a step toward the hydrogen-powered society of the future, we have initiated test operations of a hydrogen production and fueling station for fuel cell vehicles that uses solar energy to extract hydrogen from water. Using only solar energy, this station is capable of producing 5,700L* of hydrogen from water annually. In combination with conventional electric power, it can produce as much as 26,000L of hydrogen (max. 71L/day)*. The operation of this solar-powered test station will help verify more efficient production methods for renewable energy, while at the same time providing insight into the problems involved in developing practical hydrogen production and fueling stations for the future. At Honda, we are committed to continuing this important research.
Source: Honda
Gallery:
Honda FCX (2003)