A production-ready version of the highly anticipated Honda Pilot, an all-new Honda-designed and built SUV with 8-passenger theatre-style seating and the largest cargo carrying capacity in its class, debuted today at the 2002 New York International Auto Show. The Pilot will go on sale in June.
"The Pilot provides Honda with a world-class player in the SUV market," said Tom Elliott, executive vice president, American Honda Motor Co., Inc. "It combines the rugged versatility of traditional sport utilities with Honda's legendary dependability, quality and reliability. We expect it to set a new standard in the SUV segment, in much the same way the Odyssey has done in the minivan segment."
The Pilot features a 240-horsepower, 3.5-liter, VTEC V-6 engine and Honda's patented VTM-4™ (Variable Torque Management 4WD) advanced four-wheel drive system. The interior is the most versatile and functional in the class, with two rows of 60/40 split folding seats and up to 90.3 cubic feet of cargo space behind the front seats.
Designed for the "Ultimate Family Adventure", Honda engineers developed a number of family-friendly features including a multi-function center console with a large center storage bin, dedicated cell phone cradle, 12-volt power outlet, CD storage tray and removable cup holders. EX models feature a second-row child's activity tray that incorporates cup holders and a storage tray for pocket-size game machines, crayons, markers or fast food items, including a special holder for fast food sauce containers.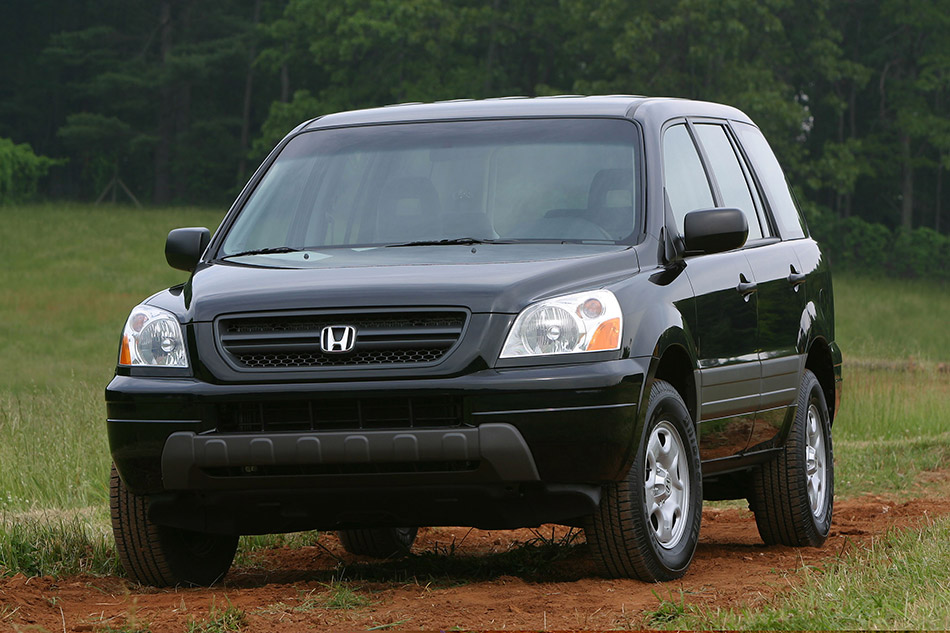 The Pilot employs highly efficient body crumple zones and sophisticated airbag technology, and is expected to achieve a Five Star safety rating for both frontal and side impacts. Additional measures have been taken to insure a high level of protection for third-row occupants in front, side and rear collisions. In keeping with Honda's long standing commitment to environmental leadership, the Pilot will be a Low Emissions Vehicle (LEV) with excellent fuel economy and is constructed with 90 percent recyclable components.
The Pilot will be available in two trim levels, LX and EX. LX models will come well-equipped with a host of standard equipment including air conditioning; cruise control; AM/FM stereo with in-dash CD player; driver and front passenger front and side airbags; and power windows, mirrors and door locks.
Pilot EX models add such features as aluminum alloy wheels; synchronized front and rear automatic climate control; a seven-speaker, high-powered stereo; and options including leather interior, a Honda Satellite-linked Navigation System or Honda's DVD Rear Entertainment System.
The Pilot will be built alongside the Acura MDX and Honda Odyssey by Honda Canada Mfg. in Alliston, Ontario. Pricing will range from $26,000 to $32,000 and sales of about 80,000 vehicles are expected during its first 12 months on the market.
The Pilot was designed to deliver a confident, secure and fun driving experience with outstanding isolation of undesirable noise, vibration and harshness (NVH) for exceptional comfort in all driving conditions. Its chassis also provides the foundation for the Pilot's capabilities as a people and cargo hauler, 4500-pound towing platform and off-road vehicle.
The Pilot boasts the widest wheel track in its class - 66.3-inches in front and 66.5-inches in the rear - for improved handling stability, ride comfort and interior space. Chassis components were designed to provide for well-controlled body motions with ride and handling characteristics that are balanced and secure. The use of fully isolated front and rear suspension subframes enhances the Pilot's outstanding noise, vibration and harshness controls to provide a ride that is quiet as well as safe and secure.
Front Suspension
The Pilot employs a strut-type front suspension that provides a generous 7.3 inches of wheel travel (4.3-inches in compression, 3.0-inches in rebound). Separate load paths to the unit body are provided for the coil spring and the shock absorber to reduce road noise. A solid 0.9-inch stabilizer bar is linked directly to the strut via ball-joint connections to reduce body roll during cornering maneuvers, a critical factor in minimizing the "head toss" tendency that is associated with many taller vehicles and SUVs.
The lower control arm bushings are designed to provide a stabilizing toe-out steering effect when loaded during braking or cornering. The L-shaped arm allows a very tight steering lock for good low-speed maneuverability.
Front subframe
A welded-steel subframe secured to the unit body's longitudinal rails supports the Pilot's engine, transaxle, transfer case, steering gear and front suspension. The front of the subframe assembly is constructed of tubular steel for maximum stiffness with minimal weight penalties and features four tuned rubber mounts to isolate the subframe from the main body structure. A stiffener located under each subframe attachment fastener helps stabilize the assembly, thereby sharpening handling and braking performance. A stiffener plate bolted across the subframe under the transfer case greatly increases the assembly's rigidity.
Two dynamic damper units and one mass damper are strategically positioned to counteract noise and vibration, while two fluid-filled engine mounts reduce the transmission of engine noise and vibration to passenger compartment. The steering gear mounts are made of heat-resistant rubber to provide good vibration isolation, the firm retention necessary for sensitive on-center-steering feel.
Rear Suspension
The Pilot's rear suspension is a compact, multi-link trailing arm layout for excellent ride and handling, minimum weight and optimum packaging. Wheel travel is a generous 4.9 inches in compression and 3.3-inches in rebound. The three links that position each rear wheel laterally run between the knuckle assembly and the subframe. A trailing arm also runs from the unit body to each rear knuckle. Coil springs seat on the lowermost lateral link and anchor against the unit body directly behind each axle shaft. Shock absorbers positioned ahead of the drive shafts run from a low point on each knuckle to a secure attachment point on the unit body. Steering knuckles are an "in-wheel" design to optimize suspension geometry and packaging efficiency. Bushing compliance provides a modest toe-in effect in response to substantial cornering and braking loads to enhance overall stability. A solid 0.8-inch stabilizer bar helps reduce body motion during cornering. A new urethane bump stop is applied to the rear suspension for improved ride quality.
Rear Subframe
The rear subframe, which supports most of the rear suspension and the rear axle drive unit, is made of high-strength steel for high stiffness and minimal weight. The shape of the rear subframe is equally important - it must accommodate the drivetrain components for the VTM-4 four-wheel drive system and the multi-link rear suspension, and still allow for the versatility of the third-row seat and flat cargo floor. For excellent ride and handling characteristics, the subframe attaches to the unit body at four widely spaced, rubber-isolated, mounting points. Rear-suspension components, especially the springs and shock absorbers, are as compact as possible to facilitate a wide, flat, load floor and to leave room for both a spare tire and a full-size fuel tank. The rear axle drive unit is mounted to the subframe by means of rubber isolators to block road and powertrain noise and vibration from the passenger compartment. A tuned dynamic damper attached to the drive unit cancels propeller-shaft and drive-shaft vibration.
Steering
The Pilot's rack-and-pinion steering system is tuned for quick, linear, car-like response and sensitive feel - and the torque-sensing power steering assist is high for parking maneuvers and low at highway speeds. The system uses heat-resistant rubber mount bushings, high-pressure die cast aluminum gear housings, a low friction material rack guide for good on-center feel and a damper valve to reduce steering wheel vibration.
Wheels and Tires
To assure both a comfortable and controlled ride, Honda engineers used computer-aided design to create tread and internal tire construction characteristics that provide a high level of comfort, and wear resistance while also achieving outstanding all-weather handling and low noise.
A 70-series tire was selected to provide optimum comfort for all passengers. Tires are 235/70R 16 104S radials mounted on 16 x 6_ inch wheels. The LX rides on styled steel wheels, while EX models feature cast alloy wheels. The compact spare is carried under the rear load floor and can be lowered by turning a hidden hex-head bolt with the provided lug-nut wrench. The hex-head bolt is located under a cover conveniently located in the rear hatch trim area. This arrangement guarantees the security of the spare and keeps it readily accessible without disturbing luggage or cargo carried onboard.
Room is provided to stow a flat or a full-size spare in the compact spare's location. Corrosion and failure of spare tire retention equipment, a common problem in some competitor SUVs, is avoided by use of stainless steel and polymer materials eliminating high-mileage failure.
Braking System
The Pilot features large capacity brake components consistent with its use as a people and cargo hauler, and as a towing platform. Employing four-wheel disc brakes and four-channel anti-lock brakes, the Pilot's brakes are tuned for stable, linear and progressive braking forces. For optimum performance with widely varying loads, Pilot has Electronic Brake Distribution system (EBD) technology. EBD monitors braking force and adjusts front-to-rear brake effort to achieve maximum braking performance and stability. At the rear, a select-low braking strategy is used to help maintain directional stability in slippery driving. In the event one rear wheel verges on lock-up, triggering a pressure modulation at that wheel, brake pressure is also diminished at the adjoining wheel to help preserve the rear axle's lateral stability.
Extra-large brake rotors and calipers provide the capacity necessary for short stopping distances and excellent fade resistance, even with a heavy load. The vented front rotors are 11.8 inches in diameter and 1.1-inches thick. Solid drum-in-disc rear rotors are 12.3 inches in diameter and 0.43 inches thick. A drum-type parking brake mechanism is positioned within the inner portion of the rear rotor. Parking brakes are both set and released by stepping on a pedal located on the left side of the driver's foot well, freeing space in the console area. The tandem-type vacuum booster consists of two 9-inch diameter booster chambers.
Anti-Lock Braking System (ABS)
The Pilot's Anti-Lock Braking system (ABS) has four sensing and activating channels to detect a wheel on the verge of lock up. In the event this occurs, brake pressure is held and then reduced to permit that wheel to regain traction before full braking resumes. The front suspension geometry has a very small scrub radius to help maintain dynamic stability even when one front wheel is braking harder than the other because of uneven traction conditions.
Fuel System
The 19.2-gallon, saddle-shaped fuel tank is molded of high-density polyethylene for low weight, freedom from corrosion and impact resistance. It is positioned ahead of the rear wheels and over the propeller shaft to help guard against collision damage. Corners of the tank are rounded and the inside of the tank is baffled to diminish the likelihood of sloshing-fuel noise. The polyethylene filler pipe and fuel lines are light, not susceptible to corrosion and resistant to fuel vapor losses. A high-efficiency fuel pump is housed inside the fuel tank. The fuel-filter is a lifetime design that never needs replacement.
The Pilot complies with all evaporative emissions, on-board diagnostics and refueling vapor recovery requirements. The fuel vapor canister and filter are rubber mounted for noise isolation and protected against rock and debris damage by a deflection shield.
Towing
The Honda Pilot has a towing capacity of 4,500 pounds for boats and 3,500 pounds for trailers. A heavier load is acceptable with boats because their pointed bow shapes impose less aerodynamic drag on the towing vehicle than a slab-faced, square-cornered trailer.
Honda engineers conducted extensive research on the towing needs of the typical SUV buyer, including customer clinics in Los Angles and Chicago, and a survey of households with SUVs. They found that, on average, 32 percent of SUV buyers use their vehicle for towing with 18 percent towing more than four times. They also found that only about ten percent of total vehicle miles traveled by the typical SUV customer involve towing activity, and that boat towing is the most common use at 46 percent.
While conventional towing capacity figures boast a high maximum tow rating, even though some sacrifice of passengers and cargo may be necessary to suitably accommodate maximum loads, the Pilot's 3,500/4,500-pound rating is calculated to include up to four passengers and their cargo.
To help ensure that customers will be able to move a maximum rated load up a grade from rest (such as pulling a loaded boat trailer up a launch ramp), engineers sought out some of the most challenging entry roads and launch ramps in the country. Testing verifies the Pilot's ability to handle a 17-degree (31-percent) grade on mountain roads approaching Lake Cumberland in southern Kentucky and a 15-degree (27-percent) grade at 5,280-foot elevation at Lake Tahoe.
A note in the Pilot's owner's manual suggests reducing gross combined weight 2-percent for every 1,000 feet of elevation. At sea level, the Pilot can tow a 4,500-pound boat and four passengers up an 18-degree (32-percent) slope.
In support of safe towing, the Pilot's tow hitch and other hardware are factory engineered for dealer installation. The dealer-installed trailer hitch is a Class III receiver-type design that bolts on with no drilling, cutting or bumper-cover modifications. An external transmission cooler and separate power-steering fluid cooler is also included along with a harness to provide electrical power to trailer lights that plug into a connector provided at the rear of the vehicle.
The interior of the Honda Pilot is designed to be functional, versatile and very user friendly with many unique and thoughtful features to accommodate the needs and desires of the driver and passengers no matter what the task at hand.
Honda designers started with the image of a backpack: sporty and functional, utilizing durable materials and multiple storage areas for maximum versatility. The concept fit perfectly with the "ultimate family adventure" vehicle design concept and provided the basis for the Pilot's unique blend of sporty, functional and fun interior design elements.
In keeping with conventional Honda design philosophy of "man maximum, machine minimum," Honda designers sought to provide Pilot owners with the largest possible interior space while optimizing the exterior size for improved driveability, garageability and efficiency.
Consumer research further confirmed that while many SUV owners wanted more interior space and versatility, they did not necessarily desire a larger vehicle on the outside. The result is a vehicle that delivers the largest and most versatile cargo capacity of any vehicle in the mid-size class (90.3 cubic feet) in a compact-class exterior package.
Like all Honda vehicles, the Pilot interior is designed with world-class levels of refinement, comfort and ease-of-use (ergonomics). Controls are designed to be simple and functional with minimal complexity. Gauges, switches and warning lights are carefully positioned and well labeled for intuitive use. Every aspect of the vehicle's interior is optimized to provide an enjoyable and relaxing driving experience for all occupants.
Theatre-style seating / Panoramic Visibility
To ensure a high level of visibility and comfort for all passengers, the Pilot features theatre-style second- and third-row seats and a large, glassy greenhouse with the best outward visibility (282-degrees) of any vehicle in its class. Paying special attention to the comfort of third-row passengers, engineers raised the third-row seats approximately two inches over the first-row seats to allow for excellent forward visibility and a comfortable seating position. Second-row seats are raised about one-half inch over the front row for improved visibility without blocking the view of third-row passengers.
Eight passenger seating
For maximum versatility, the Pilot is equipped with three rows of seats - two front bucket seats and two rows of three-person bench seats. The second- and third-row seats are split 60/40 and can be individually folded flat in one simple motion to handle anywhere from one to eight passengers and a wide variety of cargo.
The Pilot's seats are designed to provide every occupant with a commanding outside view, comfortable seating position, and easy vehicle ingress and egress. The second-row seat was designed to fit occupants up to a 99th percentile adult male. The third row was optimized for children, although it will certainly accommodate adults on short trips.
All seating positions feature headrests and three-point seat belts. Front seat belts are equipped with pretensioners and automatic load limiters. All Pilots come with standard driver and passenger front airbags. The dual-stage, dual-threshold driver and front passenger airbags can deploy at two different rates, depending on the severity of the crash. In addition, if the occupant seat belt is not fastened, the airbags deploy at a lower collision speed to help offer more protection to the unbelted occupant.
The driver's and front passenger's seats also feature side airbags mounted in the outboard seat bolster. The passenger's seat is equipped with an Occupant Position Detection System (OPDS) designed to prevent side airbag deployment if a child or adult of smaller stature is leaning into the side airbag deployment path and in danger of serious injury from the bag's deployment.
The driver and front-seat passenger sit in bucket seats with six-way manual adjustment, fixed head rests and three-point seatbelts with adjustable pillar anchors. All seats are designed to provide long-distance driving comfort with an excellent balance of driver comfort and enveloping feeling without sacrificing good vehicle ingress/egress. The driver's seat features a special lumbar support designed to hold the upper torso and pelvis in an orthopedically correct position. In keeping with the vehicle's stuffable storage capabilities, the front seat backs feature cargo pockets with elastic mesh netting.
EX models add an eight-way power adjustable driver's seat, a second-row kid's activity tray and available leather trim and seating surfaces. EX models with optional leather interior (EX-L) feature leather trimmed first- and second-row seats, door panels and a matching vinyl third-row seat to minimize the scuffing and damage typically associated with a child-oriented third seat.
The three-person, second-row seat features two separate sections split 60/40 with individual fold-flat capability. Removable headrests and three-point seatbelts with pretensioners are provided for all three seating positions. Second-row seatbacks can be adjusted through seven positions of recline via a lever on each seat's upper bolster. To fold the second row seat flat for cargo hauling, the user simply lifts up on a lever located on the upper portion of the outboard seat bolster. A special four-bar linkage automatically cantilevers the bottom seat cushion both down and forward as the seat back is folded down to create a flat load floor with no gaps between seats for optimal cargo carrying utility.
Both second-row seats also feature a "walk thru" capability for improved access to the third row or rear cargo area. A lever on the seat bolster outer allows the seat back to pivot forward while the entire seat slides toward the front of the vehicle in one simple motion. The seat is returned to its original position by simply pushing back on the seat back.
The three-person, third-row seat also features a 60/40 split, six-position recline and individual fold-flat capability. Levers on the seat bolster and seat back allow for simple, one-step, transformation of seats from the side doors or rear tailgate opening. Headrests and three-point seatbelts are also provided in all seating positions. The third-row headrests must be removed for the seat to be folded flat. Headrests can be stored in a special compartment located beneath a hinged door in the rear cargo floor.
The second-row seats (outboard positions) feature the Lower Anchors and Tethers for Children (LATCH) system with easy-to-use tethers affixed between the seatback and seat bottom. The LATCH system, when used in conjunction with compatible child seats, eliminates the need to secure the seat using the regular seatbelts. Third-row seats are equipped with upper child seat anchors.
Both second- and third-row seats also utilize ceiling-mounted retractable shoulder belts in the center seating position. When in use, the shoulder belt attaches to a special receiver in the lap belt anchor. When not in use, the shoulder belt retracts snugly into a special ceiling fixture, providing for an open and unobstructed cargo space when the seats are not in use.
Cargo Hauling Capacity
The Pilot has the largest most versatile cargo hauling capacity in its class, including the largest cargo volume of any vehicle in its class - 90.3 cubic feet behind the first row seats with the second- and third-row seats folded flat. In addition, the Pilot's wide-in-class wheel track allows loading of four-foot wide items, like plywood sheets, between the wheel wells with no tilting of items or scraping of interior surfaces.
With its two rows of 60/40 split, fold-flat seats, the Pilot is easily reconfigured to handle anywhere from one to eight passengers and a wide variety of cargo. Longer items can be stored down either side of the vehicle while maintaining two to four passenger seating capability.
When the second-row seats are in use, there is still 48.7 cu.-ft. of space available, more than a full size car's trunk. And if it's necessary to use all three rows of seats, the Pilot still provides 16.1 cu.-ft of space behind the third-row seat - enough for eight paper grocery bags, four duffels and a cooler, or a full set of golf clubs. The rear cargo floor also has six separate tie-down points to secure loose items.
A separation net, offered as a dealer-installed accessory, attaches to four built-in attachment points, two in the floor and two in the grab rail, and provides a separate area for cargo behind the second row of seats. Additional cargo accessories include a retractable cargo cover and a durable rubber cargo liner.
Instrument panel
Highlighting the Pilot's instrument panel is a sporty, beveled, three-gauge instrument cluster with styling inspired by a precision chronograph watch design. The speedometer is in the center of the display and overlaps the tachometer to the left and fuel and temperature gauge to the right. The gear selection indicators are built into the bezel along the curved right edge of the speedometer, mimicking the action of the column-mounted gear selector lever. An array of warning lights is grouped in a horizontal band beneath the speedometer. A display near the fuel and temperature gauges shows odometer and trip-meter readings, and outside temperature figures.
Complimenting the instrument panel's sporty appearance is a silver-trimmed steering wheel with thumb-activated controls for the stereo and cruise control system. The Pilot's steering wheel has a unique and ergonomically designed cross-section design for improved comfort and steering wheel feel. Control stalks for the headlights, turn signals, front and rear intermittent windshield wiper/washers are located on either side of the steering column. Master switches for the cruise control system and interior lighting are located to the left of the main instrument panel controls. To the right of the steering wheel are buttons for the four-way hazard lights and the VTM-4 Lock feature. A large, 6.4-liter, lighted and locking glove box is also provided.
The Pilot's shift lever also has an ergonomic design with an easy-to-grip, dimpled pattern on its knob. In keeping with the Pilot's functional design theme, the gearshift selector lever is mounted on the steering column, providing for a large and unobstructed center console area.
Heating, Air Conditioning and Ventilation (HVAC)
Pilot engineers targeted best-in-class heating and cooling capability to provide maximum comfort for all occupants. In addition to the primary HVAC system, the Pilot utilizes a second heater, fan motor and evaporator unit packaged ingeniously in the vehicle's center console.
Separate heat and air conditioning vents along with temperature and fan speed controls in the rear portion of the center console provide rear seat occupants with improved heating and cooling performance and control. In full auto mode, the system links the front and rear HVAC systems for improved performance. Testing indicates a 17-percent reduction in cool down time when the two systems are linked.
The primary heating, air conditioning and ventilation (HVAC) controls are located on one easy-to-use panel in the center instrument console and include individual controls for temperature, fan speed, vent selection (center, floor and defogger vents), rear electric defogger and fresh or recirculated air. A separate knob enables independent control of the rear HVAC unit. EX models feature front and rear synchronized automatic climate systems.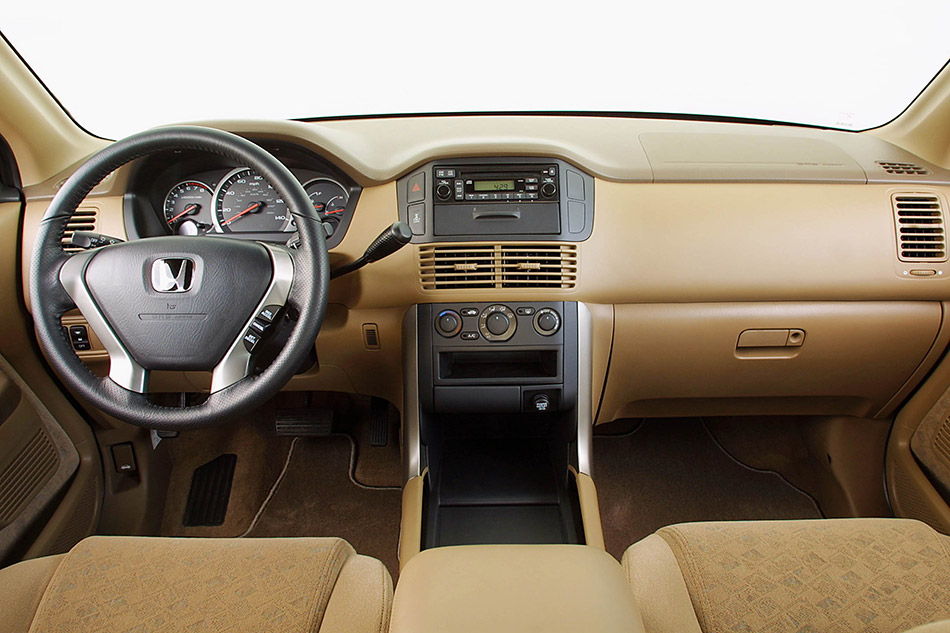 Multi-Function Center Console
Pilot designers went to great lengths in giving Pilot owners a truly innovative and useful interior design. One feature that epitomizes this concept is the Pilot's multi-function center console. The design of the Pilot's center storage console is so clever and creative that it has a patent.
The console, which is mounted between the front seats, features a large, deep central storage bin to hold large items including music CDs and DVDs. The front of the console features
a hinged door with a removable cell phone cradle and a 12-volt auxiliary power outlet. In front of the cell phone holder is a cup holder with space for two beverage containers. The cup holder unit can be placed into two positions and is removable for easier cleaning. Netted map pockets are incorporated in to the forward sides of the console.
Built into the console is a storage area for U.S. or Canadian coins, a writing tray with a Post-it note pad and penholder, and a business/credit cardholder. At the rear of the console is a third 12-volt power outlet as well as rear-seat HVAC controls.
The center console also serves as a center armrest for front seat occupants and houses a separate heater, evaporator and blower unit for improved heating and cooling. The console also incorporates separate temperature, fan and vent controls along with upper air conditioning vents (fresh or cooled air) and lower heat vents for improved airflow and comfort for second- and third-row passengers.
Additional storage capacity
Occupants of second- and third-row seats also have their own special storage solutions.
Front row seatbacks also have netted storage compartments for use by second-row passengers. Both rear doors feature netted storage compartments along with two beverage holders.
For kids, EX models come equipped with a fold-down activity tray built into the second-row seat that includes two cup holders, an area to hold fast-food dipping sauce or ketchup containers and a tray to store games, coloring books or other kids' items.
Third-row passengers get 3 additional cup holders (two passenger side and one driver side) and large storage packets. In addition, the rear side linings incorporate four grocery bag hooks, two grab handles, a 12-volt power outlet and three stuffable storage pockets. The rear cargo floor also has nine tie-down anchors to secure loose items.
The Pilot also features a 1.5-cubic foot covered cargo area built into the rear cargo floor behind the third-row seat. Ideal for emergency items, like a first aid kit or snow chains, and wet or dirty gear, the concealed cargo area is plastic lined for easy cleaning. The inside portion of the cargo lid has four hooks to secure plastic grocery bags or other gear. It also serves as a storage area for the optional retractable cargo cover.
Center Instrument Stack
A clean and functional center control panel houses the Pilot's audio system, center air vents and air conditioning controls, along with the controls for the optional Satellite-Linked DVD Navigation System or Honda DVD Entertainment System equipment. All controls are designed to be simple, functional, intuitive and easy to use.
In EX models equipped with the Navigation System, the center stack layout places the navigation screen and controls at the top of the stack with the HVAC controls in the middle position and the audio controls at the bottom of the stack. In other models, the audio system controls are positioned at top of the stack, above the center air vents, with the HVAC controls placed in the bottom position. An open storage area below the HVAC controls is used to hold the DVD player in EX models with the Honda DVD Entertainment System.
Audio System
The Pilot comes with an AM/FM stereo and in-dash, single-disc CD player. LX models feature four 16-cm speakers in the side doors and a four-channel, 130-watt, stereo amplifier. EX models add a cassette tape player, two 1.5-cm tweeters (front console), a rear-mounted 25-cm bass woofer and a five-channel, 155-watt, amplifier. Both LX and EX systems feature twelve FM and six AM presets; treble, bass, fade and balance control; and automatic search capabilities.
The Pilot's FM radio antenna is built into the rear side glass and has an antenna amplifier built into the roof for a clean appearance and reduced likelihood of breakage.
Control paddles located on the right hand side of the steering wheel provide volume and channel control for the driver (EX models). The driver can change volume and toggle through radio channel presets or CD tracks.
EX models equipped with a Honda DVD Entertainment System incorporate additional controls that allow for the selection of separate front and rear audio channels (see DVD Entertainment System below).
Lighting
First row convenience lighting includes two ceiling-mounted map/reading lights, a lighted glove box and two courtesy lights (puddle lights) mounted on the lower portion of the front doors. Driver and front seat passenger window controls are also illuminated for night use.
Four additional map/reading lights are integrated into the second- and third-row grab handles and are activated by depressing the lenses themselves. This simple and easy-to-use design is exclusive to Pilot and has a patent pending. The grab handles are also designed to accommodate hangers for carrying clothing.
A light in the rear liftgate provides downward illumination for the cargo area and ground at the rear of the vehicle when the liftgate is raised. The interior lights turn on automatically when the vehicle is unlocked or a door is opened. The lights will remain on for six seconds or until the doors are closed, at which time they will fade gradually to full off.
Satellite-Linked DVD Navigation System
The Pilot's Honda Satellite-Linked DVD Navigation System - available in EX models with leather interior - uses Global Positioning Satellite (GPS) data in combination with detailed information from the vehicle's DVD-based mapping system to pinpoint the vehicle's location and to provide a host of useful mapping and route guidance features.
Mapping and route instructions are conveyed to the driver by both audio and visual cues - designed to aid navigation. A moving map - in combination with directional arrows, detailed street names, turning instructions and driving distances - is displayed on the 6-inch LCD touch control screen located on the uppermost section of the center control stack. A matte finish is used on the display screen to reduce glare and smudging.
The system's picture-in-picture capability permits simultaneous display of a large-scale map and detailed route instructions. A "balloon" function instantly reveals the address of any selected location on the map. The volume of voice guidance instructions can be adjusted through 11 settings, including a mute setting. The audio system's front speakers are automatically muted when voice commands are issued.
The system also allows a route with up to five destinations to be pre-programmed with the computer determining the most expeditious route. The moving map can be instructed to display fuel stations, restaurants and automated teller machines (ATMs). The on-board DVD system contains not only maps of all major metropolitan areas but also freeway networks and a searchable database of 3.7-million points of interest including restaurants (searchable by type of cuisine), airports, hospitals, hotels, ATMs and numerous others.
The Pilot navigation system also has the ability to track vehicle position in areas not covered by DVD map data by means of dots on the screen - especially helpful when driving off-road. A log of up to five trip histories is retained in memory.
DVD Entertainment System
The optional Honda DVD Entertainment System features a flip-down, 7-inch, adjustable LCD screen and control panel integrated into the vehicle's headliner directly in front of the second-row seats. The DVD player can be conveniently controlled from three locations: the primary audio system controls on the instrument panel, the ceiling-mounted console or a wireless remote control unit.
Additional audio and video input jacks allow for a wide variety of additional equipment - ranging from camcorders and VCRs to game consoles - to be plugged in to the system. The Pilot's entertainment unit comes complete with two infrared (IR) cordless headphones as standard equipment, and allows for three additional headphones to be plugged in to auxiliary headphone jacks in the rear portion of the center console. The two infrared headphone units have individual on/off and volume controls.
The master controls and DVD drive, located along with the primary stereo controls on the instrument panel's center stack, allow the driver or front seat passenger to override the ceiling mounted and remote control systems in selecting programming. A single large center knob allows the user to shuttle between the front (left display) and rear (right display) systems, selecting DVD, CD, AM/FM radio or cassette programming. This independent control of the front and rear audio channels allows occupants to listen to separate programs simultaneously. One typical scenario would be for the kids to watch a DVD movie with headphones while the parents listen to the radio in the front seats.
Source: Honda
Gallery:
Honda Pilot LX (2003)