Hyundai Motor America introduced the all-new 2012 Hyundai Accent with best-in-class standard fuel economy and power at the 2011 New York International Auto Show. This marks the U.S. debut of the latest version of the popular subcompact sedan and the new top-of-the line, more functional Hyundai Accent five-door.
Hyundai Accent redefines expectations in the subcompact category by offering the company's distinctive and upscale "Fluidic Sculpture" design, best-in-class standard fuel economy, exceptional roominess and a full complement of standard safety features. Despite surprising technology and a significant increase in safety features, Hyundai will hold the line on pricing from the prior generation to continue delivering unmistakable value to customers.
"The 2012 Hyundai Accent reinvigorates the subcompact segment, similar to what the game-changing Sonata and Elantra have done in their categories," said Mike O'Brien, vice president, Product and Corporate Planning, Hyundai Motor America. "Accent's class-leading standard fuel economy is another showcase of Hyundai's dedication to improving fuel efficiency with advancements to traditional gasoline powered vehicles and is the fourth nameplate in Hyundai's lineup delivering 40 mpg on the highway."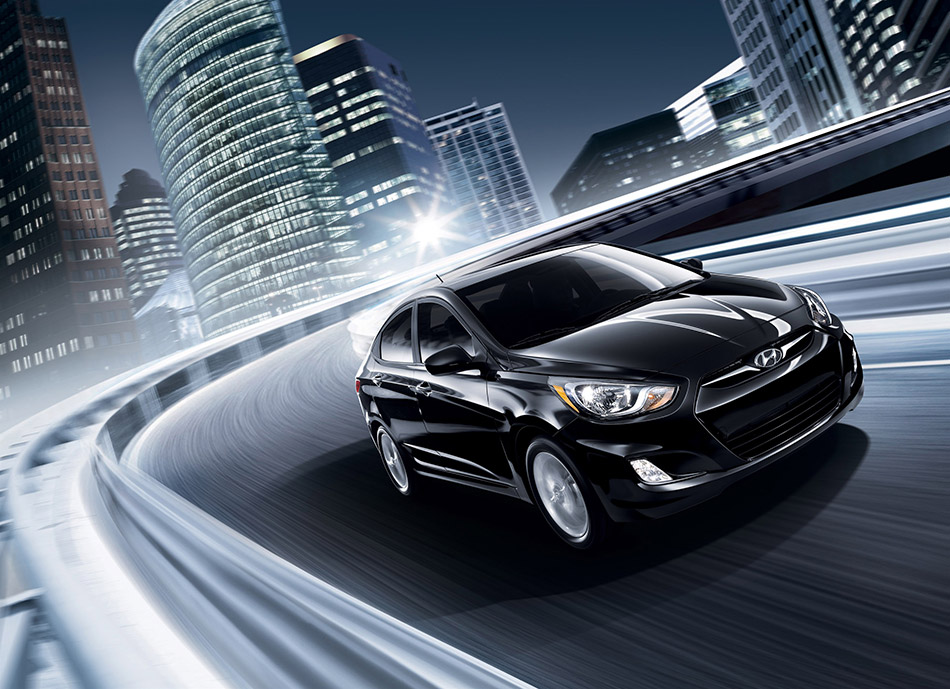 Advanced technology for superior fuel economy
The 2012 Hyundai Accent's all-aluminum 1.6-liter Gamma four-cylinder engine utilizes the latest engine technology to deliver a class-leading 138 horsepower and 123 lb-ft of torque and a best-in-class standard 30 mpg city and 40 mpg highway fuel economy rating.
The engine's most notable feature is its use of GDI, a first for the subcompact category. By precisely controlling the injection of fuel, GDI allows for better fuel economy, increased power and reduced emissions. The application of Dual Continuously Variable Valve Timing (D-CVVT) on both intake and exhaust camshafts allows for increased efficiency, improved fuel economy and reduced emissions. Other elements resulting in reduced fuel consumption include an Alternator Management System, an offset crankshaft design, variable induction system and electronic throttle control. To reduce lifetime operation costs and increase reliability, the Gamma features a maintenance-free silent roller timing chain. The Gamma also uses innovative anti-friction coatings such as CrN Physical Vapor Deposition (PVD) coating and Diamond Like Carbon (DLC) coating.
Several other systems have been improved over the outgoing model, each contributing to increased fuel efficiency. The 2012 Hyundai Accent can be equipped with a six-speed manual or automatic transaxle with SHIFTRONIC manual control, delivering smooth and efficient power delivery. Low-rolling resistance silica tires and a slippery shape (0.30 cd) reduce friction with the road and the air. This aerodynamic shape also includes a kicked up trunk edge, wheel arches which shield the tires and an optimized engine undercover. Finally, the ActiveECO function modifies engine and transmission control to smooth out throttle response. By turning on the ActiveECO function, drivers can realize up to a seven percent increase in real-world fuel economy.
Despite the additional content, safety features and technology packed into the all-new Hyundai Accent, Hyundai has avoided the typically associated penalty of increased weight. A low curb weight corresponds to an improvement not only in fuel economy but all other dynamic areas. In fact, Hyundai Accent offers the best power-to-weight ratio in its class by far, providing drivers with both low fuel consumption and responsive performance. Highlights which contribute to a low curb weight include the 1.6-liter Gamma GDI engine with aluminum block that is more powerful and 40 lbs lighter than the outgoing 1.6-liter Alpha engine, monotube shock absorbers, integrated parking brake and a super flat torque converter.
40 mpg - an 18 percent improvement in fuel economy
The 2012 Hyundai Accent's highway fuel economy of 40 mpg is an 18 percent improvement over its predecessor's 34 mpg highway manual transmission fuel economy rating.
Hyundai Accent's fuel economy is 30 mpg city and 40 mpg highway, with the six-speed automatic transmission or manual transmission. These figures give Hyundai Accent a highway-only driving range of up to 456 miles.
Safety
Hyundai doesn't believe consumers should have to pay a premium for safety, so a long list of safety features is included as standard equipment on all 2012 Accent models. A total of six airbags protect occupants in the event of a collision, including two front impact airbags, two front seat-mounted side impact airbags, and curtain side-impact airbags for front and rear passengers. Hyundai Accent's new standard front-seat active head restraints help prevent whiplash by automatically reducing the space between a front occupant's head and the head restraint during certain rear collisions and are highly recommended by safety organizations such as the Insurance Institute for Highway Safety (IIHS). Active front head restraints are not available on Fiesta, Yaris, Aveo or Mazda2.
The Hyundai Accent's underlying structure is engineered to protect occupants using a Collision Load Dispersion mechanism and the rear doors have internal beams. The vehicle's structure distributes the force of an impact in three ways to minimize floor deformation and maintain the integrity of the cabin.
Electronic Stability Control (ESC) and Traction Control work together to help deliver confident handling in all conditions. Vehicle Stability Management (VSM) integrates control of the ESC and motor-driven power steering (MDPS) to provide handling assistance in slippery conditions or in sudden cornering scenarios. The system can deliver up to eight Newton-meters of counter-steering effort when required to assist the driver in maintaining control of the vehicle.
A key safety element for any vehicle is its braking system. Hyundai Accent is the only car in the subcompact segment to offer four wheel disc brakes as standard equipment. An Anti-lock Braking System (ABS) featuring Electronic Brake Force Distribution (EBD) and Brake Assist (BA) is also included. EBD examines the effect of vehicle load on weight distribution and apportions the braking force between front and rear axles to maximize stopping ability. In the event of a panic stop, BA ensures that maximum braking force is applied.
Small on the outside, big on the inside
All Accents ride on a 101.2 inch wheelbase, 2.8-inches longer than the previous generation. The 66.9-inch width on all 2011 models increased by 0.2 inches for 2012. The Hyundai Accent 4-door's overall length has increased by 3.5 inches to 172 inches. Total length of the new five-door version is 162 inches. As a result, Accent enjoys superior interior volume and passenger space. While the car's exterior dimensions are consistent with those of traditional subcompacts, Hyundai Accent is classified by the EPA as a compact sedan thanks to its interior volume. Toyota Yaris and Ford Fiesta are classified as subcompact cars. In addition the Hyundai Accent five-door has best-in-class cargo volume and more cargo capacity than the Nissan Juke and Infiniti EX 35 crossover. The Accent has best-in-class front and rear shoulder room and the five-door also has more cargo volume than many of its compact five-door competitors.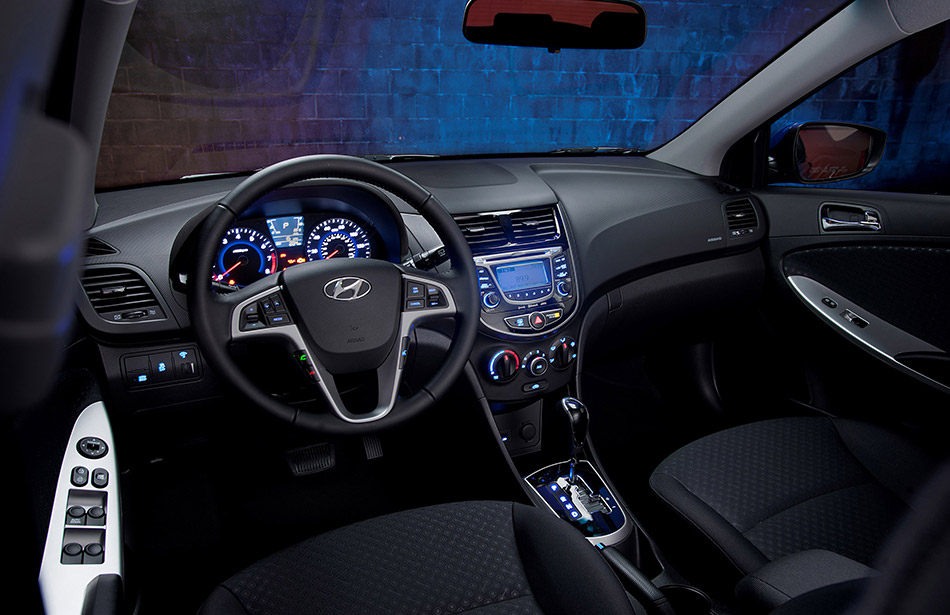 Confident driving dynamics
The first step toward confident driving dynamics is a rigid structure. To this end, the 2012 Hyundai Accent employs high-tensile strength steel to deliver a strong, light and stiff body which is 22 percent stiffer than the previous generation. Increasing the stiffness of the structure allowed Hyundai engineers more flexibility in terms of suspension tuning. The end result is a better balance between handling precision and ride comfort. Accent employs a MacPherson strut front suspension with coil springs and twin-tube gas shock absorbers. The rear suspension is a torsion axle setup with coil springs and monotube shock absorbers.
All Accents have column-mounted, motor-driven electric power steering that adjusts instantly to changing driving conditions while improving fuel economy over a conventional steering system. Hyundai Accent's turning diameter of 34.1 feet is better than Versa, Fiesta and Fit. The SE five-door model has a unique steering calibration for a sportier feel.
Fluidic sculpture design
The 2012 Hyundai Accent joins the Hyundai line-up sporting the company's increasingly popular "Fluidic Sculpture" design. The vehicle's exterior lines are intended to be futuristic, dynamic, and sleek. In a segment typically associated with staid designs, Accent stands out from the crowd. While the styling provides an attractive form, it's also functional, featuring a slippery 0.30 coefficient of drag for Hyundai Accent sedan and .31 for Accent five-door. Hyundai's signature hexagonal front grille and detailed swept-back headlights give Accent a compact athletic face. Five-door SE models include a sporty roof-mounted spoiler and vertical taillights. For an assertive stance, 16-inch alloy wheels are available on GLS and standard on SE.
Color palette
The 2012 Hyundai Accent GLS is available with gray or beige two-tone interior. The five-door GS and SE trims are available with a gray interior or a monotone black interior. All Accents have cloth-like pillar trim made of fibrous tissue and volcanic rock for a premium look and feel.
The Hyundai Accent features a bold exterior color palette with both light and dark colors including Century White, Ironman Silver, Cyclone Gray, Ultra Black, Boston Red, Mocha Bronze, Marathon Blue, Clearwater Blue and Electrolyte Green.
Features and amenities worthy of more expensive cars
Choosing a subcompact sedan no longer means foregoing comfort and convenience features. The 2012 Accent will be offered in three trim levels. The affordable four-door GLS, the versatile, well equipped five-door GS and the sporty five-door SE. The entry level Hyundai Accent three-door has been discontinued for the 2012 model year.
Source: Hyundai
Gallery:
Hyundai Accent (2012)