The Honda Ridgeline is a pickup truck, sharing its unibody chassis with the Acura MDX and Honda Odyssey. It is powered by a J35A91 3.5 L V6 with a 5-speed automatic transmission and all wheel drive. The Ridgeline is built in Alliston, Ontario, Canada alongside the Honda Pilot and MDX.
It is noted espcially for its use of a unibody frame: unusual in pickup trucks, as well as "car-like" features such as a large "trunk" below the truck bed. The bed is integrated with the body, similar to the Chevrolet Avalanche. Anti-lock brakes, stability assist, side airbags and side-curtain airbags are standard equipment. In concept, the Ridgeline shares much with such vehicles as the car-based Chevrolet El Camino, Ford Ranchero, and the Subaru Baja. The Ridgeline also has a large rear seat with easy folding operations. Four trim levels are available: basic RT, RTX, sport RTS and premium RTL (with optional moonroof or moonroof and DVD Navigation).
The Ridgeline was released in March 2005 as a 2006 model. It is rated with a 5,000 lb towing capacity and a 1,100 lb bed capacity. Its combination unibody and ladder frame chassis gives it 2.5 times more bending rigidity and 20 times more torsional rigidity than any other truck in its segment.
The Ridgeline has been competing in off road competition proving its off road ability with stock components. It is competing with the stock engine, body, chassis, transmission and 4wd system. It has won the Henderson 400 to date in the mini stock class. Note: For this race, the Ridgeline was the only entry in it's class and finished 46 out of 49 finishers, as per the official results.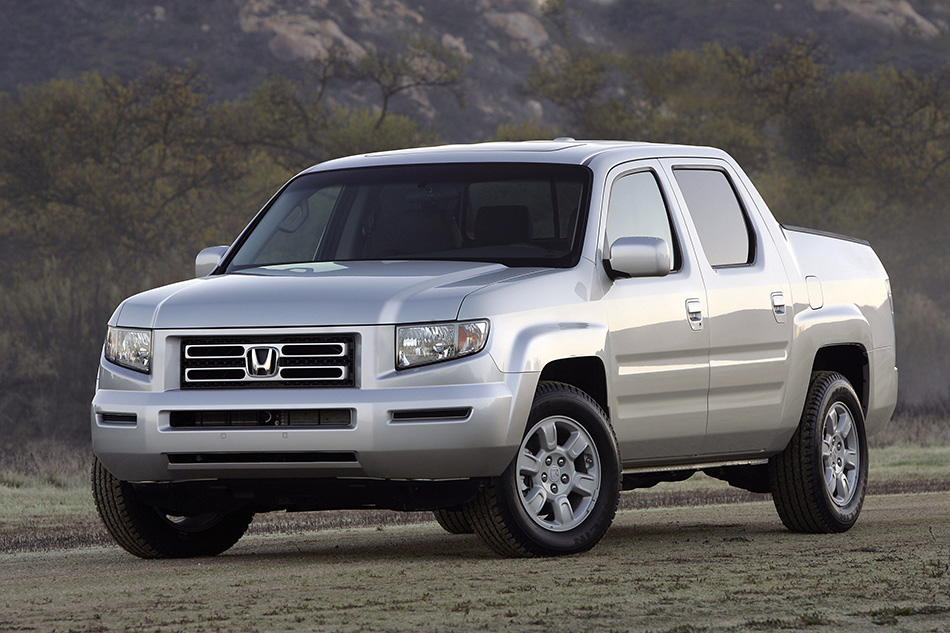 The Honda Ridgeline is Honda's most capable off road vehicle in their truck division. The stock Ridgeline's capabilities are as follows.
The engineers who designed the Ridgeline tested a range of competitive compact pickup trucks to help quantify off-pavement use patterns, customer needs, and engineering targets for the Ridgeline. Honda's market research showed that severe off road use is usually reserved for heavily modified short wheelbase, purpose-built vehicles; and a fully automatic, decision-free four-wheel drive setup best meets the needs of people driving in rain, snow and medium duty off-road terrain. Although exceptions exist, long wheelbase trucks like the Ridgeline, SUVs and pickups generally are not the hard-core off-roader's vehicle of choice because of the inherently compromised breakover angle. Plus, accommodating extreme off-road use can impose compromises elsewhere in any vehicle, such as added weight, poor fuel economy, reduced on-road performance and reduced towing performance.
While a few competitors offer the extra ground clearance, driveline equipment, and chassis hardware necessary to support severe off road driving, the engineers learned that few customers use these extreme capabilities regularly. Conceptually, Ridgeline customers are more inclined to use motorcycles and ATVs for extreme off-road recreation, not the truck they drive everyday.
Honda engineers concluded that a robust medium-duty off-road capability was most consistent with the needs of the customer and the philosophy behind a next generation of truck that offers a smarter balance of capabilities with a higher level of comfort, convenience and real-world versatility. Medium-duty capability readily supports trips to remote trailheads for motorcycle, ATV and mountain bike riding, and camping, as well as excellent all-weather capabilities. Also, anybody who has ever driven down a "washboard" dirt road in a body-on-frame truck can appreciate the refinement afforded by the Ridgeline's unibody structure, which more effectively minimizes the severe vibrations that can occur. To define exactly what constitutes medium-duty off-road capability, the Ridgeline engineering team selected 14 key performance criteria based on observations of typical off-road adventurers. They then utilized special test courses at their R&D facilities in North America to assure that the Ridgeline delivers all the intended capabilities with impeccable reliability and durability along with real world verification.
The list of test courses includes:
28-degree dirt hill, Sand hill, Water pit Rock roads, Embedded log course, Step-up, step-down, Sand drag strip, Gully course, Ground contact course, Washboard road, Frame twister, Power hop hill (23-degree slope with rippled surface), Gravel road, Startable grade,
The Ridgeline has 8.2 inches of ground clearance, a 25-degree approach angle, a 22-degree departure angle, and a 21-degree breakover angle for negotiating rough terrain. It can ascend a 28-degree (53-percent) dirt slope from a complete stop. It can tow a 5,000-pound boat up the steepest of boat ramps.
To further backs up the claim that Honda engineers did extensive research on the durability of Ridgeline, the truck also fielded on SCORE-International off road racing in the stock mini class. In this class, the truck is raced with all the original factory equipments with a slightly modified springs and shocks. Aside from a change in the ECU system and another slight engine modification, the original 5-speed auto transmission, the original engine internals and original 4-WD system is still intact.
Source: Honda
Gallery:
Honda Ridgeline RTL (2006)