The new Polo BlueGT stands out in its ability to combine superior dynamic performance with extreme fuel-efficiency. The technical highlight of the progressive compact car is the cylinder deactivation system, which is being introduced for the first time in a Volkswagen – also known as active cylinder management or ACT. The system was realised with the new 1.4-litre TSI of the Polo BlueGT. The torque-strong TSI develops a power output of 103 kW / 140 PS, yet has a combined fuel consumption of just 4.7 l/100 km/h* (equivalent to 108 g/km* CO2). If the Polo BlueGT is ordered with the optional 7-speed dual clutch gearbox (DSG), fuel consumption drops further to 4.5 l/100 km* – and, bear in mind, this is a petrol, not a diesel (105 g/km* CO2). Nonetheless, this car, with a top speed of 210 km/h, accelerates to 100 km/h in just 7.9 seconds. This uncommon coexistence of efficiency and dynamic performance is enabled by the systematic interplay of ACT, downsizing (reduced engine displacement plus direct injection and charging) and BlueMotion Technology (Stop/Start system, battery regeneration). As such, the Polo BlueGT closes the gap between the Polo 1.2 TSI (77 kW / 105 PS) and the Polo GTI (132 kW / 180 PS). The new car will already on the market in July.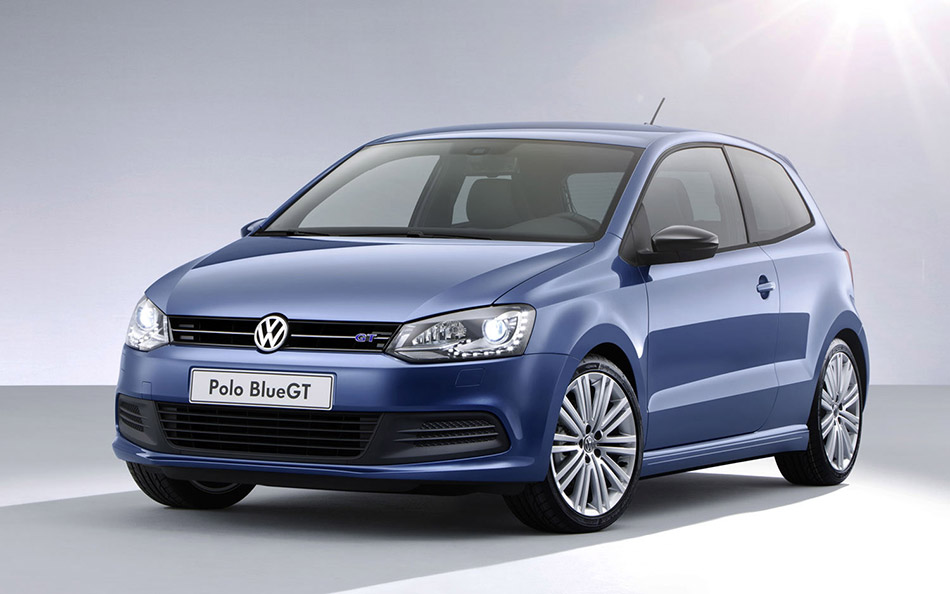 New generation of engines. The 1.4 TSI in the Polo BlueGT is the top engine of the entirely new EA211 series of petrol engines. These petrol engines and the EA288 series diesel engines, which are also new, are technological pillars of the future Modular Transverse Matrix (MQB). One property shared by all of these engines is an identical mounting position in the car – and indeed across vehicle classes and brands.
Fuel savings by ACT. Even before the MQB is introduced, Polo BlueGT buyers will get to enjoy the new high-tech TSI with cylinder deactivation. Volkswagen is the first carmaker to introduce active cylinder management as a fuel-saving technology in smaller engines – they were previously only known in larger eight or twelve cylinder units. Shutting down the second and third cylinders under low and medium load states reduces fuel consumption in the EU driving cycle by about 0.4 l/100 km. In constant speed driving at 50 km/h in third or fourth gear, fuel savings are as much as one litre per 100 km. But even when driving at 70 km/h in fifth gear, fuel consumption is still reduced by 0.7 l/100 km.
ACT mode of operation. ACT becomes active at engine speeds from 1,250 to 4,000 rpm, and at torque outputs from 25 to approx. 100 Nm – a broad swath of the operating map that includes nearly 70 per cent of all driving states in the EU driving cycle! When the driver presses the accelerator pedal, the two cylinders are imperceptibly reactivated. The high efficiency certainly does not come at the price of a high level of smooth engine running: even with two cylinders, the excellently balanced 1.4 TSI of the Polo BlueGT runs just as quietly with as little vibration as it does when all four combustion chambers are active. All mechanical switchover actions are completed within one half of a camshaft revolution; this only takes between 13 and 36 milliseconds, depending on engine speed. The transitions are smoothed by supporting interventions to the ignition and throttle valve. Ingenious: thanks to an accelerator pedal sensor and intelligent monitoring software, the system can also detect non-uniform driving profiles – such as while driving through traffic or in a sporty manner when driving on a country road. In such cases, cylinder shutoff is disabled. The driver is informed whether two or four cylinders are active by an indication in the multifunction display located between the speedometer and tachometer.
ACT camshaft adjustment. To further reduce emission and fuel consumption values and improve torque in the lower engine speed range, the intake camshaft was designed to be adjustable over a range of 50 degree crank angle on all EA211 engines; in the 1.4 TSI of the Polo BlueGT, an exhaust camshaft adjuster is added. It adjusts to the desired spread of control times, thereby ensuring more spontaneous response from low revs; at the same time, it also improves torque at high revs.
Exterior of the Polo BlueGT. The new Volkswagen is clearly distinguished both inside and out. From the outside, it is the new 17-inch alloy wheels with spoke styling, GT signatures at the front and rear (and additional 'BLUEMOTION' at the rear) and new tailpipe trim that are identifying characteristics of the Polo BlueGT. In addition, numerous standard features were adapted from the Polo GTI or the Polo BlueMotion. GTI features are the rear spoiler, rear bumper with diffuser, front bumper and fog lights including daytime running lights. BlueMotion elements are the side sills and the front rain channels (outside on the windscreen). The Polo BlueGT is also upgraded by a black painted radiator grille, R-line ventilation screen in the bumper and black door mirrors. Having a positive effect on aerodynamics are the Polo's 15 mm lower ride height and special underbody trim.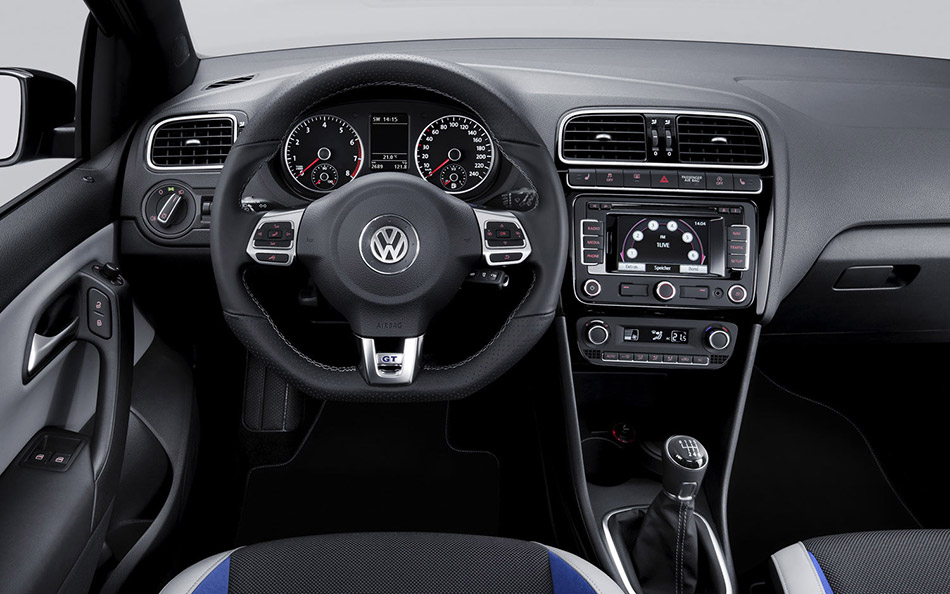 Interior of the Polo BlueGT. Interior features were upgraded by extended functionality of the multifunction display (ACT message and tyre pressure), the GTI instruments, a cruise control system, black roofliner and black pillar trim in GTI style, vanity and interior lights tuned to match, a leather-trimmed sport steering wheel with 'BlueGT' emblem, sport seats in front with newly designed trim (fabric type and colour) as well as various chrome surrounds.
Source: Volkswagen
Gallery:
Volkswagen Polo GT Blue (2012)