Summertime is convertible time, and one of the fastest ways to go 'topless' on the roads is with the 431 hp twin-turbo, six-cylinder BMW M4 Convertible.
mbDESIGN, specialists in spectacular alloy wheels, now demonstrate how well the 21-inch version of the VENTi-R Turbine Design, sold under the etabeta label, enhances the looks of the M4 Convertible.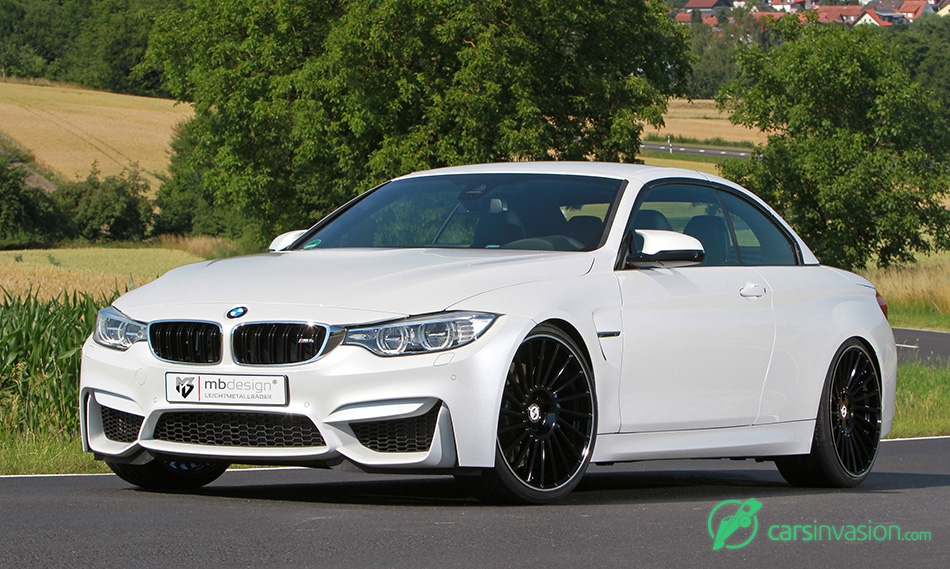 Just as mbDESIGN is a vanguard of original design, they also recognise their customer's individuality and are able to respond to their wishes. An example of such wishes is the Mineral White metallic M4 Convertible with factory Shadow Line optics and special leather seats which mbDESIGN equipped with VENTi-R wheels in gloss black with polished rim flange, a special Custom Surface to customer request.
By default the turbine blade-style VENTi-R-wheel is available in silver, gold satin polished, matt black, glossy black polished, black matt, and glossy black with red painted rim flange.
The 9x21-inch ET25 front wheels of the M4 convertible have a flush face, while the 11x21-inch ET38 rear wheels have a deep dished centre for that coveted wide look. The wheels are wrapped in 255/30ZR21 and 295/25ZR21Continental Sport Contact 5P tyres.
For straightforward registration in the vehicle's papers this XL-size wheel/tyre combination comes with a certificate of conformity.
The VENTi-R range comes in sizes from 7.5x18-inch through 19 and 20-inch, to the imposing 11x21-inch size. Selectable is the normal flush face or the Deep Concave version with its deep offset centre.
Wider wheels look their best on a car with a lowered ride height. Here, mbDESIGN drop the ride height of the M4 Convertible by 30 mm using H&R sport springs, to the benefit of the cars stance, handling and mechanical grip.
Source: mbDESIGN
Gallery:
mbDESIGN BMW M4 Convertible VENTi-R (2015)