Honda's CR-V is already one of the most popular compact SUVs sold around the world. More than 750,000 units have been sold in Europe since it was launched in 1997, nearly 50,000 of which during 2014. In the first nine months of 2014, the CR-V was the world's best-selling SUV. The model has become fundamental to Honda's success in Europe, and a comprehensive range of enhancements to the fourth-generation CR-V will now further broaden its appeal.
Highlights of the 2015 model-year CR-V include a new diesel engine and nine-speed automatic transmission that deliver an unrivalled power-to-consumption ratio; world-first safety technology; an all-new connectivity and infotainment system; as well as enhanced suspension and optimised NVH measures for a more refined yet dynamic drive.
The 2015 CR-V is part of a wave of next-generation advanced and sporty vehicles from Honda, which demonstrate the brand's pioneering approach to engineering and technology solutions that make life better for its customers.
The new-look CR-V has been developed and engineered for European drivers and will be available in showrooms from Spring 2015.
DESIGN: DYNAMIC, SOPHISTICATED STYLING ENHANCEMENTS
The styling of the new CR-V has been thoughtfully enhanced with the tastes of European customers in mind. The changes are most notable at the front, with redesigned headlamps flowing into the new grille. Additionally, the new bumper and skid plate give the CR-V a wider appearance and hint at the improved stability, while also lowering the car's visual centre of gravity.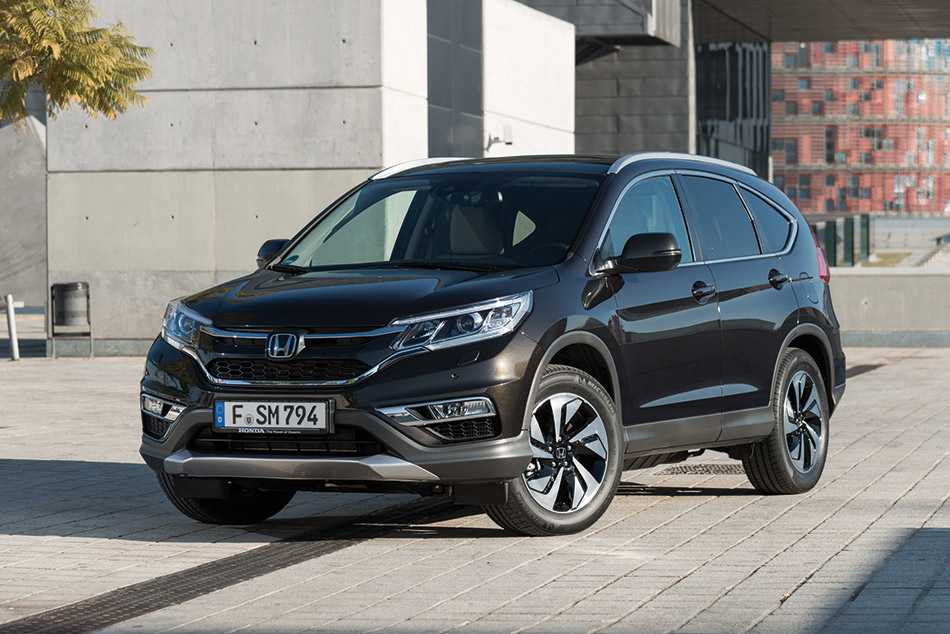 The sleek new front headlamps incorporate powerful halogen bulbs, LED daytime running lights and HID projector headlamps - giving the car a bold face while also optimising visibility of the road ahead in low light conditions.
At the rear, the LED combination lamps have been restyled to give the CR-V a more fluid, three-dimensional appearance. Newly-styled 17- and 18-inch alloy wheels are also available, complementing the exterior enhancements and highlighting the improved dynamism of the CR-V.
Honda's goal of creating a more stylish and functional interior has been realised with the reshaped chrome-effect inlay running the width of the dashboard, and through the use of high-quality materials on key surfaces. The dashboard has been redesigned to allow easy visibility and access to the new seven-inch touchscreen displaying the new Honda Connect system, while a sliding armrest (60 mm fore and aft) between the front seats further enhances versatility and comfort.
The 2015 CR-V also features a one action fold down rear seat system, with the rear seats featuring a 60/40 split function allowing them to be easily folded completely flat with the simple pull of a handle. This transforms the CR-V into a versatile carrier which remains the top compact SUV for boot capacity, with 1648 litres of flat load space when a full size spare wheel is specified (1669 litres if space-saver spare wheel specified), or 589 litres with the seats in place.
The load length is up to 1,570 mm, allowing the CR-V's trunk to easily accommodate two mountain bikes or four sets of golf clubs.
The 2015 CR-V is available in nine colours. New for 2015 is Golden Brown metallic, while four metallic, three pearl and one solid colour options carry over from the previous model (metallic: Twilight Blue, Urban Titanium, Alabaster Silver, Polished Metal; pearl: Passion Red, White Orchid, Crystal Black; and solid: Deep Ocean Blue).
To further lift the CR-V's cabin design, a new interior trim has been applied. Available with either chrome plating or black carbon grain on key surfaces, the upholstery can be specified with black perforated leather, black Alcantara and leather, black emboss smooth fabric or ivory perforated leather.
INFOTAINMENT: ALL-NEW HONDA CONNECT AUDIO AND INFORMATION SYSTEM
The all-new Honda Connect infotainment system is fitted as standard on all grades above the entry level grade (Comfort/SE), offering greater convenience and connectivity while on the road.
Easy and intuitive to use, Honda Connect runs Android 4.0.4 - the world's most popular smartphone operating system - employing the familiar 'pinch, swipe and tap' functionality of a smartphone. The seven-inch display can be customised to suit individual's preferences with two different 'skins' to choose from, allowing users to make the system their own. Colour-coded icons ensure navigating through the touchscreen menus is quick and simple.
Honda Connect gives front-seat occupants fast and easy access to everything from vehicle information and rear-view parking camera, to music and Bluetooth connectivity for smartphones. The new system's functions include internet access, two pre-installed apps, Honda App Centre, optional Garmin satellite navigation, DAB / FM / AM and internet radio, phone interface and Bluetooth connectivity, rear-view parking camera with dynamic guidelines; and a range of vehicle information, such as trip meter, fuel economy and journey time.
High quality graphics and seamless, rapid operation are made possible by one of the fastest processors in the industry, NVIDIA's automotive grade Tegra 3.
Bluetooth connectivity and internet access
The new Honda Connect system offers excellent connectivity to keep owners safely in touch while on the road, with occupants able to connect their smartphone to the Hands Free Telephone system via Bluetooth. Honda Connect is also MirrorLink-enabled, delivering seamless connectivity between the system and the user's compatible smartphone. This technology enables the user to mirror their smartphone display through Honda Connect and gain access to their favoured apps.
Occupants can also connect to the internet through Smartphone Wi-Fi tethering or a Mobile Wifi Router, allowing for full internet browsing while in the car (when stationary), making it possible to search for local amenities or learn about nearby landmarks.
Pre-Installed Apps
The system comes with pre-installed apps, with others available for download from the Honda App Centre.
The pre-installed 'Aha' app allows effortless access to thousands of audio stations - spanning music, news, podcasts and audio books - as well as social media feeds and location-based services. The easy-to-use Aha interface makes finding everything from a Twitter account to weather updates as safe and easy as the push of a button. Aha also facilitates point of interest searches, helping users locate the nearest restaurants or hotels, for example.
Optional Garmin Navigation
As an option, Garmin's award-winning satellite navigation is available fully integrated with Honda Connect. Pre-loaded maps allow users to navigate even in areas without mobile reception, and with millions of points of interest it is always easy to find desired locations.
Spoken turn-by-turn directions are complemented by advanced guidance features to navigate drivers through the most challenging situations with ease. Lane guidance indicates the proper lane from which to make a turn, and photo-real junction views make it easier to identify selected junctions and exits. The system also features real-time traffic avoidance, speed limit warnings, 3D building and terrain views, and Eco Routing.
ENGINES AND TRANSMISSION: REVISED CR-V ENGINE RANGE PROVIDES ENHANCED OUTPUT AND EFFICIENCY
The 2015 CR-V is available with a three-strong powertrain line-up, comprising two 1.6-litre diesel engines (160 PS and 120PS) and a 2.0-litre petrol engine (155 PS). All three are Euro6b compliant.
All-new 160 PS 1.6-litre diesel
The CR-V's diesel line-up, expected to account for more than 60% of sales, has been enhanced with the addition of the all-new 160 PS 1.6 litre i-DTEC four-cylinder unit from Honda's Earth Dreams Technology series, first introduced in 2013 as a 1.6 litre i-DTEC with 120 PS.
This unique-to-Europe engine replaces the 2.2-litre i-DTEC diesel unit. Aided by a new two-stage turbo, it offers higher power output and better power delivery, as well as superior levels of efficiency and significantly reduced CO2 emissions. As a result, the new engine has the best power-to-consumption ratio available in its segment.
A number of innovations reduce frictional energy losses, with the engine friction of the i-DTEC engine now 37% lower than its predecessor and equivalent to that of a petrol unit. The result is highly impressive fuel economy of 4.9 l/100km (combined cycle).
The engine produces a maximum power of 160 PS (a 6% increase over the 2.2-litre diesel predecessor) and 350 Nm of torque, while emitting a 129 g/km of CO2 (an 11% improvement and a figure not bettered by any similarly-powered competitor) when mated to the six-speed manual transmission.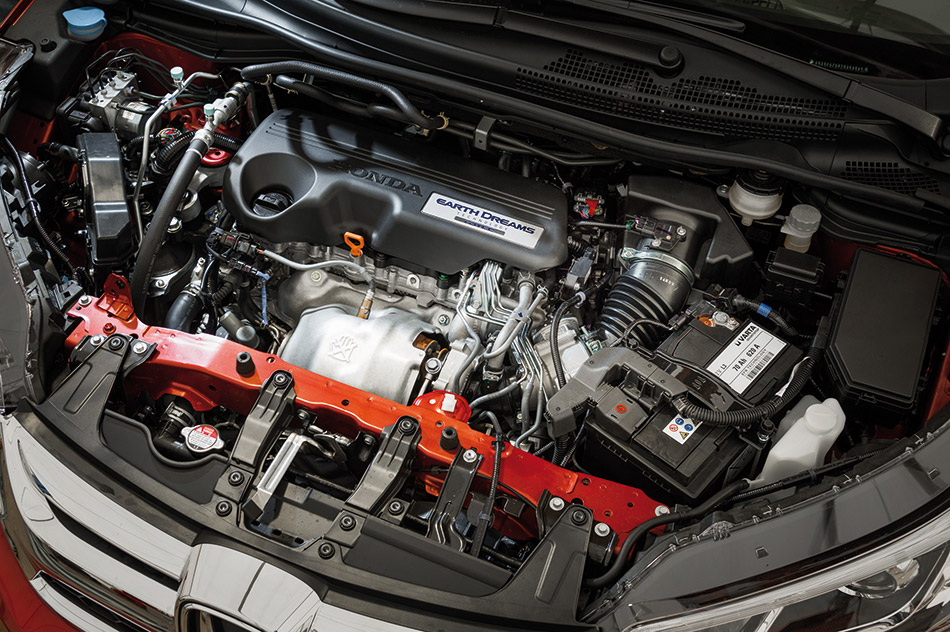 The 2-stage turbo uses 2 turbo devises located up stream and down stream the exhaust gas flow. The upstream turbo facing a higher exhaust pressure is called the high pressure turbo, the down stream unit facing a lower exhaust pressure called the low pressure turbo. The high-pressure turbo is responsible for air flow to the engine at low engine speeds, while the low-pressure turbo operates at high engine speeds. At mid-range engine speeds, both turbos work in tandem to provide charge air to the engine. The smaller high-pressure turbo is controlled by a variable geometry turbine (VGT) to ensure quick throttle response and reduce pumping losses at low engine speeds. The low-pressure turbo is controlled by a conventional waste gate valve.
The 1.6i-DTEC diesel engine complies with Euro6b emission regulation, meeting emission standards using a NOx storage catalyst (NSC) after-treatment system, continuously alternating NOx adsorption and conversion (reduction) processes.
The focus of development was set to enable a light-off of the catalyst already at low temperatures in order to sufficiently convert NOx emissions yet maintaining the conversion efficiency at high temperatures. Optimisation on ratio of precious metal amount and effective adsorption surface have been performed in order to achieve the target.
Nine-speed automatic transmission
The 2015 CR-V will be available with a newly-developed nine-speed automatic transmission replacing the previous five-speed automatic. The new gearbox offers a number of real-world benefits to European consumers. With a wider spread of gears, the very low first gear ratio ensures a quick and powerful launch, while a high top-gear ratio results in reduced engine speed thus reduces fuel consumption and noise level at cruising speeds.
With a greater number of gears and smaller gear steps, it also provides better response to driver inputs, and smoother shifts giving the sensation of more linear and harmonic acceleration through the gears.
Depending on driving situation - engine speed and throttle application - the new nine-speed automatic transmission can even shift directly down gears from 9th to 5th gear and 7th to 4th gear, additionally to all two gears and one gear downshifts. All other multiple down shifts are overlapped shifts where an additional shift needs to be performed in background in order to achieve the target gear.
The efficient packaging of the new transmission results in a smaller, lighter (by 35 kg) unit, allowing better weight distribution across the vehicle. The new engine and transmission together weigh 65 kg less than the previous equivalent powertrain combination, benefitting ride, handling and steering response, as well as efficiency.
Petrol engine option
The petrol powertrain is also available in four- and two-wheel drive, carried over from the previous CR-V. The 2.0-litre i-VTEC has a maximum power of 155 PS and 192 Nm of torque and is fully Euro6 compliant.
RIDE AND HANDLING: A MORE RESPONSIVE DRIVE AND GREATER CABIN REFINEMENT
The new CR-V includes upgrades to the chassis for better handling and a more refined ride. The re-thought underpinnings - including new front suspension bushes, dampers, revised lower-arm knuckle geometry and rear tracking arms - all contribute to a smoother, more engaging ride.
The front and rear track have been increased by 15 mm, and camber angle is up by half a degree to further aid stability. The new lighter diesel powertrain reduces weight over the front wheels, increasing cornering agility and handling, while the new nine-speed gearbox also greatly enhances the driving experience, thanks to better drive force continuation (or simply linear acceleration) due to shorter gaps between the gears.
To offer a more responsive drive, the steering ratio has been increased by 8%, reducing reaction delays of the vehicle when swerving around obstacles in the road at high speed while maintaining precise and quick handling at lower speeds for better manoeuvrability.
To cosset occupants from the outside and create a more refined and pleasurable experience, Honda engineers have implemented a number of NVH management measures. These include a doubling in the thickness of the door seals, changes to the floor carpet, and optimisation or enlargement of sound absorption materials in the dash, doors and pillars. Further measures taken include the sealing of the front end of the hood to reduce wind noise. As a result of these and other measures, the 2015 CR-V's cabin is 6% quieter than its predecessor.
WORLD-FIRST TECHNOLOGIES TO ENHANCE OCCUPANT SAFETY
As with all new Honda vehicles sold in Europe, the CR-V is fitted with a number of premium active and passive technologies designed to make driving both easier and safer.
Honda SENSING
Honda has comprehensively updated its sensor based active safety systems, known as Advanced Driving Assist Systems. Under the name 'Honda SENSING', the new system now combines both camera and radar technology, allowing for advancements to its Collision Mitigation Braking System and Adaptive Cruise Control systems. Honda SENSING is available on the new CR-V Executive grade.
Honda's Advanced Driving Assist Systems, including Forward Collision Warning, Lane Departure Warning, Traffic Sign Recognition System, Blind Spot Information, Cross Traffic Monitor and High Beam Support System, will be offered in conjunction with Honda SENSING on the Executive grade, or as part of the Advanced Driving Assist Systems pack available as an option on other grades.
CMBS
The newly developed Collision Mitigation Braking System combines both a camera and radar technology capable of operating over an expanded range, combining high and low speed braking, bringing the car to standstill if required.
Using both camera and radar the new CMBS system can detect vehicles from further in the distance and their closing rate between the car and the vehicle (car or truck) directly in front of it. Unlike the current CMBS system, it is also possible to recognise objects such as pedestrians or oncoming cars.
Intelligent Adaptive Cruise Control
The 2015 CR-V will be the first vehicle in the world equipped with a predictive cruise control system, known as Intelligent Adaptive Cruise Control (i-ACC), capable of predicting and automatically reacting to other vehicles 'cutting-in' to the vehicle's lane.
Based on extensive real-world research of typical European driving styles, i-ACC uses a camera and radar to sense the position of other vehicles on the road. It then applies an algorithm to predict the likelihood of vehicles in neighbouring lanes cutting-in by evaluating relations between multiple vehicles, enabling the equipped vehicle to react quickly, safely and comfortably.
i-ACC complements rather than replaces the traditional Adaptive Cruise Control (ACC) system. Traditional ACC systems keep a preselected longitudinal velocity, which is only reduced to maintain a safe distance from a car in front. However, if a vehicle cuts-in from a neighbouring lane, these systems only react when the manoeuvre is almost complete.
i-ACC is able to detect the likelihood of a cut-in up to five seconds before it occurs, and is therefore designed to react very smoothly so as not to startle the driver, who might not yet be aware of the imminent cut-in. In this case the system applies just a mild brake initially, with an icon appearing on the driver display, informing the driver why a slow-down occurs. It then proceeds to apply a stronger brake to adapt velocity to keep a safe distance.
i-ACC is intelligent enough to recognise which side of the road the equipped vehicle is on (be it a left- or right-hand drive car), and automatically detects which neighbouring vehicle is the most critical to be aware of at any given moment.
i-ACC is the result of an in-house Research & Development project undertaken by an international Honda team in Europe and Japan, specifically designed for European roads. Research into driver behaviour to develop the algorithm was carried out across Europe.
Dr. Kleinhagenbrock, responsible for i-ACC at Honda R&D Europe (Deutschland) GmbH, comments: "i-ACC takes cruise control systems to a whole new level, offering what we call 'predictive safety'."
Dr. Schmuedderich, responsible for i-ACC at Honda Research Institute Europe GmbH comments: "i-ACC is a significant breakthrough and a considerable further step towards a new generation of driver assistance systems that anticipate the behaviour of other traffic participants."
Lane Keep Assist System
Lane Keep Assist System will continue to be offered on the CR-V as part of Honda SENSING. Lane Keep Assist System uses the multi-purpose camera to track lane markings on the road, ensuring the vehicle remains in the middle of the detected lane. The system operates at speeds of more than 72 km/h where the road has a curve radius of 230 metres or more.
City-Brake Active system
Honda's City-Brake Active system) will be offered across the model range. Specifically designed to help avoid or mitigate low speed accidents, the system uses laser radar technology to scan the road ahead, automatically applying the brakes if an imminent risk of collision is detected. The system is designed to operate at speeds below 32 km/h.
If the system identifies that the risk of collision exists then pre-braking as well as audible and visual warning will occur, eventually followed by full autonomous braking. The system can be turned off by the driver only when the vehicle is stationary and it will remain off until the driver turns off the ignition. The system will become active once the ignition is switched back on.
Forward Collision Warning
Forward Collision Warning detects the risk of collision by recognising the vehicle (car or truck) directly in front, using the multi-purpose camera. The system operates when the car is at a speed of 15km/h and above. On detecting the risk of collision, it will offer visual and audible warnings. The warning distance can be adjusted to the driver's preferences and the system can be turned off by the driver.
Cross Traffic Monitor
Honda's Cross Traffic Monitor system uses rear side radar sensors to warn the driver of approaching vehicles when reversing. The direction of an approaching vehicle is shown either on the rear-view camera screen or displayed using arrows showing the direction of the travelling vehicle on the intelligent Multi Information Display, and an audible warning sound. The system is designed to detect cars and trucks travelling at up to 25 km/h.
Traffic Sign Recognition System
Traffic Sign Recognition System uses the multi-purpose camera to detect road signs whenever the vehicle is moving forward. The system automatically recognises and displays the signs via the i-MID once the vehicle has passed the sign.
The system is designed to detect circular road signs displaying speed limits and 'No Passing' information. Two road signs can be displayed at any one time - the right side of the display only shows speed limit signs while the left shows 'No Passing' signs and speed limits with additional information; such as weather conditions, for example.
Lane Departure Warning
Lane Departure Warning uses the multi-purpose camera to track lane markings on the road. If the car deviates from its current lane without indicating, Lane Departure Warning alerts the driver with audible and visual warnings. The system can be turned off by the driver at any time.
Blind Spot Information
Blind Spot Information uses radar technology to automatically detect vehicles in the driver's blind spot and warn of potential dangers when the vehicle is travelling at speeds of more than 20km/h. The system is designed to detect cars and trucks and can help to support drivers in situations such as passing other vehicles and merging or changing lanes.
When a vehicle enters the driver's blind spot a visual warning is displayed on the wing mirror. This remains until the vehicle leaves the blind spot. If the driver operates the indicator whilst the vehicle is in the blind spot, the visual warning will blink and an audible warning will sound to further alert the driver to the potential danger. The system can be turned off by the driver when the vehicle has stopped.
High Beam Support System
High Beam Support System works at speeds of more than 40km/h to switch High Beam head lights on/off automatically depending on oncoming/preceding vehicles (cars, trucks and motorcycles), bicycles and environmental brightness. The system can be turned off by the driver at any time.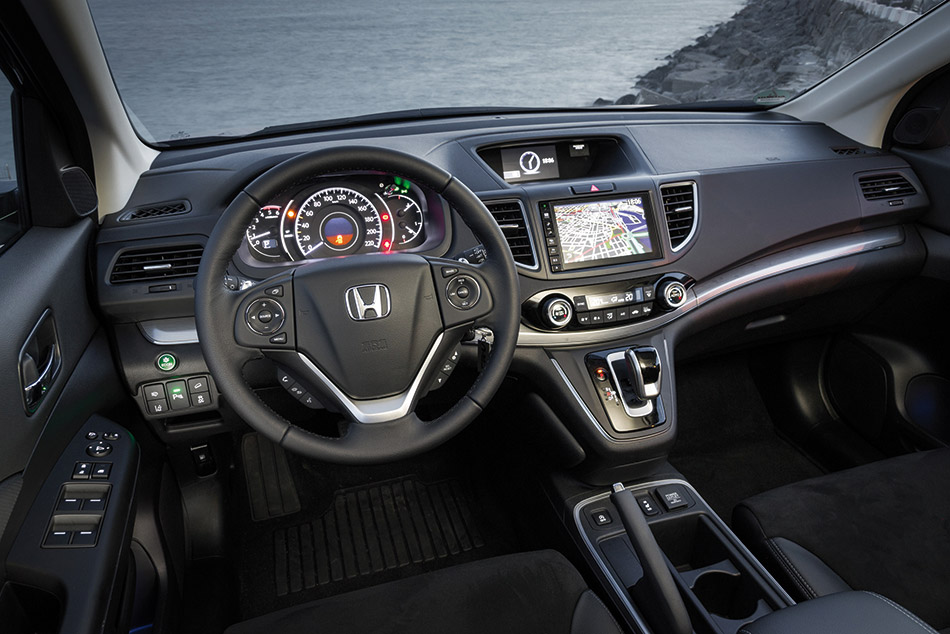 ACCESSORIES AND OPTION PACKS ADD STYLE, TECHNOLOGY AND FUNCTIONALITY
The 2015 CR-V is available with a wide variety of accessory packs allowing owners to enhance or adapt their car to suit their personal requirements and tastes.
Chrome Pack
Drivers can accentuate the styling of their CR-V by adding chrome accents to the car. This accessories pack includes a front grille, lower tailgate garnish, exhaust pipe finisher, door lower garnish and a sporty fuel filler cap, all in Shiny Chrome.
Aero Pack
The Aero Pack gives the CR-V's exterior a sophisticated, striking appearance. Accessories include front and rear Aero bumpers, a tailgate spoiler and stylish running boards.
Illumination Pack
The Illumination Pack brings an enhanced ambience to the interior and exterior of the vehicle. It includes illuminated doorstep garnishes on the inside and puddle lights on the outside.
Convenience Pack
To keep the CR-V looking great for longer, owners can choose the Convenience Pack that provides a combination of accessories designed to protect the car from scrapes, scratches, mud and sand. The attractive doorstep garnishes, front and rear mudguards and side body trims will protect the car from weathering and surface wear and tear.
Cargo Pack
Drivers who need to frequently transport luggage or specialised equipment for work or leisure can select the Cargo Pack. This pack offers a unique combination of storage solutions including a premium trunk organiser, cargo room garnishes and a trunk step protector.
Honda 3D Sound: "Music never sounded so real"
All drivers want a sound system that can faithfully reproduce their favourite music in their car. By adding a compact digital signal processing (DSP) unit to the standard Honda sound system in their car, drivers can enhance their listening experience by replicating different acoustic environments: from a technical studio sound to the splendour of a live concert hall. With Honda 3D sound, the decibel output is optimised for each frequency and each speaker channel. Programmed to get the most from the characteristics of the standard speakers and audio system and the car's interior, the DSP unit matches its output to the ideal frequency for the car, creating a depth of sound that has to be heard to be believed.
Tablet holder
To keep passengers entertained, CR-V owners can also add a tablet holder, allowing passengers to watch videos, play games or check their emails on their device. The tablet holder can be used in landscape or portrait position and can be tilted and rotated to allow relaxed movie viewing or even working in comfort. The system attaches behind the car's headrest at eye level, and all the tablet's connections, including headphones, remain accessible. This Honda Genuine Accessory integrates perfectly with the car's interior. No power input is necessary, but the tablet can be charged through the 12V socket if required.
Trailer hitch
CR-V owners can select a trailer hitch to enable them to tow their caravan or trailer, with a maximum towing capacity of 2,000kg depending on the vehicle engine and transmission type. With a maximum vertical load of 100kg, the trailer hitch is available in three types: fixed, detachable and retractable.
Premium trunk organiser
In order to make the most of the CR-V's internal carrying capacity, a premium trunk organiser is available to help organise luggage efficiently and securely. This stylish kit consists of a trunk tray with integrated rails and an aluminium telescopic bar.
Cross bars and attachments
Drivers wishing to maximise the CR-V's carrying capacity may be interested in Honda's strong, secure cross bars. A choice of roof attachments help to transport everything from skis and snowboards to bicycles and extra luggage, creating more space and comfort for passengers within the car. The cross bars can carry loads of up to 75kg.
Running boards
Two types of smoothly integrated running boards are available. Both the asymmetrical 'stylish' and the symmetrical 'full' running boards add a sleek finish to the CR-V as well as making it easier to get in and out of the car.
Styling options
For an additional aesthetic touch, there is a range of options to customise the CR-V from front to back. The Chrome front grille is guaranteed to make a striking impression, while the front and rear Aero bumpers emphasise the car's aerodynamic look. A body colour tailgate spoiler completes the car's sporty exterior.
Alloy wheels
CR-V owners can choose from various alloy wheel designs that provide the perfect accompaniment to the CR-V's dynamic exterior. The 18-inch HYDRA combines a diamond cut surface with a shiny clear coat and Rombo Silver elements. The 19-inch CURSA is available in full coat Sparkle Silver with a shiny clear coat, while the 19-inch Sirius combines a diamond cut surface with shiny clear coat and Rombo Silver elements. The 19-inch VEGA combines a full coat Black Pearl with a matt clear coat, while the 19-inch ORION combines a diamond cut surface with matt clear coat and Gunpowder Black elements.
Source: Honda
Gallery:
Honda CR-V EU-Version (2015)